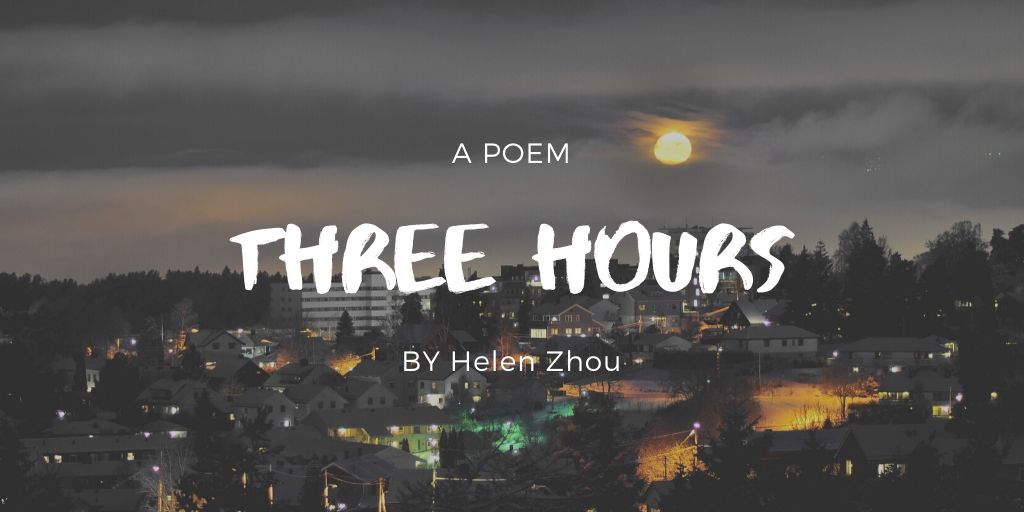 Three Hours
by Helen Zhou
At four in the morning we'll greet behind the
Back wall of my house,
Barefoot and swaddled in bandit-colour.
We'll grab hands and hurtle ourselves,
Screaming
Through the snoozing streets
And startle the moon into spilling its
Light into the windows of insomniacs—
We'll duck into the blackest cul-de-sac in the city.
We'll vault over stars and rusty skeletons,
Splurging our cells,
Spending sleeves and threads,
Crawl bare-shouldered through someone's back garden
And indulge adrenaline in its flirtatious behaviour;
We'll laugh and we'll cry and we'll bark like rabid dogs.
We'll pry apart the ugliest wound stitches in the neighborhood,
Haunt them, stitch them back and
Call them our own war scars.
We'll find out that little glade in the park
With the prison-bars trees and we'll play out our drama:
You'll be my (female) prince and I'll blind myself
And kiss you madly, oh for the hell of it.
We'll switch roles and we'll play out Insanity.
We'll tear the threads from the ground and hear it bleed,
Hear it bleed with fright;
Hear the birds stir in bewilderment from our
Raw and greenhorn violence.
When seven approaches we'll lodge by the roadside and
Sniffle and sneeze in the cold hiss of approaching dawn,
Smoke the moon till it disappears from the sky
And we materialize like coffee stains.
When that spectral gong hits itself, just once, in its chest—
We'll scramble to our feet, flee home like scattered pearls
And we'll shower and starch ourselves into white collars
And fawn the route to school and we'll
Get good grades.
Helen Zhou was highly commended in the Inspired by Tagore Writing Competition (2011), awarded first place in the Torrance Legacy Creative Writing Awards (2011) and was a Commended Foyle Young Poet (2012). Her poems have been published in BODY Literature,The Poetry Society and Spork Press amongst others. She currently resides in Los Angeles.