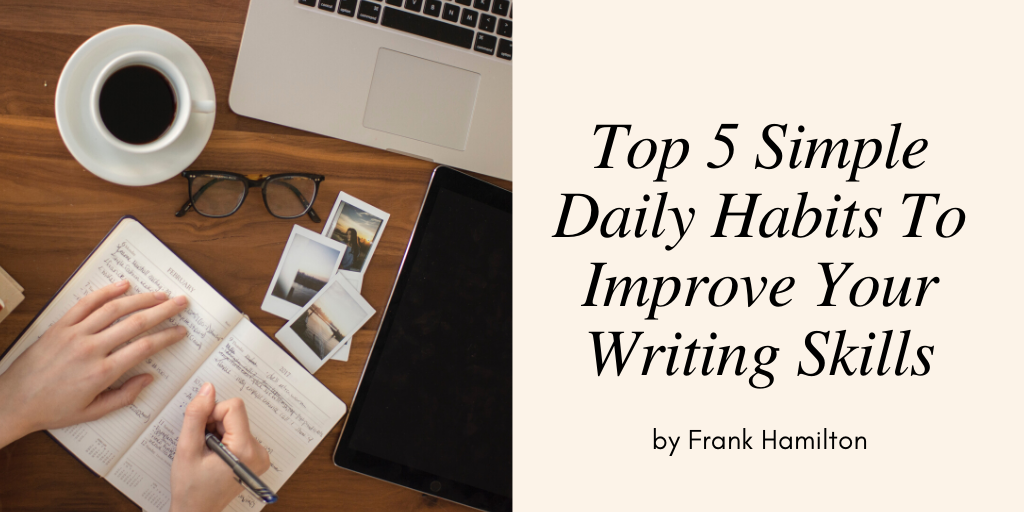 Writing books, blog posts, articles, or even good captions for your photos on social media can be a difficult task. You need to get some inspiration, understand exactly what you're going to write, and be able to wrap your ideas into a proper style. Some people think that writing is all about talent, but the truth is that writing is a skill. Of course, some people were born brilliant writers, but anyone can train this skill if they have enough practice.
To become a better writer, you should practice as much as you can. You need to work on your writing skills every day, making it your daily habit. In fact, developing the right habits can help you accomplish virtually any goals, and if your goal is to become a good writer, you can achieve it with the right habits and mindset. Here are the five best writing habits that will make you a better writer in no time.
Habits That Will Improve Your Writing
1. Write and read as often as you can
Practice makes perfect. There is no magic trick that would turn you into a brilliant writer overnight. Even the best writers have been mastering their craft for many years, writing and ruthlessly editing tons of text. Not only do you need to learn to convey your ideas properly, but you should also know how to meet the requirements of your niche. For example, when writing web content, you need to SEO optimize it.
Writing on a regular basis will help you develop your own style, and it will also allow you to avoid the fear of the blank page. When you have enough writing experience, you don't need to spend hours trying to figure out where to start. Write as often as you can, even if nobody will read it.
We also recommend that you read more. Reading not only allows you to learn something new but also improves your writing skills. Make sure to challenge yourself and explore things that you don't typically read. For example, if you usually read blogs, spend some time reading novels or scientific articles. This way, you will learn new words and new types of sentence structure.
2. Analyze your favorite writers' work
Everyone has their favorite book or blog. However, sometimes, we don't understand why we like a certain piece of writing so much. We suggest that you analyze your favorite writing and learn from successful writers. When reading, highlight phrases and sentences that you like. Analyze these elements and look for common patterns in your favorite materials. Pay your attention to transitions between subjects and sentences.
You can not only analyze other writers' texts but also imitate their techniques. Of course, your writing must be original. However, there's nothing wrong with using methods that have proven to be effective. For example, if you like the way a certain author uses humor when writing about serious subjects, you may try it, as well.
If you want to be good at something, you should learn from professionals. For example, if you need to translate an article, you can do it in many different ways. In this case, the best solution is to check out professional translation services, like The Word Point, so that you can see how professional translators work. You can imitate other writers' styles, combine different approaches, and eventually develop your own unique style.
3. Say what you think
The internet is full of boring content, and the main reason is that many writers try to be like everyone else. They are afraid to express their own opinions because they want to make sure that everyone will love their work. If you choose this approach, your writing will be unoriginal and boring. Don't be afraid to write what you think, even if your opinion isn't popular. Of course, you don't need to intentionally come up with the most controversial opinions, but you should be authentic.
After all, there's no point in writing something if you have nothing to say. The main thing is to make sure that your opinions are valid. Include facts that support your claims, and always do your research before you start writing. Besides, don't forget about proper attribution because you don't want to present someone else's work as yours.
4. Edit and then edit again
Many beginners think that the writing process ends when they're done with the first draft, which couldn't be further from the truth. Even if you're an incredibly talented writer, prepare for the fact that the first draft is just the beginning of a long process of editing.
Don't try to create a perfect first draft because you won't be able to focus on the content. Instead, forget about your draft for a while, take a break, and then edit it. Don't hesitate to edit it several times. For example, you can edit the overall structure first and then work on particular paragraphs or sentences. After this, you may want to change certain words. Finally, you need to proofread your writing to make sure that there are no grammar, spelling, or punctuation mistakes.
We also recommend that you find a good editor who will work with you. Although it may be very difficult to let someone else edit your work, especially if you're a beginner, you should understand that everyone needs constructive criticism. The main thing is to find an editor who will not only tell you what is wrong with your writing but also why you need to change it.
5. Finish what you've started
If you give up, you will lose motivation. Failures lead to new failures, while a sense of accomplishment will motivate you to accomplish more. Even if you realize that your work may take more time than you expected, finish it and edit it. However, don't forget that your writing shouldn't be perfect. Many writers who are searching for perfection just give up when they realize that their writing won't be as good as they want.
Wrapping Up
No matter whether you need to write a novel, a blog post, or a high school essay, writing can be quite difficult. Improving your writing skills is hard work. However, you can become a better writer if you develop the right habits. Read more, write something every day, and learn from other writers. Always edit your writing, and you will watch your style improve day after day. Even if your writing skills are far from perfect now, don't give up and practice as much as you can.