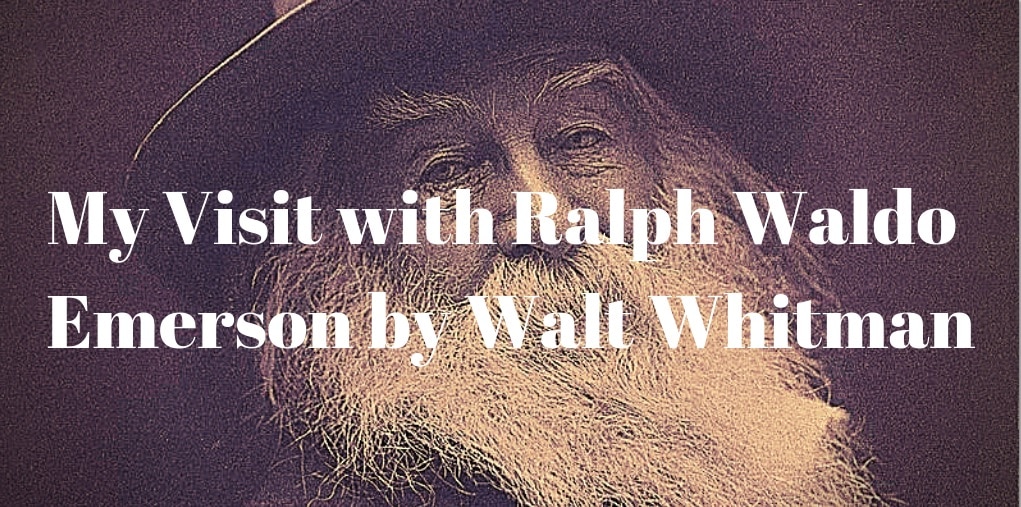 Most literary historians know that Emerson saved Whitman's career by sending him a glowing letter. Many critic had panned Whitman's self-published Leave's of Grass. One critic went so far as to say Whitman should have burned the work when he was finished with it. Emerson was the inspiration to Whitman writing Leave's of Grass, and in the end, it was his letter that saved and encouraged Whitman to continue writing. Emerson being the greatest poet of the time, it went a long way in establishing Whitman.
DEAR SIR–I am not blind to the worth of the wonderful gift of "LEAVES OF GRASS." I find it the most extraordinary piece of wit and wisdom that America has yet contributed. I am very happy in reading it, as great power makes us happy. It meets the demand I am always making of what seemed the sterile and stingy nature, as if too much handiwork, or too much lymph in the temperament, were making our western wits fat and mean.

I give you joy of your free and brave thought. I have great joy in it. I find incomparable things said incomparably well, as they must be. I find the courage of treatment which so delights us, and which large perception only can inspire.
I greet you at the beginning of a great career, which yet must have had a long foreground somewhere, for such a start. I rubbed my eyes a little, to see if this sunbeam were no illusion; but the solid sense of the book is a sober certainty. It has the best merits, namely, of fortifying and encouraging.

I did not know until I last night saw the book advertised in newspaper that I could trust the name as real and available for a post-office. I wish to see my benefactor, and have felt much like striking my tasks, and visiting New York to pay you my respects.

R.W. EMERSON
The letter was written July 21, 1855. Whitman went to visit Emerson at the end of his life. They communicated often, Whitman records their last meeting in journal entries are below. They are fascinating if you are a fan of American poetry. On September 17, 1881 Whitman goes to see Emerson. Emerson dies 7 months later. Emerson is 79 years old.
Whitman would be come The American Poet. His verse changed American poetry, and he is considered a modern poet, though his writing came well before that of other moderns like T.S. Eliot.
Whitman would die just 10 years after his meeting with Emerson. Below are the entries of the meeting of 2 literary greats.
A VISIT, AT THE LAST, TO R. W. EMERSON
Concord, Mass.—Out here on a visit—elastic, mellow, Indian-summery weather. Came to-day from Boston, (a pleasant ride of 40 minutes by steam, through Somerville, Belmont, Waltham, Stony Brook, and other lively towns,) convoy'd by my friend F. B. Sanborn, and to his ample house, and the kindness and hospitality of Mrs. S. and their fine family. Am writing this under the shade of some old hickories and elms, just after 4 P.M., on the porch, within a stone's throw of the Concord river. Off against me, across stream, on a meadow and side-hill, haymakers are gathering and wagoning-in probably their second or third crop.
The spread of emerald-green and brown, the knolls, the score or two of little haycocks dotting the meadow, the loaded-up wagons, the patient horses, the slow-strong action of the men and pitchforks—all in the just-waning afternoon, with patches of yellow sun-sheen, mottled by long shadows—a cricket shrilly chirping, herald of the dusk—a boat with two figures noiselessly gliding along the little river, passing under the stone bridge-arch—the slight settling haze of aerial moisture, the sky and the peacefulness expanding in all directions and overhead—fill and soothe me.
Same Evening.—Never had I a better piece of luck befall me: a long and blessed evening with Emerson, in a way I couldn't have wish'd better or different. For nearly two hours he has been placidly sitting where I could see his face in the best light, near me. Mrs. S.'s back-parlor well fill'd with people, neighbors, many fresh and charming faces, women, mostly young, but some old. My friend A. B. Alcott and his daughter Louisa were there early. A good deal of talk, the subject Henry Thoreau—some new glints of his life and fortunes, with letters to and from him—one of the best by Margaret Fuller, others by Horace Greeley, Channing, &c.—one from Thoreau himself, most quaint and interesting. (No doubt I seem'd very stupid to the roomful of company, taking hardly any part in the conversation; but I had "my own pail to milk in," as the Swiss proverb puts it.) My seat and the relative arrangement were such that, without being rude, or anything of the kind, I could just look squarely at E., which I did a good part of the two hours. On entering, he had spoken very briefly and politely to several of the company, then settled himself in his chair, a trifle push'd back, and, though a listener and apparently an alert one, remain'd silent through the whole talk and discussion.
A lady friend quietly took a seat next him, to give special attention. A good color in his face, eyes clear, with the well-known expression of sweetness, and the old clear-peering aspect quite the same.
Next Day.—Several hours at E.'s house, and dinner there. An old familiar house, (he has been in it thirty-five years,) with surroundings, furnishment, roominess, and plain elegance and fullness, signifying democratic ease, sufficient opulence, and an admirable old-fashioned simplicity—modern luxury, with its mere sumptuousness and affectation, either touch'd lightly upon or ignored altogether. Dinner the same. Of course the best of the occasion (Sunday, September 18, '81) was the sight of E. himself. As just said, a healthy color in the cheeks, and good light in the eyes, cheery expression, and just the amount of talking that best suited, namely, a word or short phrase only where needed, and almost always with a smile. Besides Emerson himself, Mrs. E., with their daughter Ellen, the son Edward and his wife, with my friend F. S. and Mrs. S., and others, relatives and intimates. Mrs. Emerson, resuming the subject of the evening before, (I sat next to her,) gave me further and fuller information about Thoreau, who, years ago, during Mr. E.'s absence in Europe, had lived for some time in the family, by invitation.