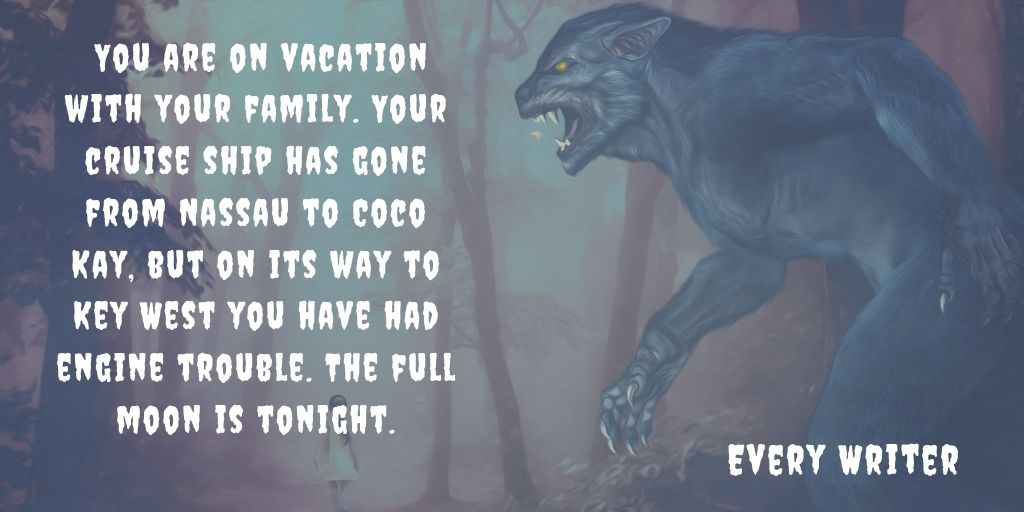 You were bitten by a werewolf a year ago. You have just gotten used to having to lock yourself up every full moon. You are on vacation with your family. Your cruise ship has gone from Nassau to Coco Kay, but on its way to Key West you have had engine trouble. Everything on the ship in fine, but the unthinkable has happened, the cruise will last 3 extra days.
You are stuck in the middle of the ocean with your wife, daughter and 3000 people. Some are a bit grumpy about the delay, but most are very happy that they are getting extra vacation time and a full refund.
The cruise ship has had a party on the deck every night you have been at sea. You have nowhere to go and no place to hide. The buffets this morning are full. Everything that you could possibly want, but you are just sick thinking of rampaging through the ship, unstoppable, killing everyone in your path including your wife and child.
Last night while your wife and daughter were sleeping, you searched the ship. You looked everywhere for a place to lock yourself up. You found a couple closets that might work, but the doors do not look strong enough.
When you first transformed you didn't believe you would change. The morning after the first full moon you work up in the woods beside the body of a man you had been eating. The news said that a wild animal hand attacked the city, rampaged through the streets, killed 10 people, and was now being tracked in the wood where you woke up, naked and completely sick to your stomach.
On the ship, through the narrow corridors, on the decks there will be no escape for the passengers. The door to the cabins are not thick enough to keep you locked out or in. You could easily rip your way out.
You sit at the table with your wife and child. They are eating breakfast. You have explained to your wife you do not feel well, but at this moment, the captain comes up to you and says you have been chosen to be the guest of honor at tonight's party. You will get to sit in a chair above everybody on the deck. You will get to go into the Bridge with the captain. It is an honor, won by lottery, and today is your lucky day.
You are sitting looking up at the captain, dressed in white. You look up to him and start to speak. You know tonight is the full moon. What are you going to do?
If you want to write a 500 word story, inspired by this prompt in the comments below, we will consider it for publication.