You are on vacation, driving across country. You are a couple days into the journey when you stop in the small desert town of Ever Springs. The town was named after a magic spring that no longer flows through downtown.
Ever Springs is a quiet town of about 5000 people. It has a downtown area built in the 1850s with a general store, a post office, hotel, mom and pop restaurant, a couple bars and a court house. It's a typical idyllic American town. The little town is at least 100 miles from any other city. It really wasn't well marked on the map, but it was the only place for another 100 miles to sleep, and you just wanted to stop and rest.
You have stopped here on your way to your real vacation on the West Coast. You want the beach, and you know your friends are waiting for you. Your excitement keeps you up. It's 3 a.m. and you can't sleep. (You can have a family, be with friends or be on your own, whatever is best for you in your writing. You can also be male or female, pick one). You decide to go walking. You are pretty sure there is little to no crime in this little quiet town out in the middle of the desert.
You walk downtown. When you leave your hotel there are 3 little stoplights all flashing, but the buildings are so stuck in time, you are enjoying yourself just look. You walk for 5 mins to the edge of town, where the high school is, and the road travels out into the darkness of the desert. Little communities of houses can be seen behind the buildings of the town. No one is out. The small stream of occasional traffic passing through the town has even stopped.
You stand and look out at the desert thinking of the rest of your trip. Soon you will be with your friends, suddenly you hear something whoosh by overhead. You look out into the desert night and see a large bird flying away from the town. It is very large. After a minute it turns, flies up, and back toward the town. You feel odd about it, so you turn and decide to go back to your hotel, walking a little faster than before.
The large bird passing 20 feet your head, and it casts a large shadow. About 100 yards away, right in the middle of the quiet little down, it lands and turns toward you, and for the first time you realize, it is not a bird, but a very large dragon, something you have only seen on tv and in story books. You freeze.
The dragon, leans low, moving toward you. You are frozen with fear. You think maybe you are dreaming. At he comes close, he stops and begins to speak…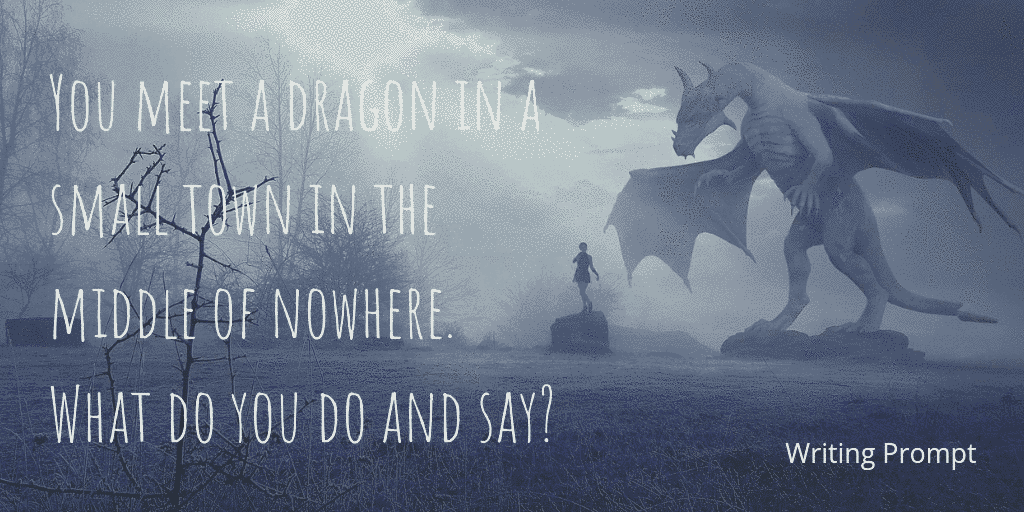 You can write your story below in the comments, or just write it for yourself….please leave me a comment and tell me what you think of the prompt. I wrote this one late and quickly, so if you see mistakes, leave THEM in the comments. I'll correct them, thanks!