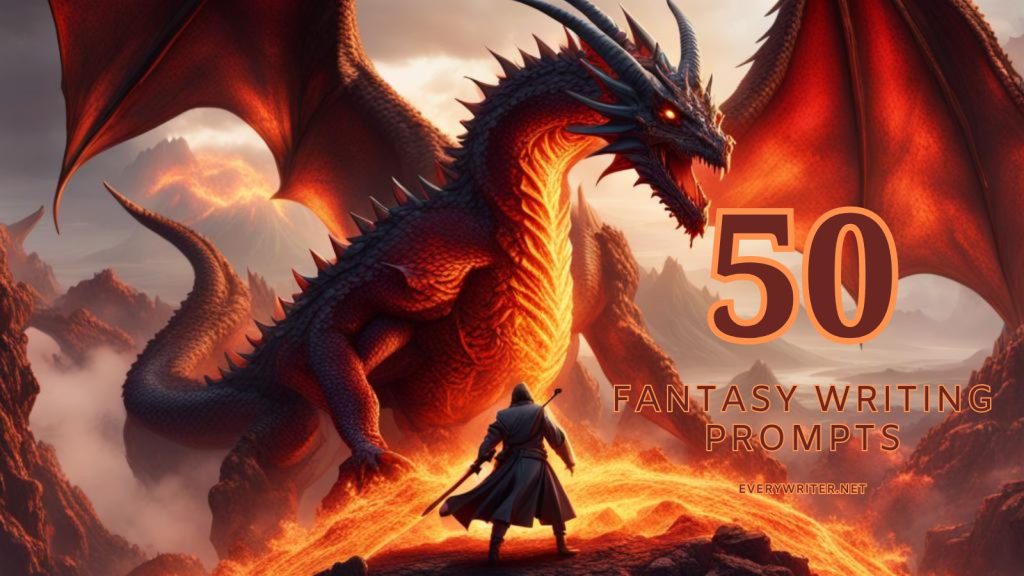 Step into a realm of magic and wonder with this collection of 50 fantasy writing prompts. From tales of powerful wizards to adventures with dragons, angels, and mystical lands, let these story ideas spark your imagination. Whether you want to write about an apprentice caught up in magical mishaps, an epic quest against a dark lord, or supernatural mysteries in a secret world, you'll find inspiration here. With ideas spanning common fantasy tropes to fresh new twists, these prompts aim to ignite that creative spark and help you craft your own original fantasy stories. Each prompt provides a starting point – a single scene or concept to launch your tale. Where you take it from there is up to you. Will you create sprawling epics or flash fiction? Lighthearted adventures or chilling dark fantasy? Let your inner world-builder run wild. So gather your figurative sword and shield, ready your spells, and embark on a vision quest into the realm of fantasy writing. Exciting quests and magical tales await.
Write about a magician's apprentice who accidentally summons a monster during a spell gone wrong.
A knight goes on a quest to slay a dragon, only to find the dragon is good. Now they must prevent the corrupt king from finding and killing it.
The orphan stable boy discovers he can communicate with horses, then finds out he's actually the heir to a horse lord.
A witch's spellbook of potions is accidentally swapped with a cookbook at the local library. Write about the magical chaos that ensues.
An elf sets out on a mission to find their missing sibling, believed to be held captive by a band of trolls.
The blacksmith's apprentice turns out to be the prophesied one with the power to wield a legendary magical hammer.
Two children wander into a dark forest only to realize it is the gateway to the fairy realm.
A half-elf teen tries to find out whether their mother or father was the magical one so they can learn more about their talents.
Twins are separated at birth – one is raised as a prince, the other by wolves in the forest. They eventually meet and switch places.
A farmboy discovers a glowing stone in a field, which speaks to him and gives him magical powers.
A wizard detective works to solve mysteries in a realm where magic is common and spells cause chaos.
The youngest prince sets out to save his brothers from the fairy who cursed them to live as swans.
Write about an alternate 1840s where magic rules, following a mage who solves magical crimes.
A half-angel, half-demon character is rejected by both communities. On their journey they discover a third way.
A seemingly average goblin works to gain respect and improve conditions for goblin workers in a world of elves.
An explorer discovers a lost civilization of advanced magic users and accidentally unleashes an ancient evil.
A mermaid saved the life of a drowning human. Now she longs to meet them again despite the divide of their worlds.
The Grim Reaper's scythe is stolen. Now they must retrieve it before the natural order spirals into chaos.
A witch with healing magic feels called to help during a devastating outbreak after regular medicine fails.
A hero discovers a hidden land where mythical creatures live – mermaids, centaurs, griffins, etc. But an evil presence looms.
The human king tries to default on a deal with the fairy queen. She sends a fairy to claim the firstborn child as payment.
A bard fulfills legends by slaying mythical beasts. But they discover the mythical beasts were good all along.
A seemingly crazy old wizard helps a magic apprentice recover knowledge and skills lost to a curse.
A mage who can absorb others' magic seeks out the source of all magic to gain ultimate power.
Two immortal lovers continually find each other over centuries but destiny and magic keeps tearing them apart.
A thief steals magical artifacts from guarded places. On the run, they discover one item's dark purpose.
A cursed amulet that transforms the wearer into a ravenous monster has been lost. Someone must find and contain it before it's worn again.
In the ultimate showdown between good and evil, an average person's choice unexpectedly tips the scales.
A wizarding duel goes wrong, and two mages' consciousnesses accidentally end up switched into each other's bodies.
A magic user is outlawed and hunted for powers beyond their control. They search for sanctuary with others like them.
An evil necromancer raises an undead army. One soldier regains sentience and seeks to stop them from within.
A seafaring nation invades an island kingdom rumored to be protected by a powerful sea monster.
On a planet with high and low magic realms, a traveler discovers their true magical identity during a perilous journey.
The orphan stable boy can actually talk to animals. When the prince goes missing, only he can gather clues from the wildlife.
The gods walk among humans through avatars that incarnate in each new generation. You're one – but which god is within you?
The prince is put under an enchanted sleep, and the princess must uncover how to break the spell.
A shifter who can transform into a dragon discovers a hidden community of other shifters and an underground resistance.
You're trapped in a magical video game world. The only way back home? Defeat the dark sorcerer boss.
A camping trip goes awry when the forest comes alive with mythical creatures bent on driving away humans.
A wizard school dropout is the underdog against a rival bent on controlling dangerous forbidden magic to dominate the kingdom.
A grief-stricken inventor creates a homunculus in his loved one's image, but magic cannot recreate their soul.
A cursed mushroom circle transports people through the fairy realm, but they can never return to the human world.
A prophecy says only a child born during an eclipse can wield the Chosen One's sword and defeat the spreading darkness.
A thief picking pockets on crowded market day accidentally lifts an amulet imprisoning an ancient djinni bent on revenge.
A sibling seeks a magic cure for supernatural creature blood so their werewolf sister can lead a normal life.
A grieving dryad binds her life force to the towering ancient oak, cursing loggers from cutting it down again.
Villagers sacrifice maidens to the monster in the old temple until one day his latest victim breaks free. She wants vengeance.
You're accepted into a secret magical order, but your mentor is suspicious of your immense gifts. Are you the prophesied one…or spy?
A wish gone wrong – now you keep involuntarily shifting into your Halloween costume form! How do you lift the magic?
A half-elf searches their missing human mother's childhood home for clues about why she abandoned her people. The mystery reveals a dark royal secret.
Let these 50 fantasy prompts open portals to mythical lands, incredible magic, and epic adventures. Whether you're a seasoned fantasy author or just starting out, use these ideas as a launchpad to take your writing to fantastical new heights. Each prompt is a story seed bursting with potential. Where they bloom is up to you. Craft tales of heroism and villainy, mythical quests, supernatural occurrences, or mystical worlds. Give life to colorful characters on extraordinary journeys. With this collection of prompts as your guide, you're sure to craft sensational stories that capture the imagination. Now ready your pen, pick a prompt that inspires you, and begin – your own magical tale awaits. Please remember to check out our other writing prompts.