Welcome to an updated and edited version of our Best Online Literary Magazines list. This list and our Top 50 literary magazine list have gotten much attention. Atlantic Monthly wrote in an issue years that they hoped "rank and file" lists of magazines weren't a trend that would continue. Well, these lists are essential. They help people put publications into perspective. Writers need to know well-established magazines that can get recognition. For a complete list of literary magazines, look at our database here.
It's shocking to see 2023 how many websites have copied this list. There are many copycats. We've been publishing since 1999, and this list is the original. Our top 50 list was the first on the Web, and this was just a short time after. Accept no substitues. 
A couple of notes about this new list in 2023: first, don't judge a literary magazine by its cover, and it's odd to say don't judge a web publication by its website, but don't. In the early 2000 website, Can we have our ball back. com started publishing poetry online. The site looked terrible, but some of the most remarkable poems were in its cryptic ugly, hyperlinked pages. The site was included in a wide range of national anthologies. Few writers anyone had ever heard of were getting a lot of attention. So you never know. 
Some of the magazines on this list may not be eye-pleasers, but excellent editors head them, and the work appearing in their publications is outstanding. 
For a long time, literary magazines were short print-run issues that only dared to be different because they wanted to. The established writing community, universities pressured them, and even money constraints to stay on the norm for as long as it lasted. With the advent of the Internet and so many voices and large audiences for the taking, it is our goal, and we believe it should be the goal of others, to push the gatekeeper to continue to do the different and riskier thing that helps writing and writers. We hope all who have a voice will continue to reward and pressure literary magazines to continue to be different, be better, and shape the face of literary writing. If you are on this list, you are welcome to use the logo below to show your readers.
How dare you write a list like this. What good does it do?
These are the best of the best ONLINE literary magazines. They do not have a counterpart consistently published in the real world. Their primary source of readership and reputation comes solely from web publishing. We used the following criteria:
 What do they do for writers?
Do they accept all writing and publish new writers? Do they promote the state and well-being of writing on the Web?
 What have they done for writing on the Web?
Did they make headway for writing and respect on the Web? Do they help writers and other web publications publish?
 What do they bring to readers?
Do they publish excellent writing? Do they publish in a timely fashion? Do their new writers go on to bigger and better things? What is their readership? Are they well-known?
 Do they take risks that have paid off?
Have they risked anything for writing and made the better craft and the state of publishing?
Some of these magazines are new and have been published for many years. They all publish outstanding authors and writing. Many have won awards and are often included in national anthologies.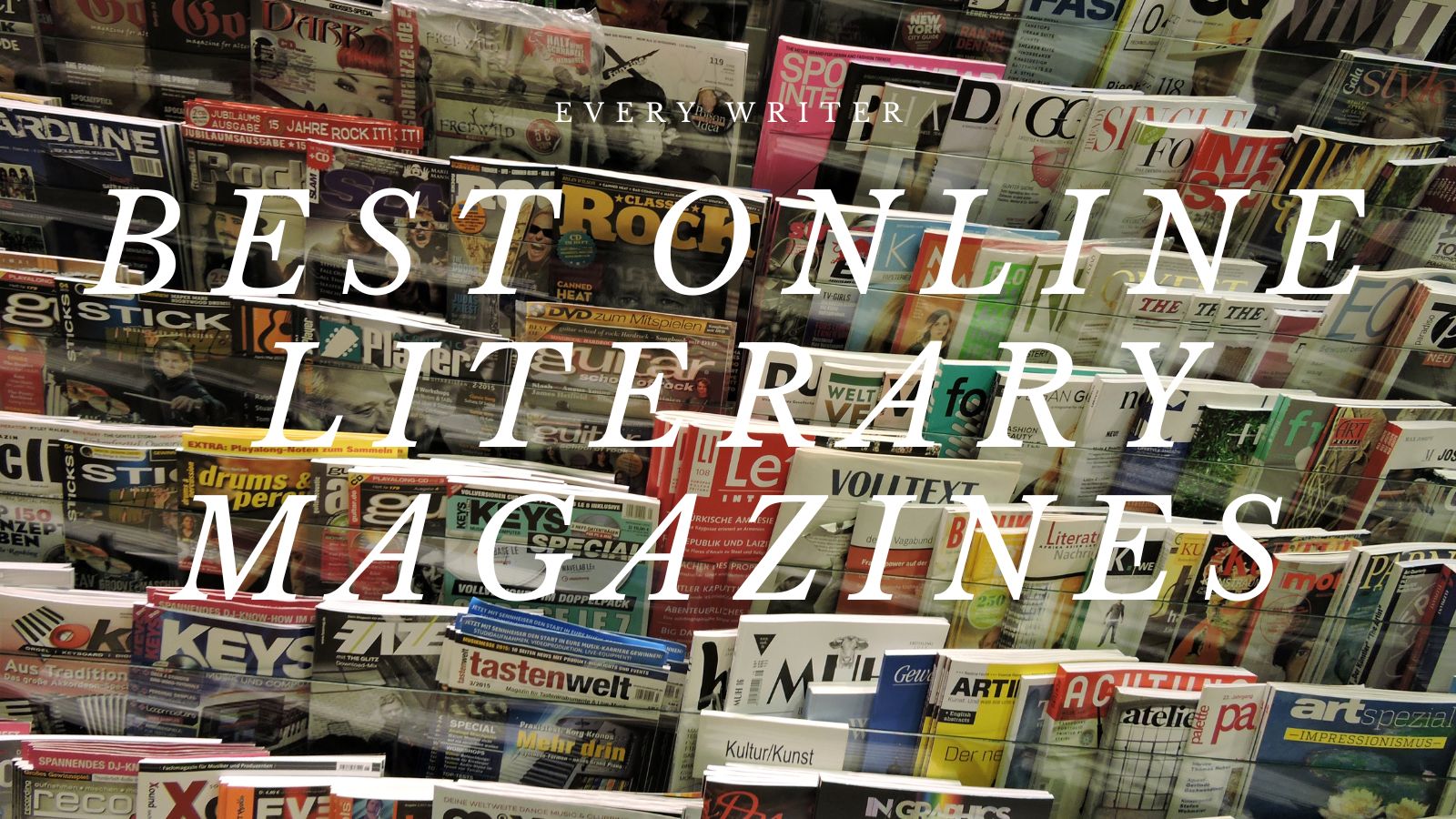 20 Best Online Literary Magazines
 1. Narrative Magazine http://narrativemagazine.com
Edited by Carol Edgarian and Tom Jenks, two well-established editors, the publication is making a real run at being a "big-time" literary magazine on the Web. Only a few publications in print or online have been able to be successful AND keep creating content as their bread and butter. Narrative is attempting to do just that. They work weekly to bring excellent writing to the Web and promote writers. It is like the Atlantic Monthly depending on fiction and poetry first and articles second. Narrative acquired the long-time print magazine Story Quarterly and is now carrying out a literary tradition by bringing that writing to the mainstream. They are doing something unique and worthwhile for writers, and every writer on the Web should support them.
Here you have former editors and writers who have worked for or published in publications like Esquire, GQ, and Vogue, trying to bring excellent writing to the Web like never before. The site states, "Narrative was founded in 2003 to explore what could be done with quality literary publishing on the Internet. At that time, nothing that could stand alongside well-established literary periodicals existed online, but it was clear that they would soon be marginalized unless writers moved onto the Internet."
They do it right and are working very hard to promote writing as a mainstay of the Web. Please read them, subscribe, and visit often. They are number 1 on our list for their content and vision. They could be at the top of our print magazine list if they were in print.
2. Agni https://agnionline.bu.edu/
Agni is one of the best magazines in publication. It's on our top 50 list as well. Agni has been in publication since 1972. They have won award after award. Most published on the Web now, the magazine continues to gain recognition for new and well-established writers. Agni is a must-read. 
 3. Carve Magazine http://www.carvezine.com/
Carve Magazine magazine is new to the list. In 2000 they were consistently publishing work that kept getting better. They have also become very well-known in writer's circles for their "Raymond Carver Short Story Contest." Since the inception of this contest, the magazine has been getting more attention. The site reads:
 "Carve seeks to publish outstanding literary fiction and strengthen its ties to the literary community. Though online-literary magazines are not the "norm," we at Carve believe that with time and consistent publishing of quality work, we can attain the same level of reputation enjoyed by print magazines." 
According to Alexa, they already do rival print magazines because they have better web traffic than the Mississippi Review.
4. 32 Poems https://32poems.com/
As the name suggests, they only publish poetry, but it's only possible to have the best online magazine list with them. The magazine has been on the Web since 2002 and has had work included in Best American Poetry many times. We strongly suggest you read and submit your work to their site. 
5. A Public Space https://apublicspace.org/ 
Founded by one of the Editors of The Paris Review, A Public Space has been winning awards from the beginning. They have a significant online publication and are one of the best, if not the best, new publications on the Web.
6. Apple Valley Review https://www.applevalleyreview.org/
Apple Valley Review has been online since 2005. Their authors have been included in "Best American Short Stories, Best American Essays, Best Microfiction, The Best Small Fictions, Best of the Net, Best of the Web, The Wigleaf Top 50 (Very) Short Fictions, story South Million Writers Award, and New Poetry from the Midwest." They consistently gain recognition for their authors. 
7.failbetter.com https://www.failbetter.com/
They continuously publish great work and make significant inroads for women writers on the Web. They are one of the best online literary magazines on the Web that are setting standards for literary magazines of the future. It was not so long ago that print magazines were turning up their noses at publications on the Web; failbetter.com and other zines on this list have helped to change that view. 
From their site: "failbetter.com is an online journal that publishes original works of fiction, poetry, and art." Work from the site has appeared in Best American Poetry, and the Pushcart awards have recognized them.
8. Evergreen Review http://www.evergreenreview.com/
Est. 1959 as a print publication that ended in 1973. It was reincarnated as an online literary magazine in 1999. Generally, it's a beautiful read. The Wikipedia article in the Evergreen Review states,
"Evergreen Review debuted pivotal works by Samuel Beckett, Jorge Luis Borges, Charles Bukowski, William Burroughs, Marguerite Duras, Jean Genet, Allen Ginsberg, Gunter Grass, Jack Kerouac, Norman Mailer, Henry Miller, Pablo Neruda, Vladimir Nabokov, Frank O'Hara, Kenzaburo Oe, Octavio Paz, Harold Pinter, Susan Sontag, Tom Stoppard, Derek Walcott, and Malcolm X. United States Supreme Court Justice William O. Douglas wrote a controversial piece for the magazine in 1969. Kerouac and Ginsberg regularly had their writing published in the magazine."
The magazine was pivotal and outstanding, and now the online magazine carries on the tradition.
9. The Cortland Review http://www.cortlandreview.com/
Work from The Cortland Review was selected in 1997 to be included in Best American Poetry. It has also been honored as one of the Forbes "Best of The Web." The site reads, "The Cortland Review publishes poetry and short fiction, both solicited and by open submission. Essays, interviews, and book reviews are solicited, queried, and approved before submission."
Est. 1997 and has published many outstanding poets. Their website boasts 350,000 visits a month.
10. The 2River View http://www.2river.org
We cannot stress enough that this zine is one of the best! The following is taken from their submissions page:
"The 2River View is published four times a year. The reading period for each issue is as follows:
June 1 – August 31 Fall Issue
September 1 – November 30 Winter Issue
December 1 – February 28 Spring Issue
March 1 – May 31 Summer Issue
2River considers unpublished poems only. An unpublished poem has not appeared in print or digital media, including personal or public blogs. A poem from a private, online workshop, however, would be considered, as long as the poem's final version does not appear in a public space."
Est. 1996, and for the last 11 years, Richard Long has published high-quality work from many great authors. The journal does not get the recognition it deserves.
11. Mudlark http://www.unf.edu/mudlark/
It is a unique look at publishing on the Web. They are more or less an electronic chapbook publisher but think of them as the most widely circulated chapbooks in the history of chapbooks. The site, starting in 1995, is a pioneer of literature and good writing on the Web. It is always a great read and preserves and promotes the spirit of literary writing at its best. Chapbooks have always been a handshake between a poet and some readers; this site represents a poet standing at the door of a football stadium greeting each person as they enter. It is hard to say how many times the first chapbook of Mudlark has been read; it dwarfs all other chapbook publications, we are sure.
Mudlark is one of the reasons online literary publishing has gained respect..
12. Waxwing https://waxwingmag.org/
The magazine started publishing in 2013. The work published on their site is outstanding. National anthologies often include works from this little site. They aim to be culturally diverse and publish international writers alongside American authors. They do a great job at accomplishing their mission. 
13. Pigeon Pages https://pigeonpagesnyc.com/
If you are looking for the newest up-and-coming magazine that is gaining a lot of attention, you don't have to look any further than Pigeon Pages. Even though they have only been publishing for a couple of years, the magazine is already winning awards and gaining recognition for their authors. They do it right. 
14. Cave Wall http://www.cavewallpress.com/
Digging deep, we still need to find the date Cave Wall was established. They first appeared in Best American Poetry in 2011, so we know they have been around for at least a decade. They publish outstanding work by outstanding authors, and you should go and read them. Submit your work. 
15. Del Sol Review http://delsolreview.webdelsol.com/
Del Sol Review started in 1998. Outsiders often do excellent writing. There have always been elements in literature that walk their walk. Web Del Sol and Del Sol Review are those outsiders. Even in this weird world, they manage to make it weird. They consistently published great work.
16. The Rumpus https://therumpus.net/
The Rumpus has been on the Web since 2009, publishing fiction, poetry, and nonfiction. They have won many awards, and they are taking submissions. 
17. Swwim https://www.swwim.org/
The magazine publishes a poem a day. They have a dedicated group of editors and are often looked at for inclusion by some of the most significant anthologies and literary websites. The magazine publishes excellent works. 
18. Able Muse https://www.ablemuse.com/
Able Muse has constantly published great works by authors since 2000. The website has gone through many incarnations, but they have focused on literature. 
19. Cleaver Magazine https://www.cleavermagazine.com/
Cleaver Magazine is Philadelphia's International Literary Magazine. Their mission is to "elevate" emerging writers and spotlight writers from the Philadelphia area. 
Sleet Magazine http://sleetmagazine.com/
Since 2009 Sleet magazine has been publishing poetry and fiction on the Web. They have been nominated for a Pushcart 113 times. The publication consistently publishes excellent work. 
20. Quarterly West https://www.quarterlywest.com/
The Ph.D. creative writing students at the University of Utah edited Quarterly West. The magazine was founded in 1972. It has been published in its current form since 2013.