John Hunt Publishing
Website: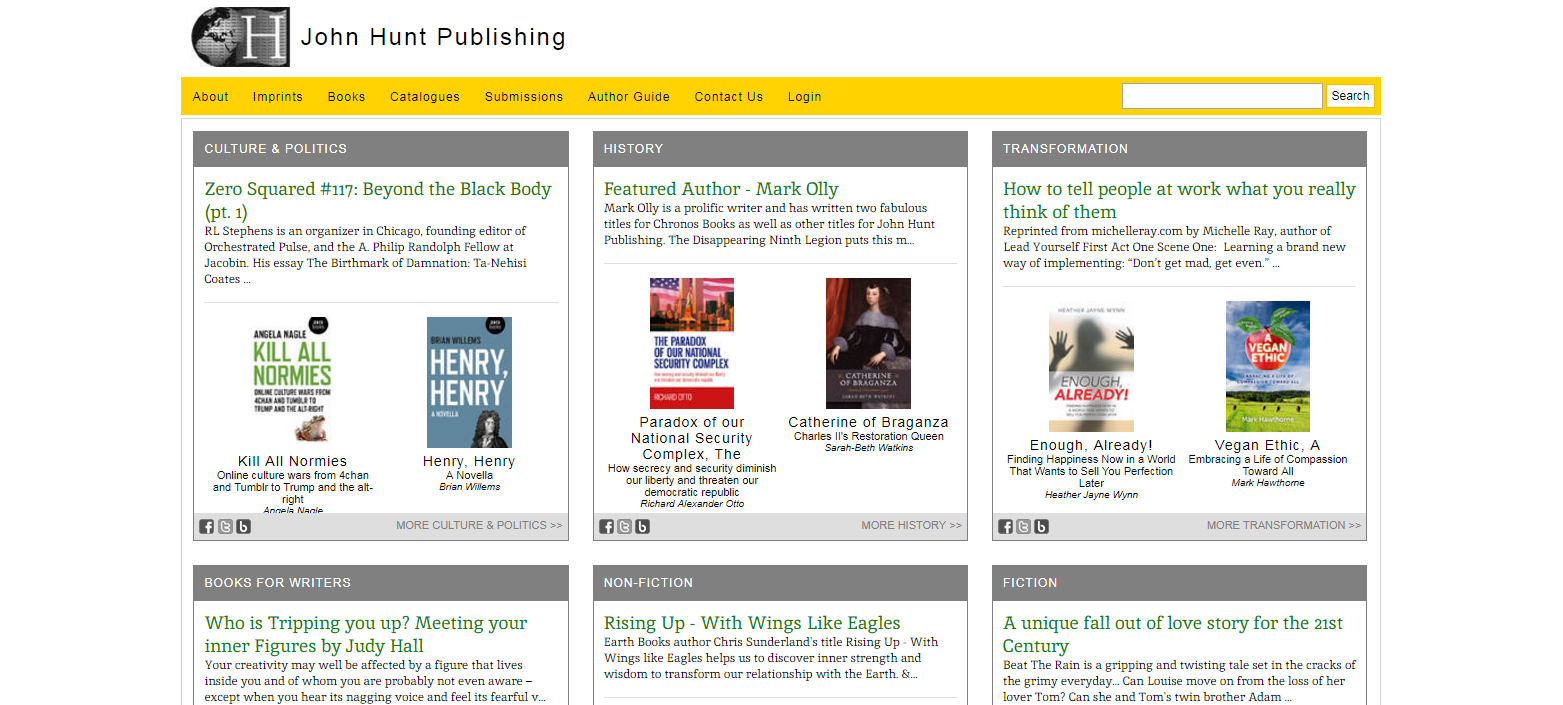 From the Publisher
JOHN HUNT PUBLISHING: OPPORTUNITIES FOR NEW WRITERS JHP imprints cover a wide assortment of genres – in fact, there's probably something here for everyone and the JHP stable is very welcoming to new authors. Go to the main JHP site and click on 'Our Imprint' for full details of what each publisher is looking for … and send your inquiry direct to them.
Submissions
6th Books – Paranormal and Parapsychology Axis Mundi Books – Esoteric Ayni Books – Health Bedroom Books – Romance, Erotica and Adult Business Books – Business titles Changemaker Books – Life change and Transformation Circle Books – Christianity Compass Books – Writers' how-to books Cosmic Egg – Horror, Fantasy and SF Dodona – Divination Earth Books – Environment Iff Books – Science, Philosophy and Law Liberalis – Education Mantra Books – Buddhism, Hinduism and Eastern Moon Books – Paganism and Shamanism O-Books – Spirituality Our Street Books – Juvenile fiction, non-fiction and Parenting Perfect Edge Books – Dark fiction Psyche Books – Psychology Roundfire Books – Fiction Sassy Books – Badass books for go-for-it girls Soul Rocks Books – New generation Top Hat Books – Historical Fiction Zero Books – Culture, Politics and Society Like all publishers, JHP is looking for titles that have good sales potential but even if an author is not offered a full contract, there are often other publishing possibilitites that can take advantage of the high quality production and marketing facilities. JHP imprints also endeavor to make a decision about a title within 4-7 days. Go to www.johnhuntpublishing.com for full details.
Address:
Year Founded:
Does the Press Accept: :
Online Submissions
Email: publisher1@compass-books.net
Category:
Book Group, Book Publishing Company, Children\'s Book Publishing Company, Christian Book Publishing Company, Cultural Book Publishing Company, Current Affairs Book Publisher, Ebook Publishing Company, Erotic Book Publishing Company, Fantasy Book Publishing Company, Horror Book Publishing Company, How To Book Pubulishing Company, Non-Fiction, Philosophy Book Publisher, Political Book Publisher, Psychological Book Publisher, Radical Book Publisher, Religous, Romance Book Publishing Company, Science Book Publishing Company, Science Fiction Book Publishing Company, Spiritual Book Publisher, Teen Book Publishing, Thriller, Women\'s Studies, Young Adult Book Publisher