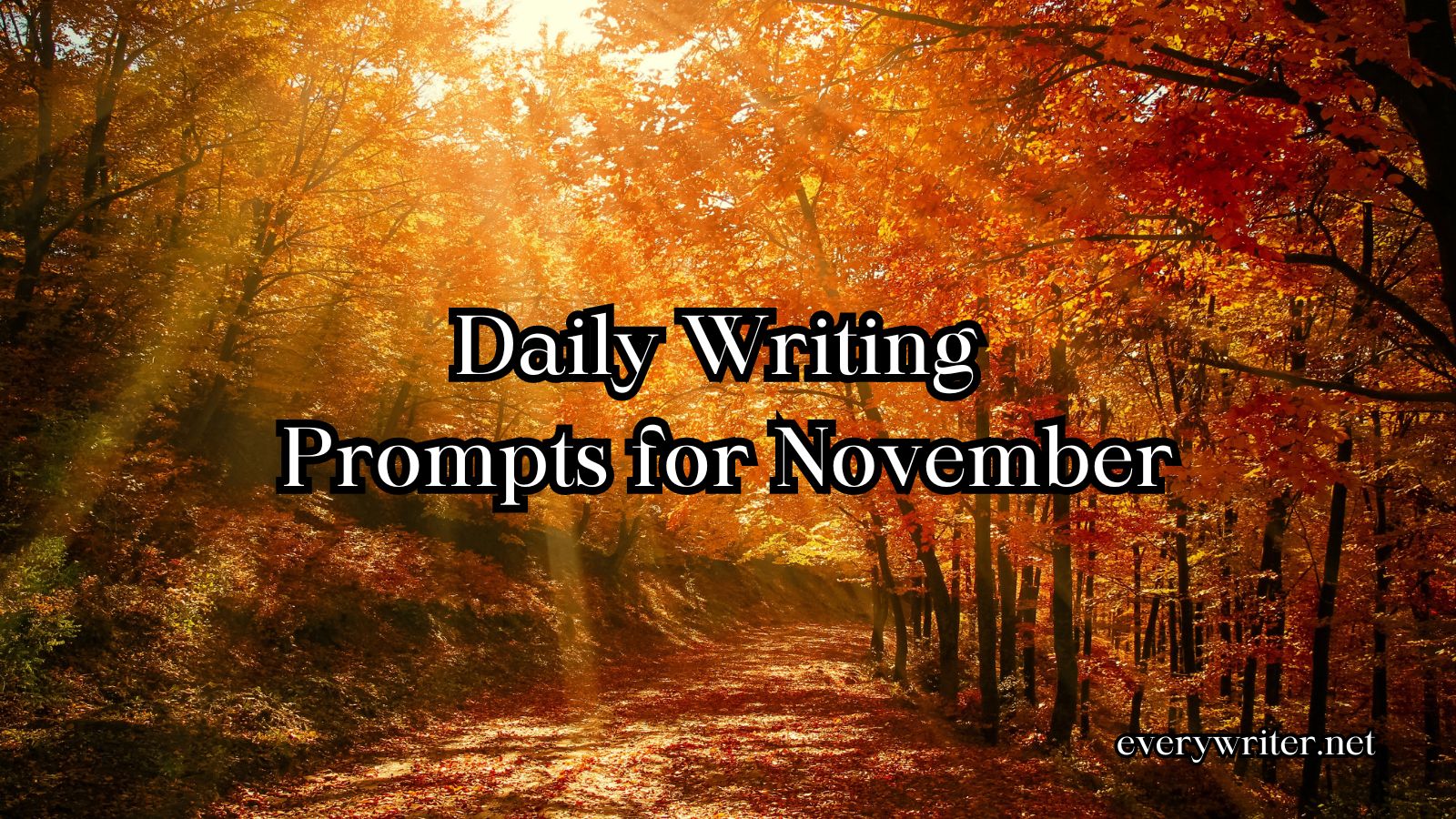 Here are creative writing prompts for every day of November. These fun, imaginative topics will keep you writing all month long.
The prompts are quick and easy to complete but range across themes to exercise your skills. Many focus on gratitude, family, and the holidays – perfect for Thanksgiving inspiration.
Some prompts have you reimagining classics or dreaming up fictional worlds to stretch your creativity. Others reframe perspectives, having you write from unexpected points of view.
Whether you craft prose, poetry, fiction or nonfiction, you'll find prompts that appeal to you. Use them as daily warm-ups or idea starters for expanding into longer pieces.
Let these creative jumpstarts spark your imagination and get your literary juices flowing. Defeat writer's block this November by trying a new prompt each day. Celebrate, reflect, and create as you write through the month.
November 1 – Write a fictional first-person account of a family Thanksgiving gathering from the perspective of the family dog.
November 2 – Script an imaginary conversation between the autumn leaves discussing falling and changing color.
November 3 – Compose a recipe poem listing magical ingredients to conjure up thanksgiving dinner.
November 4 – Draft a story imagining mythical ancestors joining your family for Thanksgiving.
November 5 – Personify a fall breeze in a poem reminiscing about past Thanksgiving days.
November 6 – Invent whimsical secret identities for each of your family members.
November 7 – Describe a fictional magical cookbook portal that transports you to any Thanksgiving in history.
November 8 – List the rooms and descriptions of your fantasy family dream house.
November 9 – Rewrite the first Thanksgiving story imagining time travelers joining the feast.
November 10 – Write a found poem using words from a family member's holiday greeting card.
November 11 – Craft a suspenseful story about a Thanksgiving calamity.
November 12 – Depict your family members as characters in a fictional TV show Thanksgiving episode.
November 13 – Rewrite a fairytale told by a grandparent set at Thanksgiving.
November 14 – Dream up a new fictional family tradition for future Thanksgivings and describe it in detail.
November 15 – Compose a recipe in poem form for your family's favorite Thanksgiving dish.
November 16 – Tell about a funny Thanksgiving family blooper as a tall tale.
November 17 – From a turkey's perspective, write a humorous Thanksgiving poem.
November 18 – Imagine a prayer shared before the meal by one of your storybook heroes.
November 19 – Describe a quirky secret family Thanksgiving ritual as magical realism.
November 20 – Reimagine a favorite childhood book as a Thanksgiving story.
November 21 – List things you're grateful for from different family members' points of view.
November 22 – Craft a fairy tale about the magical origin of your family's traditional sides.
November 23 – Design floorplans and room descriptions for your fantasy family manor.
November 24 – Outline a family generational saga spanning Thanksgiving dinners.
November 25 – Rewrite a scene from A Christmas Carol set at Thanksgiving dinner.
November 26 – You find a magic cookbook – describe the fictional feasts it conjures.
November 27 – Draft a literary feast scene where food comes to life – joined by family.
November 28 – Recall childhood jokes and punny wordplay at family gatherings in a poem.
November 29 – List fictional skills family members would master based on their talents.
November 30 – Describe a dream Thanksgiving gathering of literary legends – joined by your
Thank you for using our November writing prompts! We hope these creative jumpstarts inspired your imagination and kept you writing all month long.
If you have any feedback on the prompts or suggestions for future topics, we'd love for you to share in the comments below. We're always looking to improve.
We also enjoy reading the pieces these prompts spark – if you used a prompt to craft a story, poem, essay, or other creative work and want to share it, please post links in the comments. We're excited to read what you created! We have many other writing prompts, if you are looking for more.