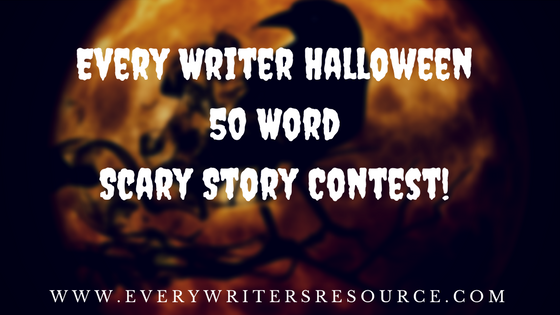 Happy Halloween! Yes, it's August 7, but we have to start now! Welcome to the Every Writer Halloween 50 Word Scary Story Contest. I know we just ended our other 50 Word Summer contest, but we have to get this one started now. It's our big contest. It's the big show. The contest to end all contest! You already know the ground rules. Our writers always seem to have fun doing these, and this is the one that started it all!  We are looking for the scariest of the scary this time. We want your best possible stories please.
I know Halloween is a little ways away, but we have to have material to publish in our October 1st print issue of Every Writer. It'll be our big Halloween issue. That's why we are starting early. Here are our requirements:
Stories:
Must be scary
Must be 50 words or under
Must be a complete story
Have to be in before our deadline.
Deadline is October 29, 2017
Enter as many stories as you like!
Post your story in the comments below.
What you win:
Publication in our print magazine (will not be the Halloween issue, see below).
1st Place wins 1000$ in ads on our site
2nd Place wins $500 in ads
3rd Place wins $250 in ads
Also, if we like your story we may pull it off our list, contact you, and publish it our Halloween issue.
I have to explain. We will not know the winners of this contest until October 29, and our Halloween issue will publish October 1, so the winners can't be announced in that issue. They will be in our January issue, BUT if we see ANY stories on this contest thread that we like, we will simply ask you to publish them in our Oct issue, before the first. Those people may be winners, they may not be, but we are looking for 50 word scary stories to publish. In our last print issue we published 15 50 word stories. October promises to be a bigger issue, so we will need as many 50 word stories as we can get.
What I'm saying is, win or no, you have a chance of being published in our Halloween print issue, if you post a 50 word SCARY story below.
Last contest was awesome, and we have some of those stories already going into our print issue. Please creep us out. Scare us!
We will announce and post the winners on October 30th! We will do a movie and a chat, as always. We will watch something scary and fun and do all of that, which people really like, when they show up for it.  Post your stories:
If you want to be in our latest contest, please visit: Our 2021 contest!