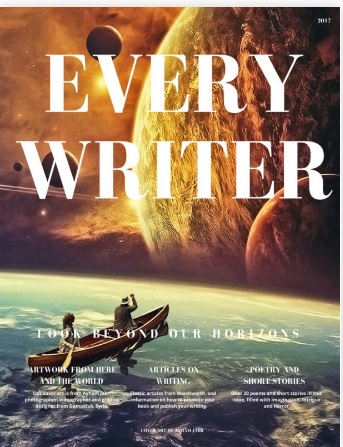 We've been promising a print issue, and here it is. This is our July issue of Every Writer in print. It is filled with articles on writing, poetry, short stories, and artwork. Are you in this issue? Are you looking for a new stylish magazine that will make you look like you are in the know about writing? Every Writer is what you are looking for.
We have artwork from Ayham Jabr, Stacy Drum, and Rita Schenemann, short stories by William Olmstead, Mike Taylor, Kerry Graham, Donal Mahoney, Ryan Brooks, and Savannah Brooks. We have poetry by Lana Bella, Shannon P. Lews, Rick Richardson, Sonia Saikaley, and Myrna Stone. We also have 14 50 word stories by you! Plus articles on writing and still more. This issue is packed with writing and writers!

Every Writer is page after page of a magazine created just for writers. If you are an author or a new writer, this magazine is for you. It's What's going on in publishing today plus writing and art from today's new and well known writers and artists.
If you want our latest issue, it is for sale here.