We are moving the deadline for our contest. We have so many great submissions, but we want more. We are moving the deadline to October 25.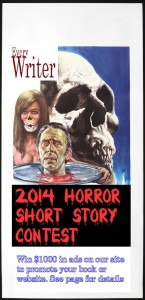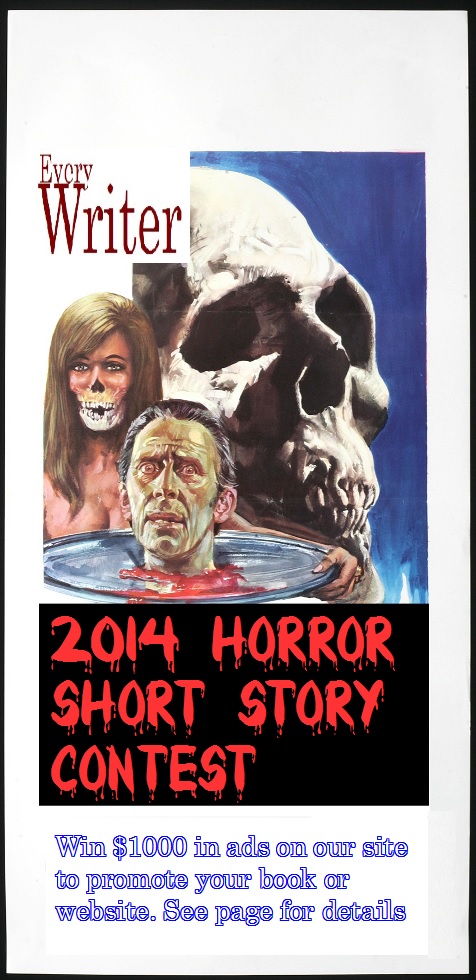 It's Back! We are launching our Halloween Short Story Contest a week early this year. The reason we are doing this is so we can publish our next issue of Every Writer the Magazine as a horror issue! We are excited about this, but we need all the submissions we can get.  First place in the contest gets published on our site, published in Every Writer the Magazine (digital), and 3 months of free ads on our site (about $1000 value).
This contest is perfect for any horror writer, but if you have a book, a literary magazine, or a website you want to promote, this is your chance. Winner of the contest can run ads on our site for 3 months for free. You will also get social media  (us tweeting and promoting your product on FB, and email).
The rules of the contest are as follows:
1. 1000 words or less
2. Must in the genre of horror
3. Must be awesome
4. DEADline is October 25, 2014
Please keep in mind that we will be putting out a horror issue of Every Writer, so we will need to publish a lot of stories, even if you don't win the contest. To enter the contest please send 1 story, 1000 words or less to eds@everywritersresource.com and put HORROR CONTEST in the subject line. Also, if you want to enter more than once, that's fine, but you have to send 1 story per email. There is no contest fee, but signing up for our mailing list will give you a wink from our editor: https://www.everywritersresource.com/literarymagazines/writer-magazine-free/