This is our Interview with Junot Díaz it was moved from an old html page. It originally published on EWR in 2007.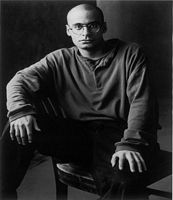 Junot Díaz was born in Santo Domingo, Dominican Republic. His stories have appeared in The New Yorker, The Paris Review, Story and have been featured in Best American Short Stories, and Best American Short Fiction. Díaz is the author of the critically acclaimed bestseller Drown.He is a graduate of Rutgers University, and he received his M.F.A. from Cornell University. He currently teaches writing at MIT. He responded to our questions by email.
EWR: How were you inspired to become a writer?
Junot Díaz: A) The desire to tell stories got rooted in me early and never stopped growing. 
B) The silence that the US encases so many of its subjects in.  Growing up in the US in the 70s and 80s poor Dominican immigrant intelligent–that was like being a ghost. I didn't exist, not as individual or as community, except at the level of racist stereotype. Realized that wouldn't change unless I worked to change it so there you are.
Díaz: I'm not so sure. I can't honestly say what role my writing plays psychically. I just know that if it doesn't break my fucking heart it probably ain't worth pushing it on anybody else, but maybe the 'gritty' you mention has more to do with my memories of how incredibly fucked-up people can be, even good people, especially good people.
EWR: Your stories have been described as having a "gritty" realism. Is your writing ever emotionally therapeutic?
EWR: What music do you like to listen to?
Díaz: Right now I've been rocking the new Clipse album which is straight bananas.  I'm mostly a hiphop head (20 plus years and counting) and Latin music lover and have a strange jones for Angolan music.  
EWR: How does an idea for a story usually come to you?
Díaz: A memory, almost always.  More of an emotional memory than an image or a detail and then I try desperately to bring that to life with words. 
EWR: Many contemporary writers like Raymond Carver have described the creation of a story being something like putting one line after another without a plan.  How do you generally write your stories?
Díaz: Well, I write slowly and I write over and over and over again.  I don't get a real sense of my stories until about the tenth version. Which is a very inefficient way of doing things but it's the only way I know how to. 
EWR: You have at times drawn comparisons between your work and science fiction. Do you like to read science fiction?
Díaz: Oh, scifi was my original genre. It's what I read as a kid, the only words I really cared about until I got to college.  Then literature of color blew my wig completely.  Toni Morrison, Leslie Marmon Silko, Cristina Garcia, Oscar Hijuelos, Maxine Hong Kingston etc.  Wasn't until I read Octavia Butler that I realized that I could have both. 
EWR: What writers do you feel have most influenced how you create your stories?
Díaz: Shit, so many. James Joyce and Ron Carlson and Denis Johnson and Edward Rivera and Sandra Cisneros and Reginald McKnight just for structure alone. 
EWR: What books are you reading now?
Díaz: I'm on a Spanish kick.  I'm reading Arturo Perez-Reverte's Captain Alatriste and Felipe Fernandez-Armesto's Pathfinders.  Finishing Moby Dick again.  One of those nerds who's always reading.  Also Richard Sala's Delphine.  
EWR: What projects can our readers look forward to from you in the future?
Díaz: Novel's done. Will be out fall 2007. No title yet. But I'll nail it soon enough. 
EWR: Thank you.
Díaz: Thank you.