Last week, a few days before Thanksgiving,  I was able to sit down in a clean well lighted cafe with Mr. Kris Kringle. We met in Portland, Oregon. Mr. Kringle was kind enough to take time away from his busy schedule to talk with us. This time of year is particularly busy for him. This interview is from the audio recording. It is very close to what was actually said. I was a little afraid to change anything to be honest. I have small children at home. Either way I left out any type of descriptions, but I will say that he talks while moving his hands a great deal.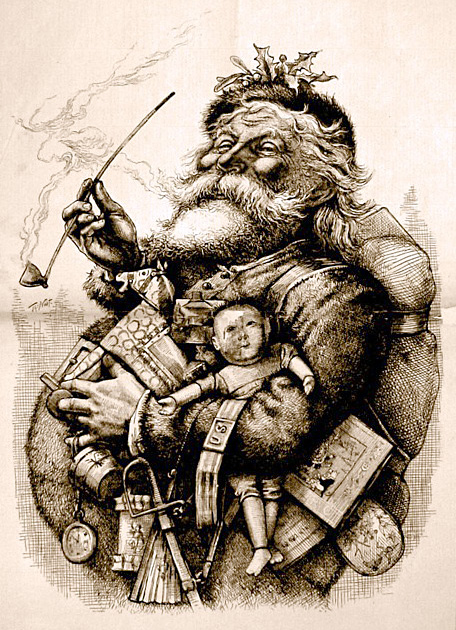 EWR: Sir could you tell me what you think of literary writing in the 21st century?
Kringle: Well, I don't know what to say to that really. I was reading Cathedral by Raymond Carver, and I know that's not really 21st century writing, but it seems like a lot of what I read sounds a lot like Mr. Carver's stuff. I have to say it's a little dark, you know slice of life wise, it's pretty grim.
EWR: I'm not sure what you mean sir by grim. Do you feel literary writing should be more uplifting?
Kringle: Well I'm not saying that all writing should be uplifting. The world isn't a happy place all the time, I know that. Even living at the North Pole I get CNN, so I understand that it can't always be snow flakes and hot toddies, but could we have a little Christmas cheer from some of these great writers?
EWR: So you'd like to see more of our Nobel Prize winners and National Book Award winners writing about Christmas?
Kringle: I don't think that would be too much to ask. Look at all of the very serious singers and songwriters who get it together every once in awhile and write a Christmas song. James Taylor did it. I wouldn't call James warm and fuzzy, would you?
EWR: No sir I don't think I would say that.
Kringle: And if you look at the writers of the Nineteenth Century you see all kinds of Christmas writing. Look at Charles Dickens. He was in no way a warm and fuzzy man. I met him. I knew him, and he was in no way sappy, but he got it together and wrote some honest to goodness holiday cheer. He perpetuated all holiday tradition, warned of making a mistakes and not being dedicated to your fellow human beings and all that stuff. I don't think it's really too much to ask that you know writers use their good abilities, especially those with lots of talent, to perpetuate some Christmas cheer every now and again.
EWR: So sir do you feel that
Kringle: And look at the poets of today. You think it would kill Billy Collins to write a Christmas poem? Maybe Stephen Dunn or Rita Dove? Do you think it would be a horrible thing for them to put out just a little Christmas cheer. Look at Clement Clarke Moore. He was a serious professor and even officiated Washington's inauguration. I remember it well. No one called him a wimp when he wrote the "'Twas the Night Before Christmas." People still read that poem every year, and as a matter of fact, it's probably the only reason that people remember him in the first place.
EWR: Mr. Kringle did you
Kringle: I'm not saying that every poem or short story or novel has to be about Christmas, but we've really lost our tradition of our great writers of our time writing at least one homage to the holiday. Look at the 20th Century.
EWR: Well sir I really wanted to ask you about
Kringle: We had so much death and destruction but Eliot still wrote The Journey of the Magi. It's wasn't the greatest Christmas piece I have ever read, but it was an attempt you know. I mean it was better than the Wasteland, have you read that?
EWR: T.S. Eliot's The Wasteland is one of the greatest poems of the
Kringle: Boy talk about dark, ugh. You know I didn't spend enough time with Thomas. I think maybe things would have been less you know, death and destruction if you know what I mean.
EWR: I think I do.
Kringle: The only poem I know of Collin's that is supposed to be about Christmas is the "Christmas Sparrow," and can I say I don't think that really qualifies. Stephen Dunn can jokingly ask me for collections of poems as gift, but he can't you know write me a nice happy Christmas poem with some cheer in it. I don't think every Christmas poem or short story has to be a TV teen movie of the week, if you know what I mean.
EWR: I was wondering sir if you…
Kringle: Have you read O.Henry's stuff. Now there's a man who knew how to write a Christmas story. He did a nice job with "The Gift of the Magi." Do you think maybe Junot Diaz or Denis Johnson could please write me one story about Christmas that has a happy ending and not some dark spin that's all that cleverness you know.
EWR: Maybe those writers are just….
Kringle: And I mean we need Christmas stories that are about Christmas, about real Christmas cheer you know, not just a snowy background or a Christmas tree flickering in the background while some drunk screams at his wife. Maybe that's the reality of Christmas for some people, but those people want something to look to, something to inspire them. Do you understand what I am saying? Can you understand what it means to write a timeless Christmas classic, not like Uncle Rick has found out how to stop smoking: this week on the ACB.
EWR: Sir I was just wondering if you could tell me….
Kringle: I don't do all this for my health you know. I think maybe sometimes people just think of me as a happy old fat man that flies around the world giving presents. It's true that I have spend a lot of my time writing lists and letters and checking in on the workshop. I mean I am a busy man, but I still have time to do summer reading. I take at least one trip every year usually on a cruise line that I won't plug, even though they use me as a spoke person any way. While sitting out on the deck of the ship enjoying my crab legs, you know I still read. I read a lot, and what I've been reading about Christmas doesn't do it for me. Some of these poets have children, I'm telling you. Some of these nationally know professors of writing have little children even, and I'm in their houses once a year. I'm telling you I might not be above leaving them a nasty piece of coal or even a couple a choice words on a letter. I would never take it out on those children, but I do think we need more sentimentality in some of these writers. Take a writer like Elizabeth Wurtzel, would it kill her to come out with a Christmas story?
EWR: Well I think she might be…
Kringle: Well it doesn't matter what I say I guess. I think the big thing here is for everyone to know that I'm not happy. I'm not happy with the Christmas effort on the parts of these contemporary pen pushers, and get me some Christmas cheer. You an yours have a Merry Christmas
EWR: Good bye Mr. Kringle.