Question: How long is a short story?
Answer: The short story usually falls between 1,000 and 15,000 words. At around 15,000 words the novella is born. We are addressing the modern short story and not the ancient tale, fable, or sketch. There is no exact word length, and to understand word count for different prose, it maybe be best to look closer at a variety of literary forms.
The modern short story did not originate and take its current literary form until the 19th century. It was proliferated by Edgar Allan Poe, Nathaniel Hawthorne, and Nikolay Gogola. Some consider the modern short story, in its current form, as the only American literary form. This has been disputed by the 1700s publications of works by Charles Dickens and Sir Walter Scott, but these examples could still be considered gothic tales.
Either way, the short story in its current state is a very youthful literary form. Even though stories have been told by word of month since the beginning of time, the conventions, etiquette, and restrictions put on the modern short story did not exist until about 150 years ago.
From short fables to lengthy narratives that just fall short of the next category, it may be easier to understand the nuances of short story, if we look at other forms that play a role in our everyday writing.
Long Novel 200,000+
Question. What is a long novel? Or how long is too long for a novel?
Answer: A novel can never be too long, but once you go over about 200,000 words you are writing a Long Novel (some say Russian Novel). Many authors write these long novels. Stephen King, L. Ron Hubbard, David Foster Wallace and many others have written excessively long novels.
It is true that many famous authors have written long novels? It is not really advisable to take up this practice. Long novels, especially as a first novel, can be extremely hard to publish. It is recommend to avoid the long novel when writing, at least until you've built a name for yourself. It should be noted too, that many long novels have trouble gaining popularity among readers due to the dedication and time it takes to read them. We do live in the soundbite, quick bite, internet condensed world.
Novel 50,000$-200,000
Question: How long should a novel be?
Answer: Novel length can vary greatly. At about 50,000 words a Novella becomes a novel, and at about 200,000 words a novel becomes a long novel, so between 50,000 and 200,000 words is what is generally considered a traditional novel.
Let's dig deeper with some examples.  When we look at lengths of famous and enduring novels we see that length varies greatly. Kurt Vonnegut's Slaughterhouse 5 comes in at 49,500 words. J.D. Salinger's Catcher in the Rye comes in at 73,404, and To Kill a Mockingbird by Harper Lee sits right at 99,121. These 3 novels are very good examples of "famous" works of literature (in my opinion), and you can see that there is no set length.
In the table below you can see the best NY Times sellers for the last 10 years. It's hard to say there is much of a trend here.  The majority of these books are between 130-150 thousand words. None of the books reach Long Novel status.
| | | | |
| --- | --- | --- | --- |
| Year | Title | Author | Word Count |
| 2007 | 1000 Splendid Suns | Khaled Hosseini | 134,400 |
| 2008 | The Appeal | John Grisham | 153,760 |
| 2009 | The Last Symbol | Dan Brown | 193,440 |
| 2010 | The Girl Who Kicked A Hornet's Nest | Stieg Larsson | 158,400 |
| 2011 | The Help | Kathryn Stockett | 158,000 |
| 2012 | Fifty Shades of Grey | EL James | 155,749 |
| 2013 | Safe Haven | Nicholas Sparks | 133,920 |
| 2014 | Gone Girl | Gillian Glynn | 173,600 |
| 2015 | The Girl on a Train | Paula Hawkins | 104,106 |
| 2016 | Me Before you | Jojo Moves | 114,080 |
| 2017 | Camino Island | John Grisham | 94,240 |
You can't say these novels are particularly short by any means. Six of the 10 are over 150,000 words, but they do manage to stay under 200,000 words. It's not a number you would expect to get from the snapchat generation. I always feel like looking at other writer's works help me feel better about my own, when I find commonality.
So if you are asking how long should a novel be? The answer is at least 50,000 words. If you are asking for lengths of works that are best-selling (at least over the last 10 years), 94-190 thousand words seems to be acceptable as an answer range.
Novella
Question: How long is a novella?
Answer: A novella is generally 15,000-50,000 words.  It's not really that simple, the lines are a little more blurred, but as a general rule of thumb this is an acceptable answer. Some try to say that the cut off here for a short story is 7,500 words. This is just too short for a novella.  Here are some famous short stories. They are all over 7,000 words long, and no one would call them a Novella.
Words: 7226 – Edgar Allan Poe – The Fall of the House of Usher
Words: 7396 – Edgar Allan Poe – The Purloined Letter
Words: 7419 – Thomas Bailey Aldrich – Marjorie Daw
Words: 7446 – Richard Harding Davis – The Consul
Words: 7805 – Jack London – A Piece of Steak
Words: 7876 – Guy de Maupassant – Miss Harriet
Words: 8080 – Mark Twain – The Private History of a Campaign That Failed
Words: 8426 – Richard Connell – The Most Dangerous Game
Words: 8881 – Carl Stephenson – Leiningen versus the Ants
Words: 8970 – Willa Cather – Paul's Case
Words: 9601 – Thomas Nelson Page – The Burial of the Guns
Words: 10669 – Edith Wharton – Souls Belated
Words: 11870 – Edith Wharton – Afterward
Novellas are a publisher's tool when you think about it. Take a look at these famous Novellas.
| | | |
| --- | --- | --- |
| Title | Author | Word Count |
| Heart of Darkness | Joseph Conrad | 24,180 |
| Metamorphosis | Franz Kafka | 21,810 |
| Animal Farm | George Orwell | 29,966 |
| The old Man and the Sea | Ernest Hemmingway | 26,601 |
| The Stranger | Joseph Conrad | 36,014 |
| Of Mice and Men | John Steinbeck | 29,966 |
In the table above you see very famous Novellas, and all of them fall between 20,000 and 50,000. You can see it's not an exact science here, but as a general rule of thumb 15,000-50,000 are decent numbers for novellas.
Flash Fiction
Question: How long can flash fiction be without being considered a short story?
Answer: Generally Flash fiction is between 100-1000 words.
Flash fiction has become ever more popular these days. You see it on the web everywhere, and honestly, what better format could you have for cellphone reading than a quick 100-1000 word story? If you want a quick read, something you don't have to scroll your phone 100 times, flash fiction may be one of the oldest and most popular forms of fiction. They of course started as fables or parables, and have in the last 50 years picked up the conventions of the modern short story. Since the advent of the internet, the popularity of flash fiction has boomed.  The basic requirement here is a beginning middle and an end. We publish a lot of flash fiction here at EWR: Short Stories.
Honestly we are still defining the flash fiction. Some say that this is the last form of story, but others argue for micro-fiction. I believe there is a difference between the 2.
Micro-fiction
Question: How long is a piece of micro fiction?
Answer: Generally anything 100 words and under.
Micro-fiction in the last 10 years has become very popular. Contests of 1 and 2 sentences stories, plus the Twitter story have pushed writers to come up with shorter and shorter stories. Basically any story with a beginning middle and end, can be a micro-fiction story. They still follow the conventions of the modern short story, and they tend to be very popular on the web, but they are rarely found, by most accounts, in print. EWR also publishes a lot of micro fiction, please take a look at our horror contest.
So if you were wondering what the best short story length was, I hope this deeper look into fictions forms was helpful.
For a quick reference I've created a snappy Info-graphic. None of these numbers are "hard" numbers. They are all subjective and meant to be used as a general guideline, and not as a hard and fast rule.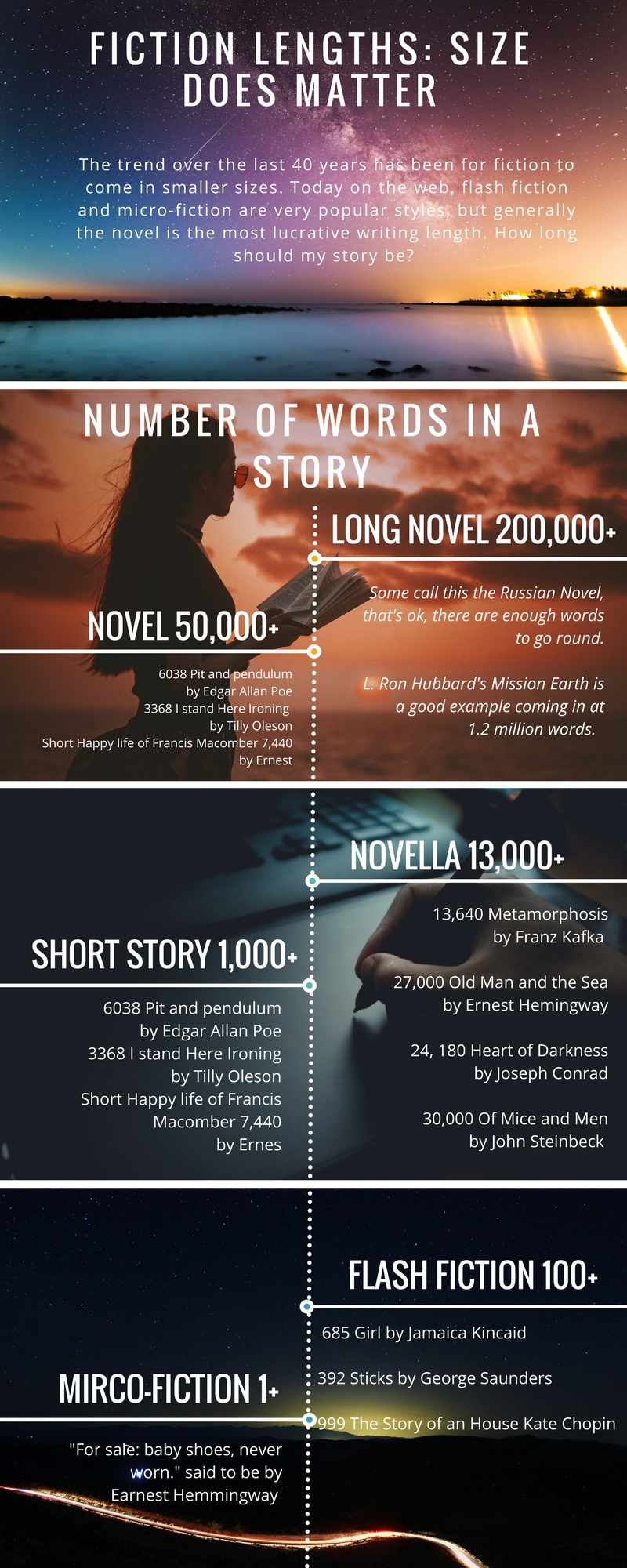 If you have any questions or if you disagree, please feel free to leave us a comment!