Here are the Top 10 Monsters: What we fear when we fear these monsters. I believe that all monsters are connected to a specific fear. Monsters are the things that haunt us and thrill us. As writers our nightmares many times are as important as any dream we have. Monsters are sometimes the hearts of writers. To that end I was thinking about all the types of monsters out there. I was thinking of those monsters which made my childhood more fun. So I created a simple, and I hope fun key for monsters. These are the monsters and the fears they represent. Some are simple fears, some are complex, but basically I've pick 10 "Generic" monsters and put fear to them.
This is a good key to know if you are writing. If you need to pick a monster and what to know what the basis of the fear that monster represents, this is your guide. I want you to add more monsters, ones I may have missed, and their fear in the comments. Take a look at the list and see what you think.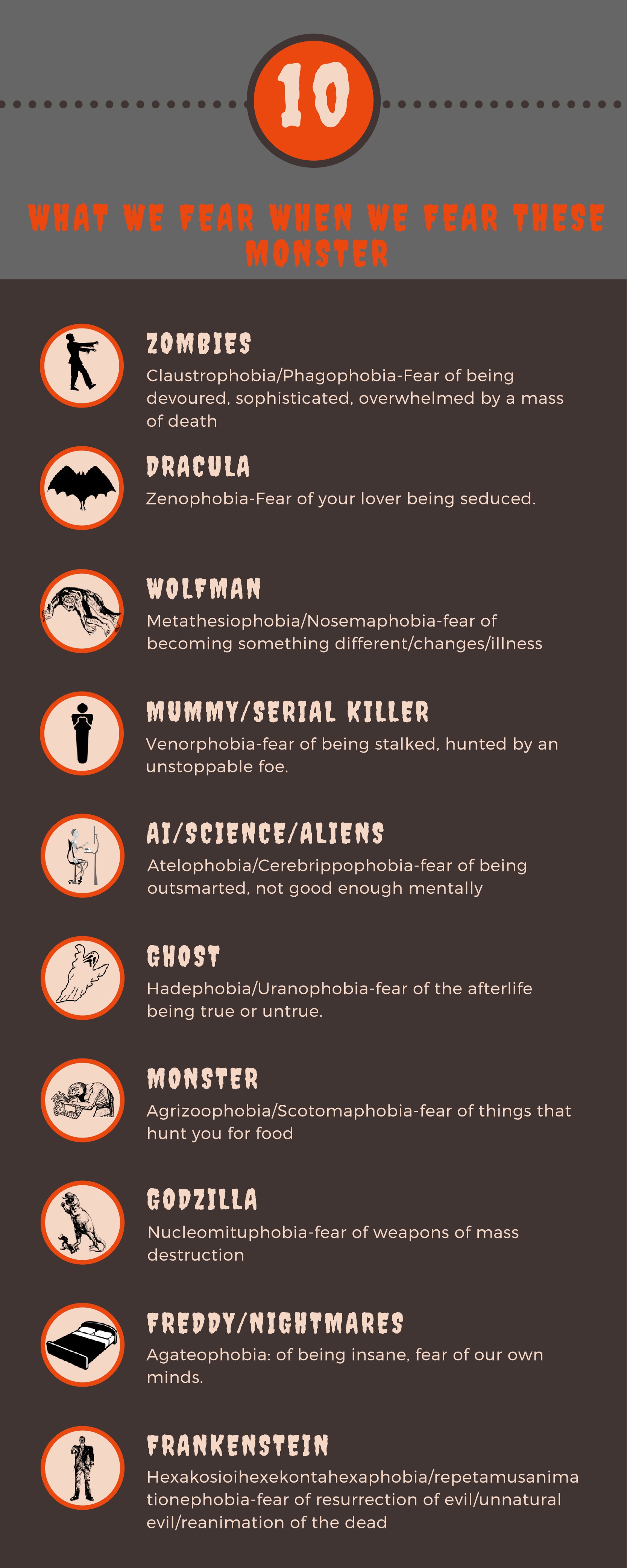 I guess I was a little bored. If I spelled anything wrong tell me. I will go back and edit better. Anyway, what did you think? Did you find the monster and the fear you were looking for? Do you think I'm crazy. Do you think I'm even close on these? Ask me! I would love to talk about this list. A lot of people know about the uncanny valley. I think all monsters strike that never in us, but they all do it in different ways. These are the ways I'm sure these monsters impact people, why people are afraid of them. Find the monster you want to writer about OR find the fear you want a character to feel, and boom you can match the fear to the monster or vice versa.
If you disagree with me, what to pick a fight, or are just in a bad mood, leave me a comment (seems to be what happens most often anyway). If you have a suggestion for a monster I missed, which I believe is impossible, leave it in the comments. Either way, I hope you enjoy this graphic. Please share it with people…you know for fun and stuff.
I did 13 monsters before. You can read our Top 13 Horror Movie Monsters I wrote a while ago.