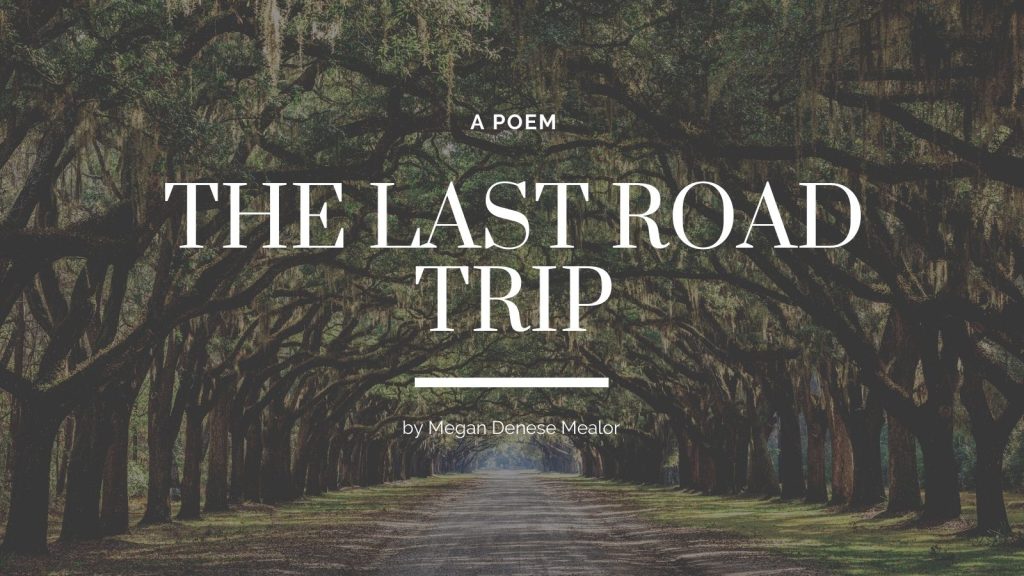 The Last Road Trip
by Megan Denese Mealor
We wheeled to Savannah
in your mutated, maladroit Mazda,
its swarthy skeleton palpitating,
drumming rigorous ramshackle limbs,
venting vapor into the voguish March violet.
My crimson cowhide valise was corrupt
with jalapeno vodka, white oak whiskey,
bourbon clarified from Kentucky chimeras.
Your risky rucksack restrained a double-braced
dog bone, copperstone lady legs,
decaying wallet of headlong wagers.
The highway was a hymnary of hickories,
cyclopean yellow slash pine pulpwood.
Contorted country carols chirruped
from the discursive dial,
commemorating chivalric caballeros,
bombastic broncobusters.
Your survey sidled over,
taking in my aloof aromatics,
the turbulence of my virginal hands
as I lowered the clammy window,
absorbing the unbound antique atlas,
pink roses scaling homespun fences,
dogwood trees baking buttery flourishes,
bawdy lemon perfume of milky magnolias.
We knew each other too well by then,
perceived every bone and knot and pearl,
had untangled tempers, tragedies, and tones.
Sluggish stars wilted in the jumbled welkin,
our world-weary rhythm a scythe on stone.
Where you drifted, I bordered.
Where you wintered, I embroidered.
Previously published in Visitant Lit, 2018
Megan Denese Mealor echoes and erases in her native land of Jacksonville, Florida. A survivor of bipolar disorder, she incorporates her kaleidoscopic emotions and manic fire into her writing. Her poetry and short stories have been published worldwide, most recently in Spillwords, Ginosko Literary Journal, and The Stray Branch. Nominated twice for the 2018 Pushcart Prize, Megan has authored two full-length poetry collections: Bipolar Lexicon (Unsolicited Press, 2018) and Blatherskite (Clare Songbirds Publishing House, 2019). Currently she is an English student at the University of North Florida while caring for her autistic son. She, her family, and three cats live in a cavernous, yet cozy townhouse ornamented with ads for Victorian inventions.