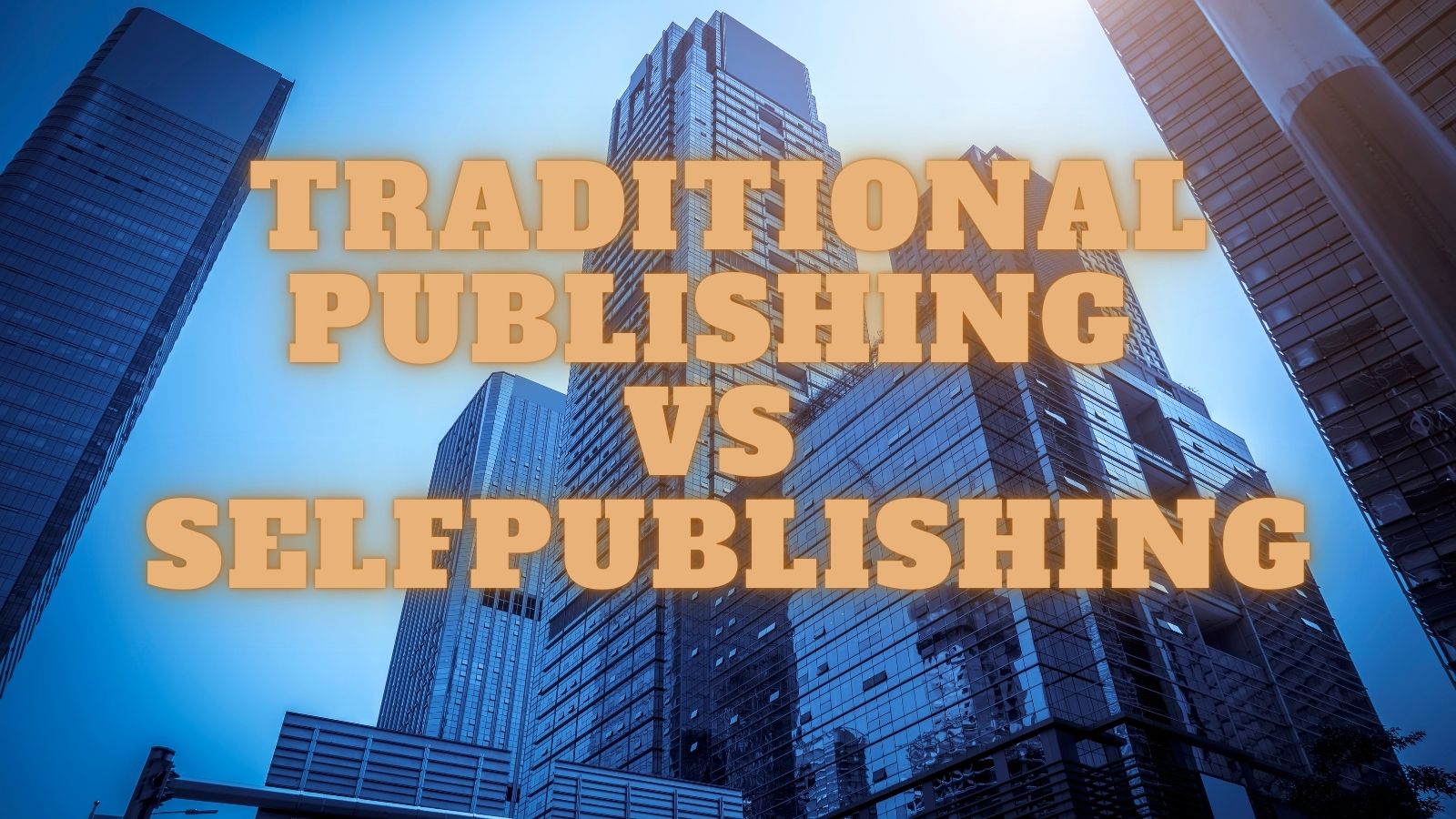 Traditional Publishing VS Self-Publishing
There has been a war brewing between two groups of writers for years. You may have noticed this divide if you are part of writing communities online. One group is traditionally published. They have large or small book deals and shop their work to publishers. The second group is the self-published author. They use platforms to publish their works themselves. Both groups have very valid points regarding the benefits of their paths in publishing. 
What is Traditional Publishing
You usually think of traditional publishing when you think of getting a book deal. Stephen King, Anne Rice, and other famous past authors went this way. It is where a publishing company buys the rights to your book and then pays you an advance and royalties. 
The pathway to traditional publishing
A few pathways can achieve traditional publishing. Not all of them will be listed here, but the most popular one is this: write the book, get an agent, get a publishing. The big five publishing companies and many subsidiaries do not take unsolicited works from authors. You have to have an agent. Once you get an agent, they shop your book around to different publishers. If the publishers like the book, they publish it, your agent receives a percentage, and you get your book in print.
What are the benefits of traditional publishing?
The benefits of traditional publishing have been shrinking for many years, but I'll start by saying what these benefits were: 
Distribution:

 the company gets your work out there online and into traditional stores

Editing:

 the company will handle all the editing

Pay:

 This was the best-paying route for a long time. 

Representation:

 you have an agent that knows the business and helps you get the best deal. 

Marketing:

 At one time, publishers marketed their authors

Luxury treatment:

 Limos, flights, perks, book tours
The downside/new reality of traditional publishing
Distribution: is less critical now. Most people buy books online. Being in a brick-and-mortar bookstore is not as essential and less lucrative than it once was.  
Editing: is still a significant benefit. Having professional editors who know the industry work on your book is invaluable. 
Pay: Few authors are getting lucrative book deals from traditional publishing. Yes, some traditional publishing deals are still 100,000$, but many are just small starting deals. 
Representation: This is also still a significant benefit of this route. Your agent will generally have all the legal backing and understanding on how to get you the best deal. 
Marketing: Very little. Publishers market very few books these days. They used to campaign far and wide to sell a book, but now marketing only happens for the elite writer. Getting interviews and your book libraries and bookstores are still a great benefit. 
The luxury treatment of writers has ended. No more limos, no more flights to New York. The big publishers are struggling, and all of this can be done online. You don't have to meet your editor in New York for dinner when you can do a zoom meeting. You don't have to fly to New York to sign papers; you do it online. Those days are over. 
What is self-publishing?
At one time, self-publishing a book was challenging. There were vanity presses that you paid to have your book published, and they sent you boxes of books, and you sold them out of the trunk of your car. Self-publishing has changed. 
Today you self-publish for free, mostly. You can get your book published on major websites, and the pathway you take to self-publishing usually goes like this. You write the book. You hire an editor. You pay for a book cover. You publish your book online. You list your book. You promote your book. 
What are the benefits of self-publishing?
Publishing: You will not be turned away. You will see your book in print.

Editing: You pay an editor.  

Representation: You do not pay an agent. You only share % of your earnings with the publisher. 

Marketing: You build your audience. Some self-publishers have had wild success. 

Creative freedom: You have 100% say over your work. 
What is the reality of self-publishing?
Publishing: You will see your book in print. 

Editing: You pay an editor

Representation: You do not pay an agent, but you may have to pay a lawyer. If you want to broker deals, unless you are a lawyer, you'll want someone who knows what they are doing. 

Marketing: It may be more complicated than you think. Traditional publishers, though they do not put money into your marketing like they used to, still get you interviews with newspapers, panel seats, and other marketing opportunities.  

Creative freedom: Most publishers still give you creative freedom, but they do guide you toward what sells. 
So is traditional publishing better?
Traditional publishing seems to be the clear winner? No. There are some significant problems with conventional publishing. 
Large traditional publishers do give you a leg up. The pay was different. The perks differ from what they used to be, but they have some benefits. 

The problem is there are far, far, far more people wanting to publish than these publishers can accommodate. 

The second problem is traditional publishers often stay inside the box. They are looking for what will sell based on what was sold in the past, which usually doesn't happen. Before, traditional publishers could create what was popular through marketing. They can only do that sometimes and often bet on the wrong horse. They often overlook outstanding books because they don't want to take a chance. 

Lastly, the benefit of traditional publishing has shrunk so far unless you are publishing one of the big five or their subsidiaries; the benefits are minimal. 
Self-publishers will say they have more control over their work. It's true, but not to the extent they think. Self-publishing has several hidden benefits. 
You could be so different you become a success. Because you do not go through the process of conforming to what a traditional publisher wants, your book may be that new big thing. It happens again and again. 

It gives you a second chance at an agent and a publisher. Generally, a popular self-published title will attract the attention of major publishers. So it's like you get to swing the bat twice. 
The Controversy/Problems
The real problem with these two groups is anger. They fight and spit venom at each other online. Indy writers have formed a community. They are an anti-gate keeper, and they are passionate about their process. Traditional publishers generally believe they have gone the better route. This is, after all, the dream most writers dreamt when they were little. Stay away from 2 authors fighting about this subject. You are just going to catch the crossfire. 
So which publishing route is better? After all, is said and done, they are honest about a tie at this point. I'm not kidding. I know that sounds like a cop-out, but they both have unique opportunities. 
If you want to be successful, keep your options open. Anger is fueling this argument. The traditionally published authors feel attacked, and the self-published authors feel slighted; stop. I suggest a more level-headed approach. If you are going to get a traditional publisher, getting an agent is a must. So do this: 
Write your book

Shop it to agents (set a time limit of 6 months?)

If you get an agent, let them look for a publisher. If you don't, see #4.

If you are still waiting for an agent, go through the self-publishing process. 
Leave me a comment below to let me know what you think, and if you are a writer, try our Playground.