Top 10 Reasons to Publish with Literary Magazines
So what's the big deal right? Long ago (20 years or so), if you wanted to share your work, short of going door to door, you had to publish. Publishing with literary magazines made a lot of sense. You got the recognition of publishing/someone giving you the nod, and you had a place to tell people to go and read your new poem.
Today, of course, the scene is much different. If you want to share your work and get lots of praise you can just post your work to Facebook. You can get a free site or blog and publish an entire book. You can write your mind, your friend's mind, your poems, essays, rants, chants, and whatever else you feel is web worthy or not. Sharing your work isn't much of a trick these days. It's clicking a button and boom, everyone you know can read it.
So why publish with literary magazines? If you can share your work with everyone you know, at the click of a button, it stands to reason that you publish your work with literary magazines to share your work people you don't know. Those people tend to be, for the most part, other writers. Now if you are living the utopian dream of 1930s Paris, rubbing elbows with tomorrow's greats, the next Fitzgerald, Hemingway, and others, maybe you don't need to share your work with writers outside your circle. I've yet to find that island of misfit writers who know writing so well and joke about cats and travel the world telling stories and writing poetry. I hope that place exists, and if it does, those writers are probably publishing in, and editing literary magazines.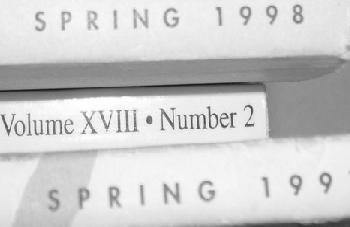 So the recognition and feedback from writers are 2 very good reasons to publish with literary magazines. Meeting writers and editors is another. Literary magazine editors, especially those publishing electronic only literary magazines, are looking to promote their publications. They are working, maybe a little every day, maybe a lot, to push their content out on the web. The internet of old had millions and millions of people searching for very few articles, poems and stories. There is the old story of a soda machine at Harvard (I think) getting millions of visitors. Those days are gone. If you create a web site and let it sit, no one will come. You can build it, but they will ignore it unless you are tweeting, Fbing, Googling, emailing, RSSing, and any other kind of ing-ing you can think of. So that means those literary editors, if and when they publish your work, are also promoting your work. That's worth something. It might be worth a lot if you have self-published a book. You could build an entire network of editors who are promoting your work to all their readers. That's something that can be worth cold hard cash.
This also begs the question why people publish with a literary magazine and not send a link to their website to the editor. If you are published in a literary magazine, use it to promote your work. The editors, most times, are just fine with it. It's part of the way the web works. Editors know a link on their site is worth visitors, so they usually don't mind sending people to author sites.
There are many more reasons to publish with literary magazines, I could go on and on, but instead I'll keep this short. If you had a top 10 reasons for publishing with literary magazines list, it might look something like this:
1. To share your work with other writers and people you don't know
2. To get a free promoter
3. Feedback
4. Recognition
5. Feel like part of a community (of writers)
6. Get traffic for your website
7. Get book sales
8. To vote for and believe in the utopian society of writers (even if it doesn't exist)
9. Meeting other writers (online and in the real world if you are lucky)
10. To make poetry, art, stories, your ideas, your philosophical children, your love, peace, joy, sadness, and disillusions all exist in the real world and on the web OR to simply keep art and writing alive in the world.
So here are at least 10 reasons literary magazines are still a very useful, realistic, and meaningful to writers. Even though you are not earning millions (maybe some books sales, maybe some more traffic), you are still writing. Not everything is measured in dollars, and not everything meaningful, beautiful, or worthwhile costs money.
Oh yeah, and the 11th reason might just be, that some day, long from now, after you are dead and in the ground, someone might find the old web archive of literary works and magazines, read your work, and remember you.