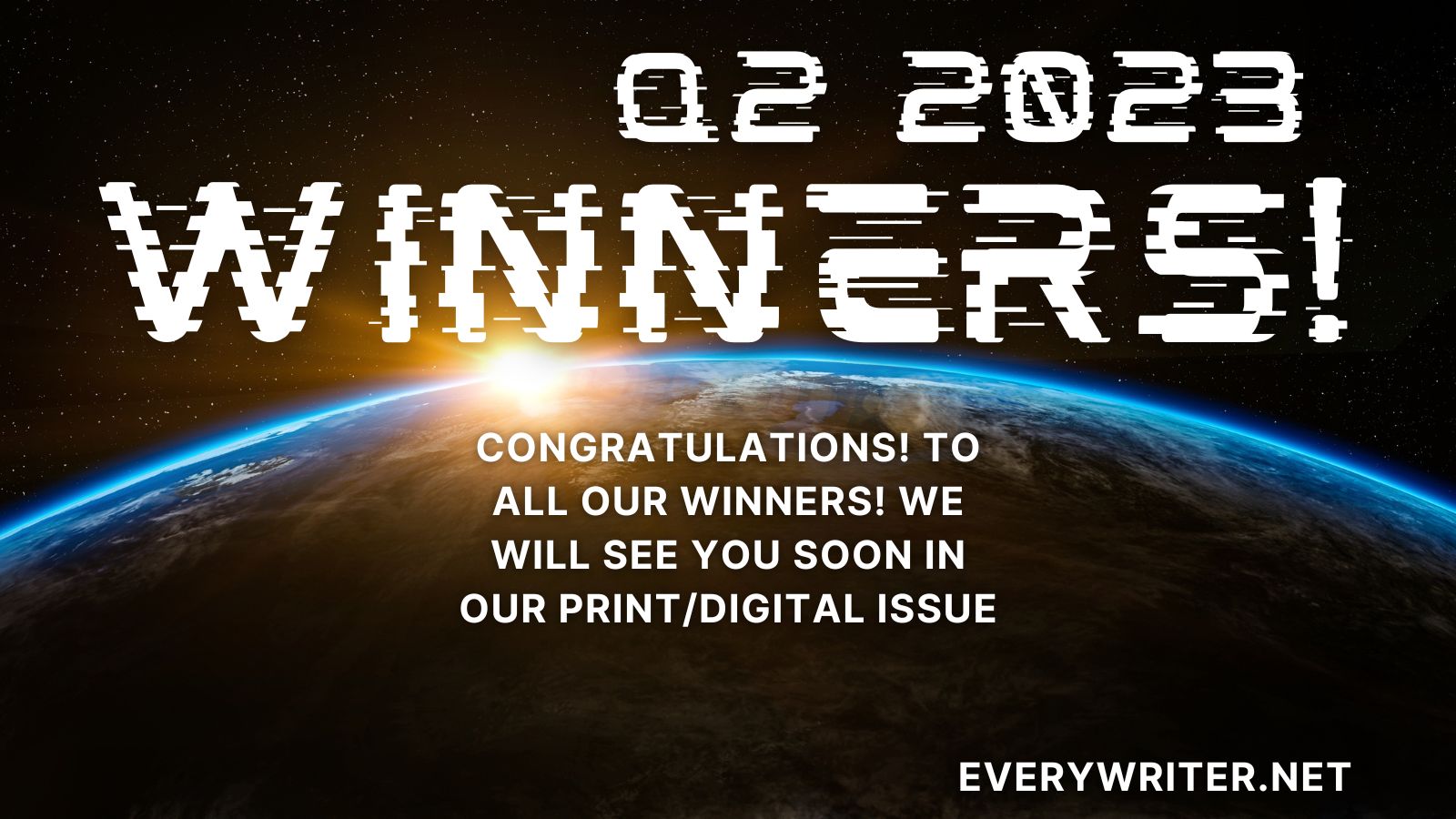 Here are the winners of our Q2 2023 contests! Congratulations to all of you. We have picked places 1,2,3, and some other entries. We've marked our top 3 winners, but anyone listed here will be in our upcoming print magazine.
A note on our magazine: We are having some formatting issues and that has delayed the publication. I believe we will have both the digital copy and the print copy out by July 7. I'm so sorry for the delay!
About these contests: I'm sorry this took so long, but we had so many amazing entries. Please know if you didn't win I still loved your work. Most of these entries were hairs apart. There is so much skill and talent here I am so honored for everyone who entered the contest. We will be running more of these for our Halloween issue, so please, if you didn't win this time, try again. We love having you on the site, and it is a true joy to read all of your work.
Any story, poem or memoir posted here will also appear in our print/digital magazine (out soon) and the formatting will be much different (better).
Here are our winners!
Winners of our 50 Word Sci Fi Contest!
1st Place Winner:
Kate Riley
June 1, 2023 at 6:50 pm
My mother is dying. The sun sets as I travel to her. On the eight-hour road trip, I'm guided by the universe, with the moon and stars lighting the way. Deer watch from the side of the road. A UFO appears, gliding parallel to my car for the final approach.
2nd Place:
jeff christopher fleming
March 19, 2023 at 11:36 am
The flying saucer wobbled on landing, its green occupant approached.
His right tentacle held a metallic object possibly a weapon, his left a book. Was this invasion, was Earth to die?
He consulted the book, raised that right tentacle, I cringed, he said,
'Can I borrow a spanner?'
3rd Place:
Kristina Hutchinson
March 22, 2023 at 1:50 pm
It was an anniversary gift and the trip of a lifetime. Economy class. Four star accommodations and breakfast included.
Shocked when first seeing the saucer shaped object in the Air Force hangar and the pilot with green skin, Estelle shrugged.
"Que sera sera!"
It would be a holiday, nonetheless!
Also included:
Angelyn Gumbs
March 19, 2023 at 12:58 pm
What in the world ?
That's was my last thoughts exactly, On that night as I walking out to my car . When I saw the flashing lights ,that was brighter than lightening. But it wasn't lightning because there wasn't thunder. But an odd sound that I have never heard before.. Louder than a freight train . And then I felt myself being elevated up off the ground.
Mae
March 21, 2023 at 5:05 am
Simon knew the risks of cloning. He knew that playing God was a risky affair.
"Simon, do not do this"
Now it is too late. She wants to kill him. Blood is on the front of her dress; her normally sweet smile is wicked.
"Where is Ruby?"
"She's sleeping now"
J. J. Hillard
March 29, 2023 at 1:25 pm
"Zorak'a hide! You're too visible. On a field trip to this planet last month one of our student ships was tracked by a primitive aircraft! A navigator trainee must always remain undetectable to the locals."
The metallic sphere executed a series of spiral maneuvers as it ascended into thick clouds.
Steve Matthews
June 15, 2023 at 7:26 am
E'Lori scanned the latest survey report. "This makes grim reading" he said. "Yes" replied I'Nuri, "Now we must discover why they used such devastating weapons on each other. The atom should not be so lightly abused". "Shame the experiment failed" sighed E'Lori. I'Nuri countered "There are survivors. The experiment continues…"
Our Haiku Contest Winners:
1st Place Winner:
Angelyn Gumbs
February 12, 2023 at 7:25 pm
Give him the side eye,
with the fake ass smile,
For you are not fool.
2nd Place Winner:
John Hawkhead
June 12, 2023 at 4:33 am
two-dimensional
my stilted conversations
with her photograph
3rd Place Winner:
Farah Ali
June 14, 2023 at 12:06 pm
phases of the moon
either waxing or waning
this melancholy
Also included:
sylvia ashby
January 16, 2023 at 6:14 pm
clouds crossing the moon
a sudden shift in the wind
nothing lasts but change
Gloria Watts
January 17, 2023 at 7:47 am
Tonight the sky glows
The stars sparkle and the moon glows
The sky is alight tonight.
Jesus Chameleon
February 26, 2023 at 9:16 pm
dark energy form
yet unknown matter of course—
the dollar builds up
Dennis White
March 22, 2023 at 12:50 pm
Blood on land and sea,
The price of hate and power,
Only love can heal.
Bo Jung
March 27, 2023 at 4:55 pm
Awake in the dark
Hear lights and see sounds
Yet my pulse is mute
Remona Winston
May 7, 2023 at 4:13 pm
stuttering each word
bullying scars in my mind
best vocalist won
Avery Azad
May 30, 2023 at 7:03 pm
lazy afternoon
slowly consuming the sweet
mango and kiwi
50 Word Horror Contest Winners:
1st Place Winner:
Paul Bahou
January 22, 2023 at 9:18 pm
The world ended on a Tuesday.
The world ended on a Tuesday, consumed in atomic fire. Skin and civilization burning; the Mona Lisa and the pyramids, dust. But I survived, me in the bunker. Me and the mutants, pustule arms pounding on safety glass. Bang, bang, bang. They hunger. They want my rations; they want me.
2nd Place:
Adam Gooch
January 21, 2023 at 9:05 am
The darkness crept in, closing in around her as she realized she was not alone in the abandoned asylum. The screams of tortured souls echoed through the halls. Barely audible above the sound of her own pounding heart, she could hear the echos of distant footstep getting closer.
Closer….
3rd Place
Wendy Montoya
February 9, 2023 at 12:20 pm
Empty
She's in pain as she lay back; if only the doctors had listened, she wouldn't be here in the first place. Her eyes flicker to the team of nurses standing next to the scalpel that would soon rip into her belly to remove the piece of her that creates life.
Also Included: 
Josh Taylor
March 4, 2023 at 2:06 pm
The echoes of my hoarse screams reverberated throughout the darkness of the pocket dimension. I slammed my fists against nothing as I watched through the sliver of a window. This false version of me smirked as he loaded a moving truck with my wife, my kids, my life.
Wendy Montoya
February 22, 2023 at 1:11 pm
Darkness
I found another bloody bite on my arm, I wondered why as I slide open the shower curtain grabbing a face towel, that's when I saw her bloody lips. I smiled at my reflection slowly closing the curtain remembering that I am the Demon. I am her; she is me.
Paul Bahou
January 22, 2023 at 9:30 pm
The diagnosis
White walls glowed beneath florescent lights, the chatter of nurses peripheral. The oncologist moves with quiet haste. He sits on the chair opposite mine, clipboard flipping open. It's positive, stage 4, spread to organs, terminal. I don't hear what follows as he's off to the next room. I sit, numb.
6 Word Memoir Contest
Note on this contest: This was one of the hardest contests we have ever judged. There were so many amazing entries, and I was very moved by the writing in this contest. I am honored to read all of these. We had to pick winners, but again, all of the entries were wonderful. We will run another of these contests soon. If you liked them please come back and post again. I love reading your work!
1st Place Winner:
Charlene
May 31, 2023 at 11:43 pm
Half of her absent,
she slouched.
2nd Place:
VBF
April 20, 2023 at 7:44 am
Told I couldn't…
… but I did…
3rd Place:
Laura Howard
January 19, 2023 at 8:59 am
Abused
Set Free
Loved
By Another
Also included:
James L Jackson
January 16, 2023 at 11:56 am
Please haunt me, I miss you.
Jennifer Zink
January 16, 2023 at 2:54 pm
Was RAPED when I was ten.
B. Lynn Goodwin
January 17, 2023 at 4:55 pm
I want you to love me.
Joesph Baker
March 16, 2023 at 11:41 am
YEARS AT WAR HAVE BROKEN ME
Angelyn Gumbs
February 13, 2023 at 10:12 am
My first time online dating app.