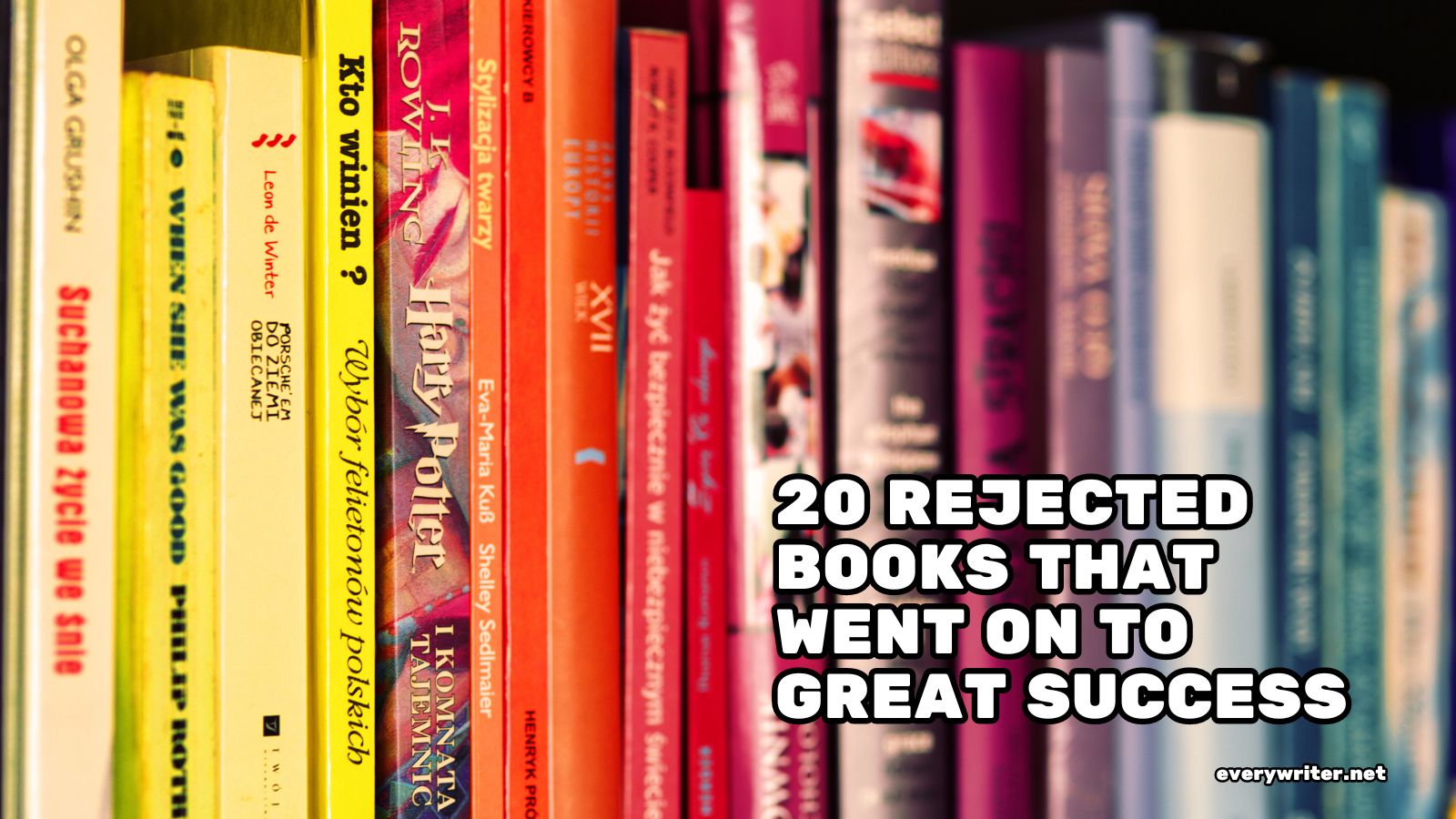 Are you struggling to publish your first novel? Have you been rejected? Are you just finishing your work and are filled with anxiety about the possibility of rejection? Here is a list of 20 ridiculously famous and successful books that were rejected multiple times before being accepted and going on to great success. This is a little pick me up to anyone worried about not being good enough or that rejection will be crushing. Writing is about rejection in many ways, and if anyone has rejected your book, poem, memoir, novel, or story, you are in good company. I know it stings but look at these 20 Rejected Books that Went on to Great Success. The following are all 20 Rejected Successful Books.
Harry Potter by J.K. Rowling – 12 publishers rejected this magical fantasy series before Bloomsbury took a chance. It went on to become one of the best-selling series in history.
Watership Down by Richard Adams – This allegorical bunny tale was rejected over 20 times for being too long and weird before finally being published. It has always been in print since 1972.
Carrie by Stephen King – King's first horror novel was rejected 30 times, with one publisher cruelly saying, "We are not interested in science fiction which deals with negative utopias." It now has sold over 1 million copies.
Animal Farm by George Orwell – Received rejection after rejection because of its political content before being published in 1945 to great acclaim. It is now considered an essential political and dystopian work.
The Diary of Anne Frank – This heartbreaking journal was rejected 15 times before finding a publisher. It has since been translated into over 60 languages.
Zen and the Art of Motorcycle Maintenance by Robert M. Pirsig – 121 publishers rejected this complex philosophical novel, but went on to sell millions of copies and received critical acclaim.
Frankenstein by Mary Shelley – The classic horror novel was initially rejected for being too strange and gruesome before becoming a beloved gothic tale.
Gone with the Wind by Margaret Mitchell – 38 publishers rejected it before becoming a Pulitzer Prize-winning novel that defined an era.
Jane Eyre by Charlotte Bronte – Bronte received endless rejections because publishers thought it was too long, anti-Christian, or melodramatic before it was finally accepted.
Battlefield Earth by L. Ron Hubbard – Over 100 publishers said no to this sci-fi epic before it became a bestseller.
The Spy Who Came in from the Cold by John le Carré was rejected by major publishers who thought spy novels were a dying genre before becoming a global bestseller.
Chicken Soup for the Soul by Jack Canfield and Mark Victor Hansen – They received 140 rejections but sold over 250 million books in their popular inspirational series.
The Jungle Book by Rudyard Kipling – Publishers rejected this children's classic for its darker animal stories before becoming a global sensation.
The Satanic Verses by Salman Rushdie – Major publishers found the content too controversial, leading to numerous rejections due to fear of backlash.
MAS*H by Richard Hooker – Over 20 publishers rejected what would become one of the most beloved anti-war satires before W.C. Morrow took a chance on it.
Jonathan Livingston Seagull by Richard Bach – Bach received over 18 rejections, with publishers dubious that a fable about a seagull would interest anyone before it became a #1 bestseller.
Dubliners by James Joyce – This anthology of short stories was rejected 22 times over its controversial content before being published to acclaim.
Kon-Tiki by Thor Heyerdahl – Heyerdahl had to self-publish his adventure travelog after rejections, but it sold over 50 million copies.
Uncle Tom's Cabin by Harriet Beecher Stowe – This influential anti-slavery novel was initially rejected for being too sensational and graphic before becoming a global bestseller.
The Hunt for Red October by Tom Clancy – The nail-biting techno-thriller was deemed too niche by major publishers until the Naval Institute Press grabbed it.
If you know of any other books that have been rejected or if you have encouraging words for other authors, please leave them in the comments. Please remember Every Writer is here for all writers. We want to encourage, support, and uplift all writers. I hope this list made you smile, and if you are dealing with rejection or feeling down about your writing, please do not hesitate to reach out to us! You can find all of these book on Amazon.
If you like this article you may also want to read Mark Twain on First Getting Published (1906). It's a hilarious memory of one of Twain's first rejections.