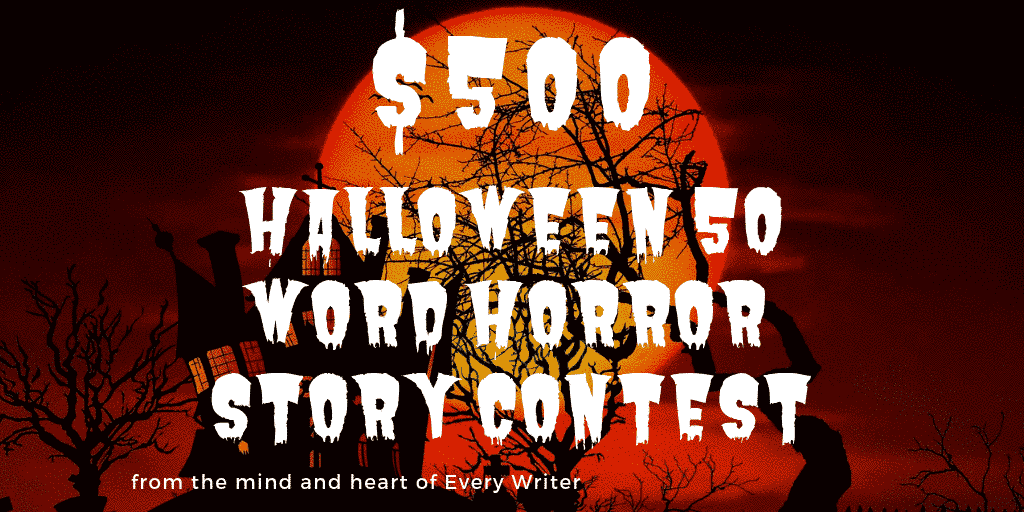 Welcome to our 2019 $500 Halloween Horror 50 Word Story Contest. Yes, that's right. It's already here. Every year we run our contests, and those of you who have been frequent readers, this is what you've been waiting for.
First we will be doing a print issue! We will be doing 2 print issues, and we will pick entries from this contest to be in our issue. If you had a 50 word story designated to be in our print issue, from a past contest, please contact us.
Second, we will be giving out a $500 reward for the best 50 word horror story. This is not easy for us. Every Writer is not doing as well as it did in the past, but we want your stories. I believe writers should get paid for their work. I wish we could pay all of our writers, but it's just impossible. So $500 for 50 words, I think is a unique and valuable statement to our readers. Ten dollars a word is what all writers really deserve.
So here are the rules:
• Story must be scary
• Story must be 50 words
• Story must be original and your own
• Story may not be published elsewhere
• Story must have a title (does NOT count in word count)
• Deadline is October 25, 2019
• Enter as many times as you want
• Story must be written in the comments below!
• Be nice or be disqualified
I love these stories. This is one of favorite traditions of Every Writer. I look forward to this every year, and this year I have extended the time we are going to spend with the contest.
The winners will:
• Be announced on October 31, 2019
• Will get $500
• Will be published in our digital and print issue.
• Will get an author page on our site
Due to the large number of entries, we will need a couple more days to announce the winner. We are working as quickly as possible. The winner has been contacted, and we will announce soon. 
There is no entry fee for this contest. It would help us out greatly if you would donate 1$ or more, if you can, to help out the site. We would really appreciate it. A donation will not be considered in the deciding this contest.
If you want to keep up with me on Twitter, please follow me at @everywriter, I follow back all writers.
Good luck, and let the writing begin.