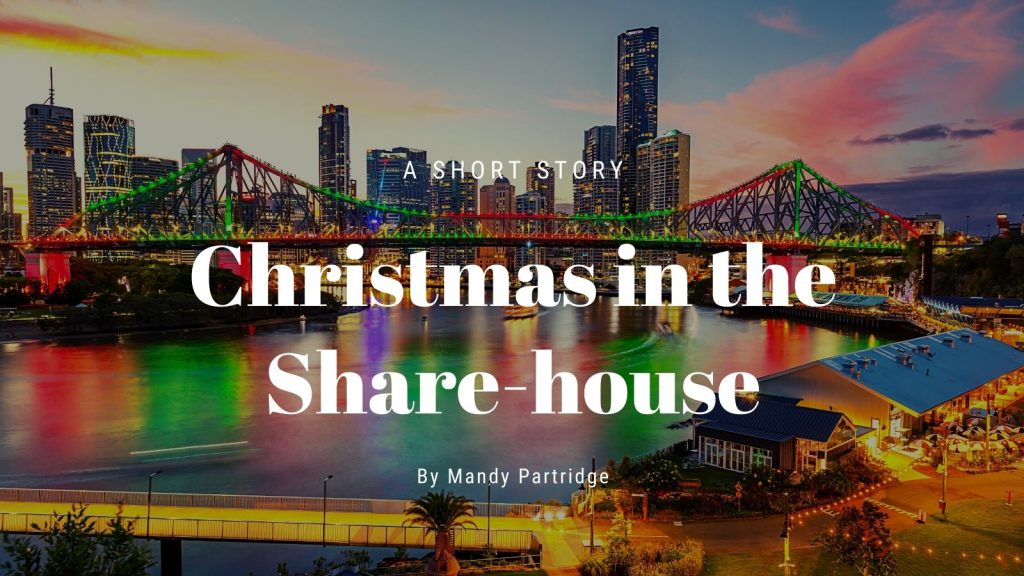 Christmas in the Share-house
By Mandy Partridge
I spent fifteen years celebrating Christmas in share-houses around Brisbane, Australia. As a poor student, I rented rundown Queenslanders with two, three or four friends, so I could still afford food after rent and bills. I rode my bicycle to uni, work or the grocery shop, and that was pretty much the extent of my roaming. I shared house with other students, part-time workers and Artsworkers who lived contract to contract, we all knew what the inside of the Dole Office looked like. But living in poverty doesn't crush the Christmas spirit, the New Year's silliness.
No, Christmas in the share-house is all about living it up on a budget. It's a team effort. Someone must borrow a lawn-mower from a neighbour, and fill it with two-stroke. Someone else must blow up the inflatable pool for the backyard. If the household budget can extend to it, a beach umbrella may be purchased and set up at a jaunty angle. It's stinkingly hot in Brisbane at Christmas, so getting wet must be part of the middle of the day, and sprinklers have died since water restrictions, so we sit in the inflatable pool. Or maybe just dangle our legs in, while sitting on a chair.
Drinking is going to be important this silly season, so thrift is of the essence. Some guys chip in for slabs of beer. The beer can sit in the bathtub with a couple of bags of ice, and later, drunk people will sit in there too. I've often shared with women who make decent jugs of punch, dressing up cask wine with fruit and juices, and soda water bubbles. Christmas dinner in the share-house might only be sausage rolls and vege pies. We might have to wait till Aldi discounts the legs of ham after the big day. Some housemates might have to attend traumatic family meals, so have some vodka or gin ready for afterwards. All of the Christmas fruitcake will eventually make it to the share-house, because no one eats it anymore as they're worried about their weight the breathalyser.
The biggest night of the silly season is New Year's Eve. Everybody understands that the changing of the year is something to celebrate. In years gone by, we'd save to go to the Woodford Festival, or a Doof out in the Bush. But those events won't be on this year. So we'll all be at house parties again. If we're lucky, a band will play, early, so they won't upset the neighbours. Maybe punch isn't Covid-safe, and we'll drink premixed cruisers or something. I consider myself lucky to have been invited to house parties with bands, circus performers, deejays, spontaneous fashion parades, whip-cracking, bicycle and skateboard tricks.
My house-mates work as barstaff and bouncers now that the Arts Industry has died. We will celebrate the silly season, and hope that a new year will bring better days. Happy New Year and bring on 2022!
###
A brief bio- Mandy Partridge is a Brisbane writer who has done time in London and Perth. Mandy edited 'Semper Floreat' the paper of the University of Queensland, where she did her BA. Partridge had a career as a Circus and Theatre performer and writer, then switched to nonfiction and novels. "Acrobalances" is a nonfiction book, published in paperback in 2015 and ebook this year. "Long Pork" is a political thriller set in West Papua. "Blocked Out" and "Kandy Krush" are racy crime novels set in Brisbane and regional Australia. Mandy has been shortlisted for the Scarlet Stiletto Awards and the Australian Young Writers' Awards.
My goodreads site is https://www.goodreads.com/author/show/21151539.Mandy_Partridge, I also have www.mandypartridge.com and am on twitter as @madypartridg10 and facebook as https://www.facebook.com/msmandarella