Fox-women
an excerpt from Byways of Ghost-Land 1911
 by Elliott O'Donnell
Very different from this were-wolf, though also belonging to the great family of elementals, are the fox-women of Japan and China, about which much has been written, but about which, apparently, very little is known.
In China the fox was (and in remote parts still is) believed to attain the age of eight hundred or a thousand years. At fifty it can assume the form of a woman, and at one hundred that of a young and lovely girl, called Kao-Sai, or "Our Lady." On reaching the thousand years' limit, it goes to Paradise without physical dissolution. I have questioned many Chinese concerning these fox-women, but have never been able to get any very definite information. One Chinaman, however, assured me that his brother had actually seen the transmigration from fox to woman take place. The man's name I have forgotten, but I will call him Ching Kang. Well, Ching Kang was one day threading his way through a lovely valley of the Tapa-ling mountains, when he came upon a silver (i.e. white) fox crouching on the bank of a stream in such a peculiar attitude that Ching Kang's attention was at once arrested. Thinking that the animal was ill, and delighted at the prospect of lending it aid, for silver foxes are regarded as of good omen in China, Ching Kang approached it, and was about to examine it carefully, when to his astonishment he found he could not move—he was hypnotised. But although his limbs were paralysed, his faculties were wonderfully active, and his heart almost ceased beating when he saw the fox slowly begin to get bigger and bigger, until at last its head was on a level with his own. There was then a loud crash, its skin burst asunder, and there stepped out of it the form of a girl of such entrancing beauty that Ching Kang thought he must be in Heaven. She was fairer than most Chinese women; her eyes were blue instead of brown, and her shapely hands and feet were of milky whiteness. She was gaily dressed in blue silk, with earrings and bracelets of blue stone, and carried in one of her hands a blue fan. With a wave of her slender palms she released Ching Kang from his spell, and, bidding him follow her, plunged into a thick clump of bushes. Madly infatuated, Ching Kang needed no second bidding, but, keeping close to her heels, stolidly pushed his way through barricades of brambles that, whilst yielding to her touch, closed on him and beat him on the face and body so unmercifully that in a very short time he was barely recognisable, being literally bathed in blood. However, despite his wounds increasing and multiplying with every step he took, and naturally causing him the most excruciating agony, Ching Kang never, for one instant, thought of turning back; he always kept within touching distance of the blue form in front of him. But at last human nature could stand it no longer; his strength gave way, and as with a mad shriek of despair he implored her to stop, his senses left him and he fell in a heap to the ground. When he recovered he was lying alone, quite alone in the middle of the road, exactly opposite the spot where he had first seen the fox, and by his side was a fan, a blue fan. Picking it up sadly, he placed it near his heart (where it remained to the very day of his death), and with one last lingering look at the bank of the stream, he continued his solitary journey.
This was Ching Kang's story. His brother did not think he ever met the fox-woman again. He believed Ching Kang was still searching for her when he died.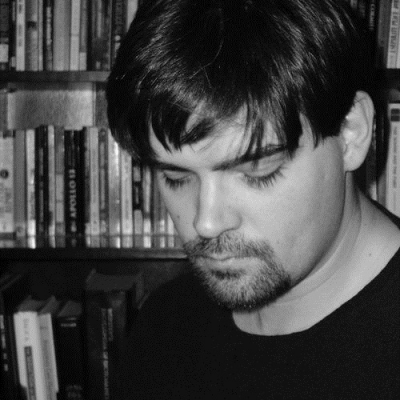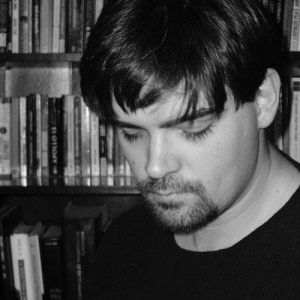 Richard Edwards has a BFA in Creative Writing and Journalism from Bowling Green State University and an M.S. in Education from the University of Akron. Managing editor of Drunk Duck, poetry editor for Prairie Margins, reporter for Miscellany, Akron Journal, Lorain Journal…check our About Us page for more. Also here is info on our On Classic Articles