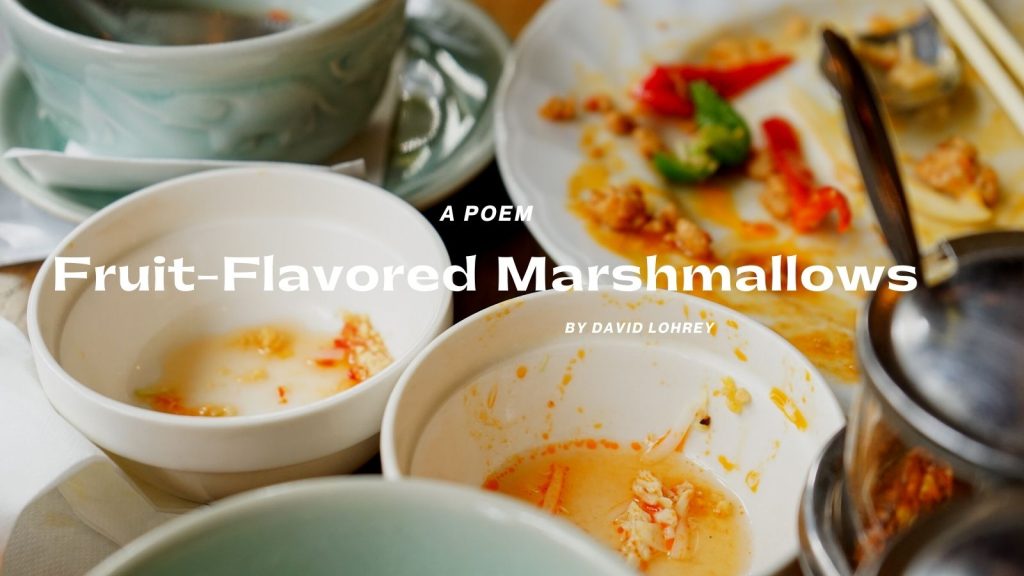 Fruit-Flavored Marshmallows
by David Lohrey
Thanksgiving fails? That's what Christmas is for. Thaw out the left-over turkey,
warm up the stuffing. You can turn the mush into something. Skip the cranberries;
they cause global warming. Try golden seaweed instead. We'll go to that new
restaurant at the Bellagio.
It has replaced its famous Picassos with works by Francis Bacon. Copies of his
Three Studies for Figures at the Base of a Crucifixion line the walls, interspersed
with posters of Bacon's notorious tribute to Velasquez's resplendent Pope. After
supper, we can drive up Confederate Drive and watch the Civil War reenactments.
We'll be soused for Christmas. I hope Micah doesn't finger my niece again. This menu
is full of facts. Avocados are unsustainable so they are being replaced by pig fat. Burger
meat has to go, replaced by fried rice dipped in lard. The melted cheese sandwich is a winner.
It's $25 and contains 5 different kinds of cheese.
All I want for Christmas is your two front teeth. Follow the recipe. If you've never cooked
with fresh Cardoni, you're in for a real treat! Cardoni brings the flavors of celery + artichoke
+ salsify to your dishes. It must be cooked – and is best boiled, braised, or baked – resulting
in stalks that are nutty, meaty, and bittersweet.
Dad's already drunk. His big topic this year is Pandemica or Covidiana, the loneliness of losing
one's life. "Now everyone is Jack the Ripper," he says. He insists Elvis was spotted shopping
in Vermont. "Wagging your dingdong won't get you anywhere." Jesus Christ. "You can't go
around greeting guests with cum on your fingers."
Mother's project this year is Transylvanian shepherds and their herds. She can't go through
with this meal unless we all promise to make a donation. Micah threatens to pull out his dick
and piss in his cup. He's not donating anything but what comes out. They are like Gatsby
commandos, these men. Salesmen. Whores. The entire generation.
We are all masters of outrage when we're young. It's what makes people so scary. The lack of
doubt. The know-it-alls. One says it scares the shit out of him …or her… or them…but what if
it didn't, or doesn't, or won't? If they remain unshaken. It leaves them full of it, absolutely full
of it, that's what, full of shit up to their eyeballs.
My parents are great, sure, but they are gleefully undermining, corrosive as acid. It is their
confidence, that blasé belief in their empty lives, their weltanschauung. I mean, who is my
mother? Blanche Dubois? And Dad? Another Hannibal Lecter? Of course, not, but they
exist. They're real. They have all the power.
They are blameless, they always say, which is what makes their insistence so insidiously
destructive. It has to go their way. "Follow us over the cliff." Every time: Vietnam. Iraq.
Our summer vacations. Nukes. They are never wrong. Try cracking that. Mother says,
"Shut up and give us a kiss. Say something to your father. Merry Christmas."
David Lohrey is from Memphis. He graduated from UC, Berkeley. His poems can be found in EWR, Terror House, Spillwords, and Dreich Magazine. His fiction appears in Eclectica, Storgy, and Literally Stories. David's first collection of poetry, Machiavelli's Backyard, was published in 2017. His newest collection of fiction and poetry, Bluff City, appeared in 2020, published by Terror House Press. His latest, Low and Behold, will appear next year in January. He is currently working on a short story collection, Acute Care, which explores themes of sorrow, body horror (TV's Emergency Room porn), and nostalgia.