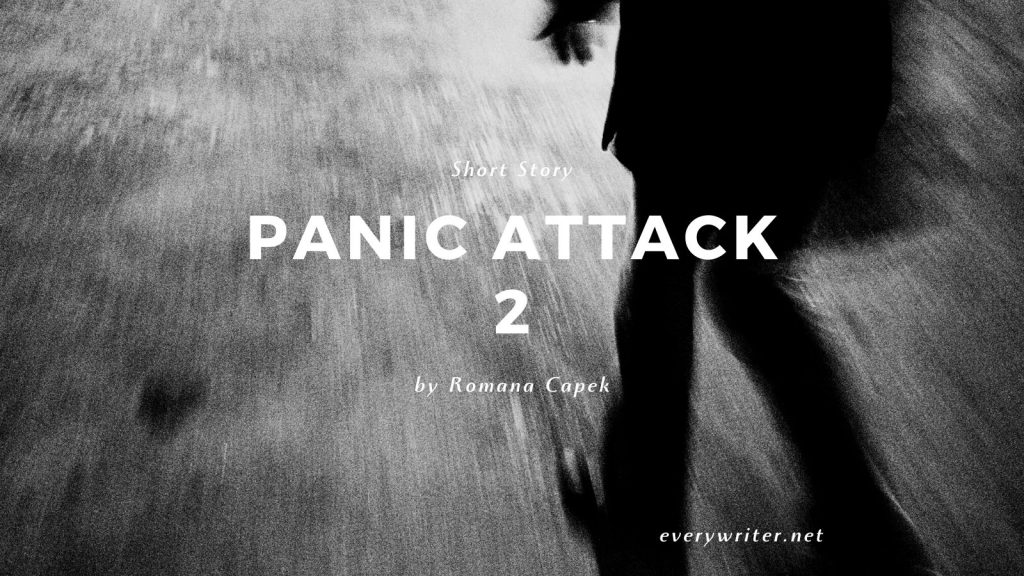 Panic Attack 2
Gray morning. The clouds did not lift as the forecast had predicted. I spent a sleepless night because I drank a cup of a strong black tea earlier in the evening. I look at my watch on the nightstand; it shows nine o'clock. I am cold and trying to get warm under a lightweight summer blanket. My husband is awake in a twin bed across from mine and wants to know how the weather outside is. I don't want to talk about it because I was finally able to fall to sleep at daybreak, and my whole body feels heavy and achy. Suddenly he stretches his legs under the white top sheet and pulls himself to the edge of the bed. He sits there with his feet dangling, barely reaching the floor. His shoulders are slumped and his head caved between them; his chin is low; his body language fills up the room with an uneasy anxiety.
"What's the matter?" I ask him, lifting my head from the pillow.
"I feel terrible. I don't know what to do. I am depressed, panicky; my blood pressure is higher than normal."
"Did you take all your medicines? Did you eat anything before?"
"I took them. I had some nuts and a yogurt. I don't know what to do."
"Did you take a pill for your anxiety?"
"Yes, I did, but it takes one hour before it begins to work."
I am completely awake, and heading to the bathroom. I wash my face and glance in the mirror at the dark circles under my eyes. I apply some concealer on them, add a few strokes of a pink blush on my cheeks, a bit of lip gloss, and I quickly get dressed. I forget to brush my teeth and comb my hair.
"Let's have some coffee!" I say firmly, staying at the open door to the bedroom while he is still sitting on his bed.
This is not a suggestion; it is an order. I want him out of the apartment, in the open space, to feel the morning chill coming from the sea breeze that penetrates the bones, and to see other people.
We drink our first macchiato with a close friend, an architect, and talk about remodeling the apartment I inherited from my parents. The second macchiato is with two old friends. This friendship dates back to our teenage years, and my husband feels free to discuss his depression at length. They offer multiple mostly psychological solutions for it, claiming that they tried some of them out in the past and that they worked for them. We leave the outdoor café after an hour. My husband's panic attack worsens.
"Let's take a walk to the church," I calmly suggest because I am afraid that he might refuse because it would be a steep climb over slippery cobblestones.
He accepts it. I am leading, walking carefully not to fall and trying not to bump into tourists that crowd the narrow streets because it is not a day for the beach. They are taking photos of century old houses and their gardens visible through their ornate iron fences. My husband checks on his cell phone the number of steps and miles he is taking. He becomes hungry and wants to buy a burek (a leafy meat pie popular in the Balkan Peninsula). I don't object to it in spite of knowing that the amount of fat and salt in it is not healthy for him. Food has always been my husband's comfort.
The afternoon brings peace. My husband is asleep, and I hope that his panic attack is, if not completely gone, at least diminished. Did I win or lose this time? I am not sure. The clock shows four thirty in the afternoon. It is the time to start preparing dinner. I am sipping my second shot of brandy. The gray sky prevails.