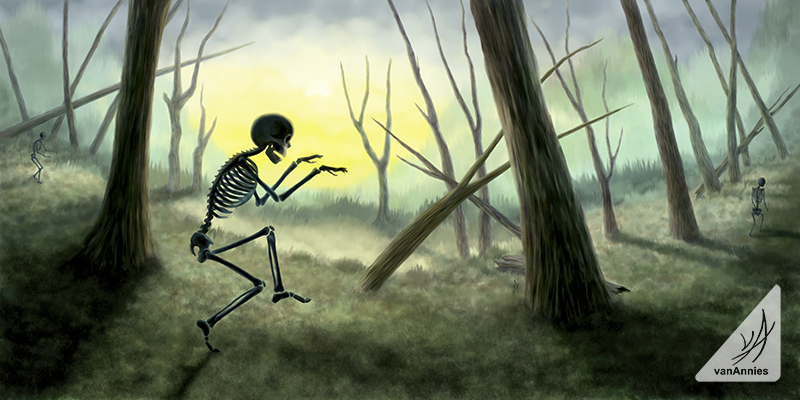 Dance with the Devil
by Tim Sacks
"Who's that over there?" Alex inquired, surreptitiously pointing to an arguing pair in the back. They were an odd twosome to be sure. The girl, while decked out in the usual scant attire, also bore a pair of spectacles on her nose which gave her a kind of scholarly look. In fact, as far as she could recall, she was the only stripper Alex had ever seen who wore glasses on the job. The man with whom she was arguing was no less puzzling. He appeared to be extremely sunburned despite the fact that it was the dead of winter and he wore a long, grey habit, the likes of which, Alex supposed, had not been seen since the fourteenth century.
"Oh, that's Fallon," replied Tiffany nonchalantly. "She's going out with a demon."
Alex's brow furrowed. "Excuse me? … A demon?"
"You know, from Hell. Mephistopheles."
"Mephistopheles?"
Tiffany shook her head. "It'll never work," she whispered, patting Alex on the shoulder as she walked towards the bar. Alex, meanwhile, curious as ever, made her way slowly towards the couple and stood about five feet away from them, facing the stage and pretending to be engaged with the routine currently being performed. She could just overhear the conversation at hand.
"Don't get angry at me, babe!" cried the girl apparently called Fallon. "I was just curious about God's creation, that's all. You don't have to yell at me."
"You were having second thoughts about our contract, weren't you?!" demanded Mephistopheles. "All of a sudden, the idea of salvation through the Lord is becoming attractive to you, is it not?!"
"No, baby!" pleaded Fallon. "I'd never think about God that way. I swear to no master but you! I would never think of even looking at another spirit!"
"You better not!" growled Mephistopheles. "The contract clearly stipulates that you must banish all thoughts of piety and heaven from your mind, otherwise I will tear you to pieces!"
"You're so jealous!"
"We made a deal! My services are available to you only insofar as you abide by the rules laid out in our agreement! Otherwise, you can forget about being a weatherwoman!" And with that, Mephistopheles seemed to vanish in a burst of smoke and flame, although Alex assumed it must have just been the light. Nevertheless, there was a distinctly sulfuric odor emanating from the spot.
Meanwhile, Fallon fell to her knees and cried out, "Don't go like that, baby! I swear to Lucifer that I serve only the infernal kingdom! Why are you mad at me? Why do we have to fight?" She gasped. "Was this our first fight?" She finally burst into tears and rushed into the dressing room. Alex, equally perplexed and horrified, watched her go. Tiffany approached her from behind and patted her on the shoulder again.
"Don't worry about her. She's a spaz."
Alex turned around with a worried expression. "I think she sold her soul to him!"
Tiffany rolled her eyes. "Yeah, tell me about it."