Now you can get a new issue of Every Writer the Magazine Every month for FREE. Read it on your ipad, iphone, Android and other devises in a tech-friendly format. We only ask that you sign up with our mailing list. You will get 1 email per month and we will NOT share your information. [READ MORE]
We talked to Kris Kingle about the state of Writing Today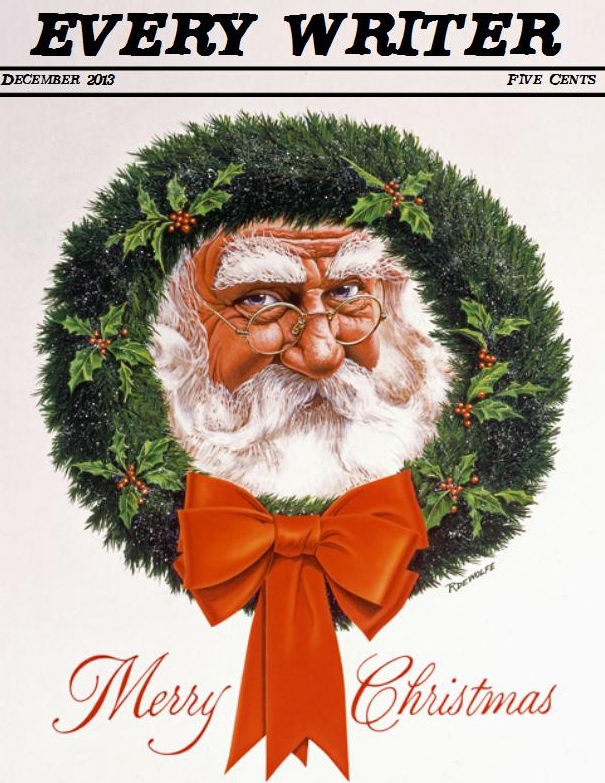 Kris Kringle doesn't seem all that happy with how people have been writing about Christmas. He feels Bill Collins and some of the other big name poets of today need to write some warm and fuzzy cheer. He feels they need to put a little time into getting people in the Christmas mood...[Read More]
We are doing a lot for Halloween this year. We are watching a horror movie "Night of the Living Dead" with some horror editors (our online roundtable of horror), running horror story contest, and publishing all the awesome horror art we can get!
[READ MORE]


EWR: Self Published Authors!
We are launching our new site for Self-Published authors. We want to promote self-published books, self-published authors, and educate those who are thinking about self-publishing. Please take a look at the new site.
Interview with Rob Spillman
We were excited and honored that Rob Spillman would take part in our interview series. Mr. Spillman is editor and co-founder of Tin House. The publication is without question one of the best literary magazines in the country. Read the Interview.
Now you can post your work to EWR: Literary Magazines!
For a very long time I thought of coming up with a system that would end the crazy hunt of publishing for both editors and writers. Now the hunt is over. Instead of emailing your work 100 times, post it with us and let 100s of editors read it. Your work isn't public. Only editors can read and consider it for publication. Editors, low on quality submissions? You do not have search any further. You can find new work here. Simply sign up for our site! Editors you can also editor your listings, finally!
5 Most Difficult Things for Literary Magazine Editors
It's late. You've been working for 9 hours straight getting all the coding just right to launch your issue. You have to be up at 6:30 for work, and it's 1:15am. If you could just finish these last few tweaks, you could publish everything. It would be up on the web and ready so that you could look at it while you're at work. Read More...
50 Writing Tips
This is our ever growing list of writing tips. It is a general list of suggestions that we hope will help you in your writing and in the life of writing. This means it will help in more ways than just on the page. The tips are general tips that many writers know. Some paraphrase famous writers.offering free writing courses. See the tips.
Free Writing Course from EWR
We are no offering free writing courses. We will be offering courses in short story writing, poetry, grammar, and more. The courses will be 12 weeks long. We will also have writing workshops in the future, check the site for more details.
How to Speak English
We get asked a lot, if we can put up some resources on learning to speak English. Many of readers are interested in this. So here is our answer. It is a start, more in the future. Click here for sites that will help you learn to speak English.
How to Publish a Short Story
We have rewritten our classic article on submitting your short stories to a general and easy step by step. These are suggestions of course, but we really believe this is how to publish a short story.
Writer's Checklist for the Zombie Apocalypse!
In light of recent events I thought I would give my suggestions on what writers should do to prepare for and during the coming zombie apocalypse. I feel writers will deal with the coming scourge differently than many normal everyday people. For writers the attack of mindless flesh eaters is really more of a chance to get away from the decaying world and back to the basics of writing. If you are a writer, this checklist is for you: (Read More)
Should You Ever Pay to Have Your Work Read?
I've heard a lot of chatter on the web saying things like if a contests charges to enter, it's not worth it. I've heard the same thing from message boards and facebook about magazines that charge a submission fee. The views that were expressed to me were a little disturbing, to be honest. From what I understand there is a school of thought out there that says you should never pay anything to have your work looked at, or to enter a contest...(Read More)
We are taking Donations.
We need your help! We are trying to raise money to keep EWR on the web. It takes time and money to run the site, so we are asking for your help. We are asking for a very SMALL donation! Help us out.
Top 10 Hottest Poets of the 19th Century
This list is for fun, and it is meant to be to tongue-in-cheek. We hope to honor the women on this list, and by writing it we hope to draw more attention to their works. Imagine for a moment that these women lived today, in our culture. With names in "entertainment" like these, it would not be long before they made Star magazine's best and worst dress list. Can you imagine Emily Dickinson's exploits on the cover of The Enquirer. Read the list.
Shakespeare Sucks!
by Leo Tolstoy
I remember the astonishment I felt when I first read Shakespeare. I expected to receive a powerful esthetic pleasure, but having read, one after the other, works regarded as his best: "King Lear," "Romeo and Juliet," "Hamlet" and "Macbeth," not only did I feel no delight, but I felt an irresistible repulsion and tedium, and doubted as to whether I was senseless in feeling works regarded as the summit of perfection by the whole of the civilized world to be trivial and positively bad, or whether the significance which this civilized world attributes to the works of Shakespeare was itself senseless. Read More.
Junot Díaz: Straight on Influences and Creation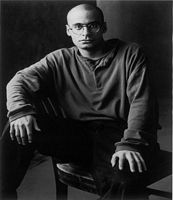 Junot Díaz was born in Santo Domingo, Dominican Republic. His stories have appeared in the in The New Yorker, The Paris Review, Story and have been featured in Best American Short Stories, and Best American Short Fiction. Díaz is the author of the critically acclaimed bestseller Drown. He is a graduate of Rutgers University, and he received his M.F.A. from Cornell University. His new novel will be out in 2007. He currently teaches writing at MIT. Read the interview.
Words and Ideas
with Stephen Dunn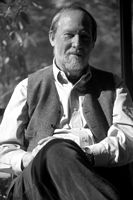 Stephen Dunn is the author of 14 collections of poetry and the winner of the 2001 Pulitzer Prize for his work Different Hours. He is the recipient of many awards including the James Wright Prize, three fellowships from the National Endowment of the Arts and a fellowship from the New Jersey State Council on the Arts. He answered our question about his writing and ideas by email. His newest collection Everything Else in the World is out from W. W. Norton. Read the interview.
Interview with Mark Twain
An interview from the Hartford Daily Courant from May 30th 1888. Twain would have been 53 years old. He had just finished a new book. Click here to read it.
Make Money with Your Literary Magazine
Take some burden off yourself and make a little money with your literary magazines. This article addresses some general ways to make money on the web with a website. Click here.