eLectio Publishing
Website:
http://www.electiopublishing.com/
From the Publisher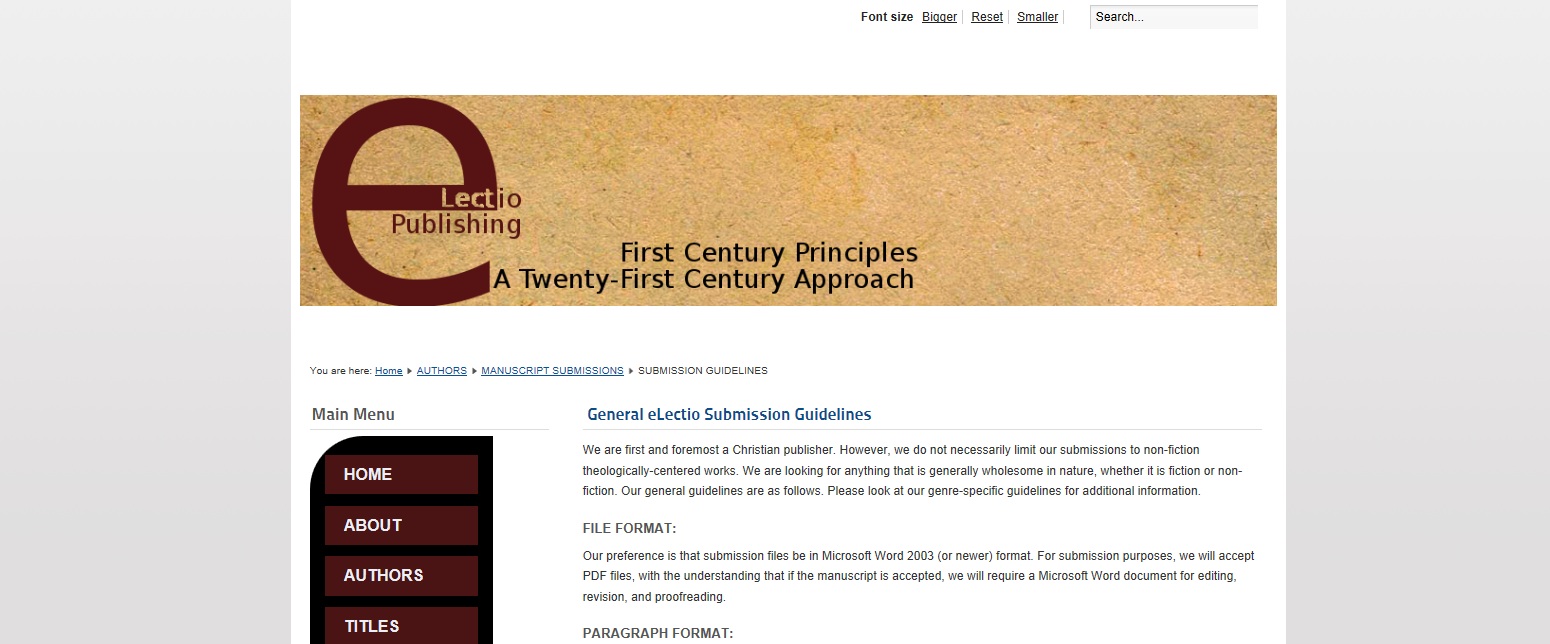 Founded in 2012 by Jesse S. Greever and Christopher C. Dixon, eLectio Publishing was established with the intent of discovering literary works from new Christian authors and bringing them to market, while also seeking out established authors looking for a Christian digital book publishing company. eLectio Publishing is not a vanity publishing company. We utilize a standard submission process and we accept only those manuscripts that we feel are high quality and marketable (and, obviously, those that adhere to our submission guidelines). While we would love to publish every enjoyable manuscript, eLectio Publishing is still a business, and as such, we must publish those manuscripts that are also marketable to a large audience.
Submissions
eLectio publishing welcomes submissions in Fiction, Non-Fiction and Poetry. For full-length works, eLectio is very interested in: General literary fiction (slice-of-life fiction, general non-genre fiction) Action/adventure Horror (notable examples of Christian horror would include Ted Dekker or Frank Peretti) Historical Fiction Romance (notable examples of Christian romance would include Janette Oke or Karen Kingsbury) Mystery Sci-Fi/Fantasy (notable examples of Christian sci-fi/fantasy would be C. S. Lewis or Madeleine L'Engle) Submissions must be at least 2,000 words in length.
Read submission guidelines CAREFULLY. Be aware that, though eLectio Publishing is interested in probing into the even the darkest depths of what it means to live an authentic Christian life, eLectio is first and foremost a Christian publisher. Anything that is contrary to a Christian outlook (including excessive obscenity and profanity) will be, unfortunately, unsuitable for eLectio Publishing. On that note, while we certainly welcome manuscripts with Christian-themed plot lines, we also welcome books that are just generally wholesome in nature, and do not necessarily have to mention Christ specifically.
Information
Editor: Jesse Greever
Circulation:
Submission Guidelines:
Approximate Response Time 90 days
Publishes: Twice a month.
Year Founded: 2012
Online Submissions? Yes
Unsolicited submissions? Yes
Contact
Mailing Address: Little Elm, TX
Email: submissions@electiopublishing.com
Categories
Christian Book Publisher, Electronic Book Publisher, Poetry Book Publisher, Religious Writing Publisher, Christian Publisher