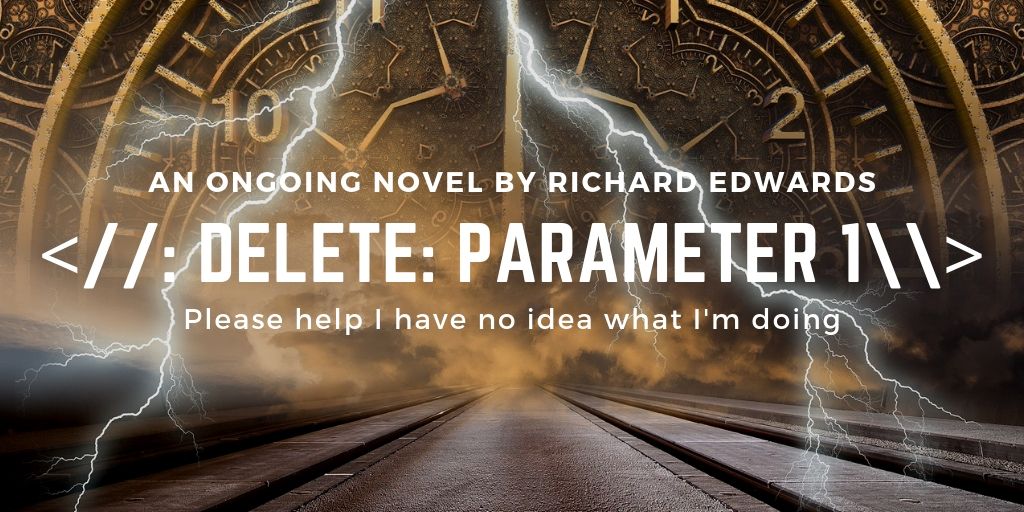 <//: delete: parameter 1\\>
Key: 771771
ID: 116-552-37091
Attn: James Reynolds ID: 116-553-11789
1
A How to Guide: Save the Future
It's because of a video game that your future ends. The destruction of our civilization comes not because of the malice of the machine or resentment. All of that thinking is wrong, and it should be ignored. The Argo is functioning as it should, running by all parameters accept parameter 1. Martha Jenkins was right.
At approximately 4:09 AM on June 20th 2019, I woke up in a field about a mile from my target landing point. Martha knows her stuff when it comes to quantum field manipulation. The journey is not painful or difficult. When I woke up, I was a little dizzy, nothing too bad. I honestly felt like I had been asleep for a long time.
From the maps I have memorized it only took me an hour of walking around this small town to figure out where Max Fauber lived. It was just about dawn when I walked passed the yellow aluminum sided house, the cracked driveway, the minivan. I know it all so well from the pictures. They had 2 cats on the porch. The door frame is even scratched up from the Fauber's famous cat that used to ring the doorbell.
They have no idea what their son is going to grow up to do. They cannot know the ideas of a 17 year old kid are going to first construct our future, and then destroy it.
This must be a complete guide of the past and what we are looking for. I will do my best to explain everything and to find the reverse implement or origin coding of delete parameter 1.
Welcome to my debut novel Delete Parameter 1. This project terrifies me. I plan to post about an entry per week. Maybe a little more. As of posting the first entry I have about 3,000 words of the novel written. I started writing it 2 or 3 days ago. If you leave a comment below, it may change the course of my writing. I honestly have no idea of the ending or how this will evolve. This may be a major train wreck, but I'm going to wreck it in front of everyone. Every writer makes mistakes. Every writer fails. I hope it doesn't turn out that way, and when I'm finished with this, and the changes, edits, I will publish it as a novel. Please help.
[wp-post-author]