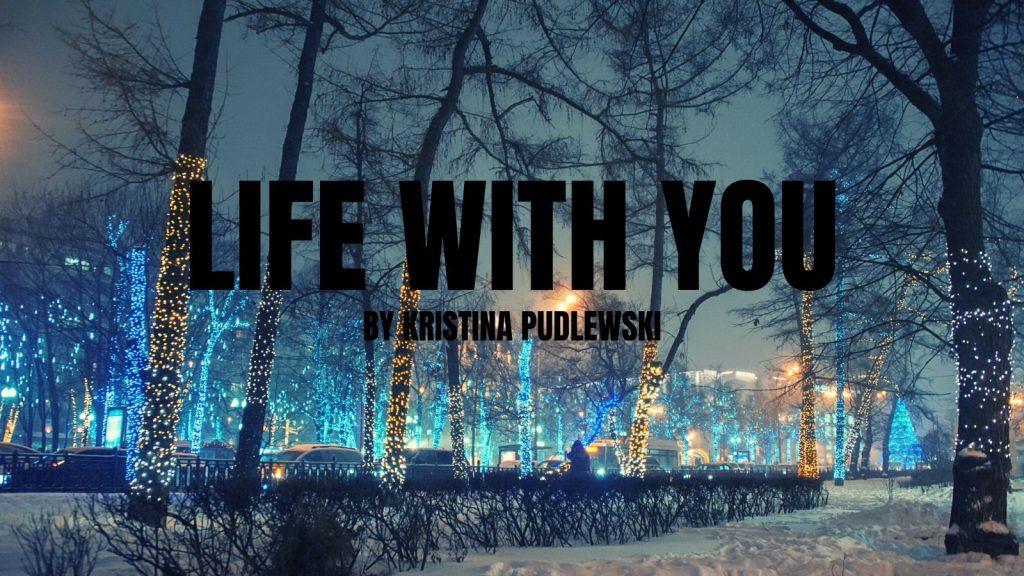 Life With You
by Kristina Pudlewski
It was December 23rd, only two days before Christmas. Children play outside in the snow and families rush into stores to get last minute items for their holiday gatherings. But I am in the hospital with you, Max, my love. You were on a delivery for work when an SUV crashed into you, sending you 30 feet down 1st Avenue. Leaving you with two broken legs and a broken collarbone. I'm surprised you survived that, but I'm glad you did. The world deserves a man like you in it. I look out of the third story window as you rest. Snow falls heavily on busy New Yorkers below.
"Beautiful, Isn't it?" Max says quietly.
I look over quickly, moving closer to be next to him.
"It is," I reply back, kissing his swollen cheek.
Max breaths in and out, slowly. "It's a shame to be trapped in this room," he says.
I nod in agreement.
"Whadya say…wanna go on a little adventure?"
"Sure," I say, a smile appears on my face.
Even in pain, Max is wonderful. He moves through life's challenges with ease. He pushes the call button and a few seconds later a nurse arrives.
"What can I help you with Mr. Carnes?" she says.
"I'd like a wheelchair please,"
"I don't really think…" she starts to say but Max interrupts.
"How am I supposed to lay here all day when it looks like that outside?" Max says.
The nurse looks towards me and we smile, in unison. "I'll see what I can do," she says.
Max gives me a quick wink and leans back in his bed. Moments later the nurse is back. She nods towards the wheelchair. "Here you are Mr. Carnes," she says.
"Thank you,"
"I will have to accompany you downstairs," she says.
"I'd be pleased if you would," Max responds.
She calls for assistance to get Max out of bed. Once done, we enter the elevator and head for the main level. The elevator beeps and the doors open. Its like a winter wonderland. Snow is pilled high against the lobby windows. Max's eyes widen, delighted. The nurse hands me his wheelchair and acknowledges our freedom. I head straight for the entrance door. We exit the main doors and are immediately swept up in the beauty of winter in New York. We are silent for a few moments, enjoying the view.
"See, tell me this isn't better than that muggy room?" Max says. He reaches for my hand and we hold each other. At this moment it is just the two of us and a beautiful, bustling city. I wouldn't have it any other way