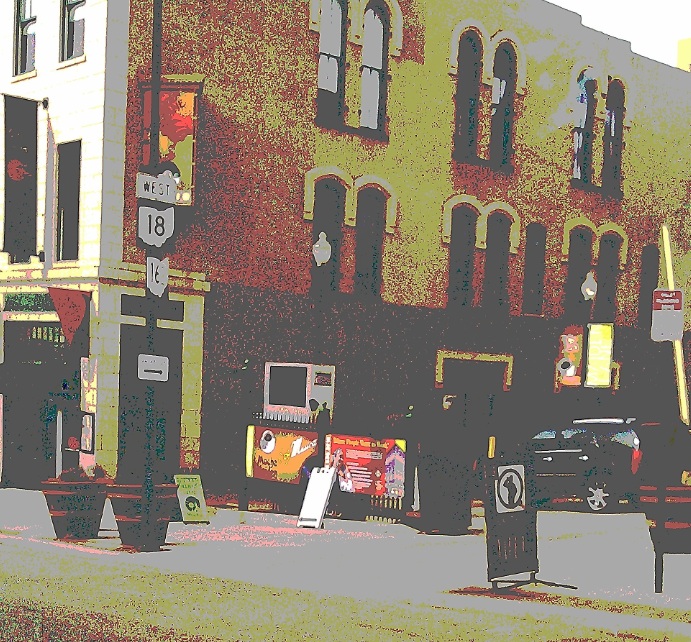 The Day of the Dead
by RLB Hartmann
It's October. The air has grown mild and dry, sere like the skin of an old person, pungent.
On a worn bench beneath whispering maples shading the plaza, I watch families. Stubby fathers in work clothes, mothers in bright skirts below their knees, children swarming everywhere.
Those gathered here are unaware of me, focused on upcoming festival which plays a large role in their lives. They crowd around stands of pastries and candies, choosing symbols of death as a way to interpret life. ? My fingers tingle, anticipating drawings that will spring from memories onto crisp paper: faces lit by candles, smoke rising from braziers, murmurs punctuated by muted laughter as people mill among marigolds and tombstones in the dusk.
He walks toward me across the pavement from the other side of the obelisk, from the other side of the universe.
For a moment he's blotted from view by a sculpture placed in the center of the plaza by some artist whose name I never heard, in a year I don't remember. ? He reappears closer to me than I had expected. Did I blink? Fall asleep? I have a sharp impression of having missed something.
He's small and lithe, dark and lovely. Ebony hair brushed back, curls behind his ears, mustache freshly trimmed.Dressed in black pants and a white shirt, he carries himself like a dancing master, on precise feet in new-looking shoes. ? When he stops a few paces in front of me, my blood begins vibrating, my pulse matches his heartbeat. I see it in the hollow of his throat, above the heavy gold chain.
"Did you bring them?"
His voice is melodic, mellow with wisdom; his eyes glow in the backlight of afternoon sun. Strong hands reach for the portfolio which leans against the bench beside me. "May I?"
"Of course." I hope I don't sound too eager. ? The purpose of our meeting is to choose paintings to display in his cafe. The gleam of mystery and promise emanates from him like perfume. I strain to grasp this aura, to lock it in my soul for safekeeping so tonight, tomorrow, forever I can access the pleasure I have in his presence.
I'm older than the woman who interrupts us with a whining two-year-old grasped by the wrist. She is his wife, for she wears his ring, and in North Georgia Spanish she fires words at him for a tense thirty seconds before disappearing into the crowd from which she had materialized. He has given her money.
His hand shakes when he turns over the plastic sheets encasing photos of my artwork. His eyes have dulled with pain, embarrassment, anger. His voice shakes, too, when he tells me, "I will look at them again tomorrow. Here, in the plaza."
"Of course," I say, smiling and polite, wanting to appear as though the incident had made no ripple in the air around us, the warm dry air encasing us in the same October cocoon.
###
?RLB Hartmann is a member of The Western Writers of America, and author of Tierra del Oro, known as The Cordero Saga. Four of the nine novels in this series are available in paperback. Details, links, photos, music, other works, and a video are on www.rlbhartmann.com.
Read more stories by RLB Hartmann at: http://love-lovepublishing.com/?cat=8