ForeWord Reviews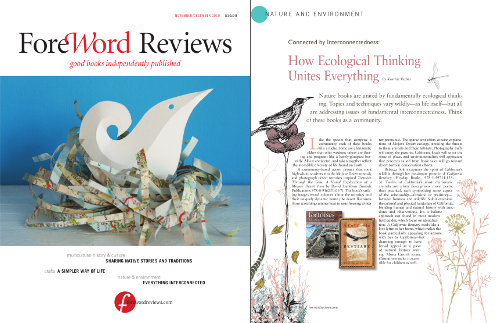 Magazine Name:
ForeWord Reviews
Website:

http://www.forewordreviews.com/

Editor:
Julie Eakin,

Book Review Editor

; Kimber Bilby, Managing Editor
Print Magazine?
Yes
Mailing Address:
ForeWord Reviews 129 1/

2 E. Front Street Traverse City, MI., 49684

Email:

kimber@forewordreviews.com

Circulation:
26,000
Submission Guidelines:

http://www.forewordreviews.com/get-reviewed/submission-guidelines/

Approximate Response Time
Four weeks
Publishes:
bimonthly; six issues a year
Year Founded:
1998
Information about your publication:
Through our

flagship magazine

, ForeWord Reviews, we seek out the very best books from the nation's finest independent publishing houses to review and share with your readers, librarians, publishers and book buyers. But we offer so much more. From forecasting trends in ebooks to comic books, we report on what's happening in the

book publishing

industry. We are in daily contact with the brightest authors, publishers, and industry insiders.
What type of submissions you are looking for:
good books
Information on Contests:
2010 Book of the Year Awards ForeWord Reviews Book of the Year Awards were established to bring increased attention to librarians and booksellers of the literary and graphic achievements of independent publishers and their authors. ForeWord is the only review

trade journal

devoted exclusively to books from independent houses. Our unique awards process brings readers, librarians, and booksellers together to select their top categories as well as choose the winning titles. Their decisions are based on editorial excellence, professional production, originality of the narrative, author credentials relative to the book, and the value the book adds to its genre. If your books expand a reader's world, introduce a voice society needs to hear, offer practical knowledge where none existed before, or simply entertain so compellingly that all distractions fall away, they should be submitted for the Book of the Year Award.