Glimmer Train Stories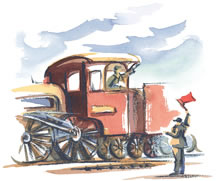 | | |
| --- | --- |
| Magazine Name: | Glimmer Train Stories |
| Website: | www.glimmertrain.org |
| Twitter: | @glimmertrain |
| Facebook: | |
| Editor: | Susan Burmeister-Brown |
| Print Magazine? | Yes |
| Mailing Address: | 4763 SW Maplewood Road PO Box 80430 Portland, OR? 97280 |
| Email: | susan@glimmertrain.org |
| Circulation: | 10,000 |
| Submission Guidelines: | http://www.glimmertrain.com/writguid1.html |
| Approximate Response Time | 6-12 weeks |
| Publishes: | quarterly |
| Year Founded: | 1990 |
| Online Submissions? | Yes |
| Information about your publication: | |
| What type of submissions you are looking for: | We particularly welcome the work of new and emerging writers. In the recent Best American Short Stories, of the top "100 distinguished short stories," six appeared in Glimmer Train Stories, second only to the New Yorker. We are pleased to say that, of those six, two were those authors' first stories accepted for publication. |
| Information on Contests: | Our Short Story Award for New Writers is held quarterly in the months of February, May, August, and November. It is open to any writer whose fiction has not appeared in a publication with a circulation greater than 5000. |
http://www.everywritersresource.com/literarymagazines/glimmer-train-stories/
Best American Short Story
Contests
Fiction
G
literary magazine
Literary magazine in Print
New and Interesting
Online Submissions
Paying Market
Print magazine/Online Submissions
Magazine Name: Glimmer Train Stories Website: www.glimmertrain.org Twitter: @glimmertrain Facebook: Editor: Susan Burmeister-Brown Print Magazine? Yes Mailing Address: 4763 SW Maplewood Road PO Box 80430 Portland, OR? 97280 Email: susan@glimmertrain.org Circulation: 10,000 Submission Guidelines: http://www.glimmertrain.com/writguid1.html Approximate Response Time 6-12 weeks Publishes: quarterly Year Founded: 1990 Online Submissions? Yes Information about your publication: What type of submissions you are looking for: We particularly welcome the work of new and emerging writers. In the recent Best American Short Stories, of...
Every
Writer
votenewmusic@yahoo.com
Administrator
I am the editor/owner of EWR, a writer, a publisher, and a teacher.
Literary Magazines