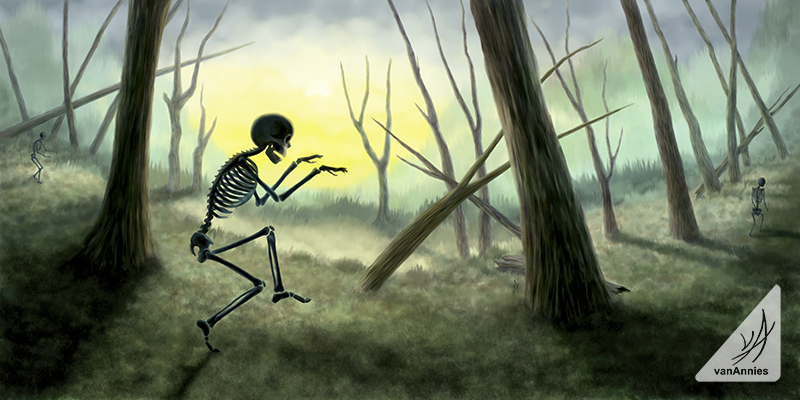 Dusk
By Chris Galford
Dusk. I can hear them in the walls. The chitter of their legs rattles plaster.
Their poison stains the floorboards. My own is still with the fear of it, of the slow wine burn of their drink. They cannot be bated. Everywhere, the traps lay; they ignore them, build new roads into the dust and dark.
Mother takes them for the creak of trees in dead of night. She cannot hear them. Will not hear them. Heavy lies the whispers: do not be afraid, little fly, we just come to play. Can you hear the whispers? The world is walking by.
I weep for the dark, for the shadows of their web. Another moonless night. Do spiders know our words? Because they tell me things. The shameful things brother watches. I hear them scuttle through the laughter of their claims: have you heard what teacher says of his students behind their backs? I don't want to know, but all the same they whisper.
They weave it into their webs.
I close my eyes to blot out threads winding through the cracks. Breathe in. Breathe out. Drift. They are playing games with me.
Another whisper wraps me tighter. They are here. I am awake, but I will not open my eyes.
Simpering spiders, they say I do not understand. Secrets pour from the walls and their fangs lick my veins.
They just want someone to read their tapestry.
Richard Edwards has a BFA in Creative Writing and Journalism from Bowling Green State University and an M.S. in Education from the University of Akron. Managing editor of Drunk Duck, poetry editor for Prairie Margins, reporter for Miscellany, Akron Journal, Lorain Journal, and The BG News. He has also worked as a professional writer and editor in the medical publishing industry for several years. For the last 15 years Richard has also taught literature and writing at the secondary and post-secondary levels. He works much of the time with at-risk students.