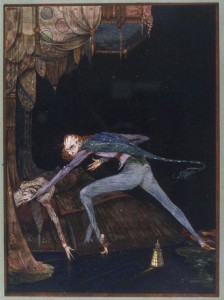 Here is an animated video we just love. There are many of these on youtube, and we thought to kick off the early Halloween season (which we love so much) we would post this version of Poe's Tell Tale Heart. It is an animated movie from 1953. We hope you enjoy all of the creepy. We will post more fun and horrible things on the site between now and October 31! Stay tuned.
If you would like to read all of this classic tale here on our site click here.
Richard Edwards has a BFA in Creative Writing and Journalism from Bowling Green State University and an M.S. in Education from the University of Akron. Managing editor of Drunk Duck, poetry editor for Prairie Margins, reporter for Miscellany, Akron Journal, Lorain Journal, and The BG News. He has also worked as a professional writer and editor in the medical publishing industry for several years. For the last 15 years Richard has also taught literature and writing at the secondary and post-secondary levels. He works much of the time with at-risk students.