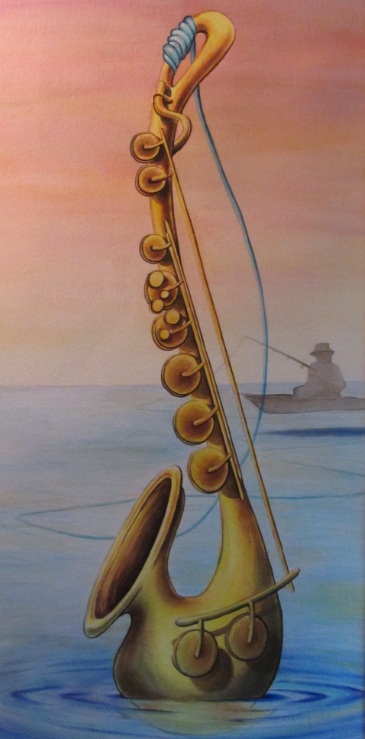 The Boat
by Robert Knox
Though sometimes, whenever we were in town, we took you out from the 'place' and drove you to one of the little beaches on the North Shore, the sand skimpy and yellow, the water placid, and tried to help you remember things.
"There was a boat…"
"A boat?"
"I remember…"
"Uncle Charlie's?"
"Or Will's?"
"It must have belonged to one of them."
"Where was it? Pennsylvania?"
"Oh, no. The Bay."
"Jamaica? Flushing?"
Not the North Shore then. These days the road races us past the Bay, highway speed, three lanes of traffic, on the way to the bridge. Not a place for picnics on the water.
"They took you out?"
"What?"
"On the water. In the boat."
"I guess they must have. I don't remember."
"It seems like your family had boats," Anne said. "That must have been nice." Her parents? They remember a subway to Coney Island. A long, long ride.
But Mom is silent.
"You always liked the beach," she says. Stimulate the mind. Prime the pump of memory. She says it a second time. "… the beach."
"Oh, yes."
"When Robert was young."
"You always took us to the beach, Mom."
"Oh, yes."
But the boat. We saw a photograph once. Black and white, seventy years old, maybe more. Undated. A boat with a cabin, a superstructure of some sort, and the people posing. Mom not sure who they were, even then. An indulgence, surely. Who owns a boat on a bay in Long Island? What was their world like, their lives? Someone must have known how to operate it well enough to chug around the bay's flat water. A deck to sit out on in your light flannel trousers, with your legs crossed, some sort of loafers on your feet, and drink and look at the water. Was the great bridge there then? Did you watch the traffic roll over it? All those other lives?
You sat, holding your drink, placing it carefully by your feet. You admired the view, offered an observation. Waved at a friend.
"Do you remember going out on the boat?" I'm repeating myself.
"What?"
She sits beside me in the front seat. We do not leave the car. We have come to look at the water. We look at it.
None of her memories… Not now, surely. But even before. "I was a child," she replied once, when I asked her a question. "They didn't want a child around."
None of her memories went where you wanted them to.
A boat leaves the dock. It goes nowhere in particular. We suppose it comes back. We suppose it existed. We have seen a photograph. Who were the people in this picture? Where are they now?
They went out on a boat. Everybody does. One day they did not come back.
###
I am a husband, father, rabid backyard gardener, Boston Globe freelance writer, and blogger on nature, books, films and other subjects. My short stories, poems and creative nonfiction have appeared in numerous literary publications. I was named a Finalist in the Massachusetts Artist Grant Program in fiction for a story about my father ("Lost").
My story "Marriage" placed in a fiction competition held by Words With Jam and was published recently in the anthology "An Earthless Melting Pot." Another story, "Love in the Other Place," was published in the latest issue of The Tishman Review. "Commitment" recently appeared in the debut issue of 3288 Review. My nonfiction story "Preparing A Place" was published this month in Lunch Ticket.
My novel on the origins of the Sacco-Vanzetti case, "Suosso's Lane," was published in October 2015 by Web-e-Books.com.
Richard Edwards has a BFA in Creative Writing and Journalism from Bowling Green State University and an M.S. in Education from the University of Akron. Managing editor of Drunk Duck, poetry editor for Prairie Margins, reporter for Miscellany, Akron Journal, Lorain Journal, and The BG News. He has also worked as a professional writer and editor in the medical publishing industry for several years. For the last 15 years Richard has also taught literature and writing at the secondary and post-secondary levels. He works much of the time with at-risk students.