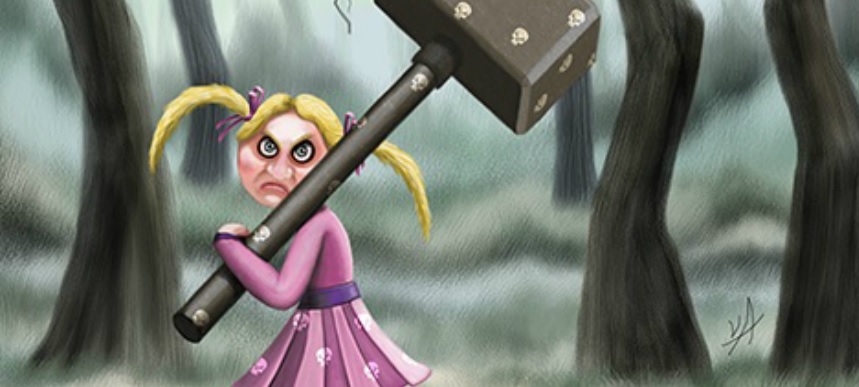 The Bunny Mask
by Ashley Slattery
When I was younger, there had been a few kids in my area that had gone missing and were later found dead. The killer would never leave clues and the police were baffled. The only clue that eventually was discovered, came from the older sibling of one of the kids, who said she saw her little sister leave the house with a man in a bunny mask. Apparently her sister had started talking about the man in the bunny mask who lived in the woods, a couple days before she went missing. A couple parents of missing kids old us that their kids had said pretty much the same thing. Several days before their kids went missing, they would talk of the bunny man. Of course most parents thought it was just their kids making up stories.
For months, my parents and other parents were very cautious about letting their kids out. After a while had gone by and no more kids went missing, people calmed down. That was until Halloween. On Halloween night, a man with a bunny mask was spotted around town. People freaked out. My mom got a call from a friend who had heard from a friend and well she rushed my two younger siblings and I home. Later we found out, it was this kid Dan, who loved to play tricks. My twin brother Josh, who was Dan's friend, was also a part of the plan. I don't remember the last time I saw my father so mad. Josh was grounded for a month.
Most people were actually convinced that Dan might be the killer. He had a bad track record of getting into trouble like breaking and entering and fighting. He was also the bully around the high school. I wasn't so convinced though. He might have been a trouble maker, but a killer? I didn't think it was him and now I also know it wasn't him.
You see last night I heard a noise coming from downstairs. It sounded like our glass door sliding open. My stomach churned and a cold fear swept through my body. I slowly got out of bed and crept to my window. There standing just in the line of trees in the woods behind our house with his back to me was a man. Fear like I had never known, swept through my body. It was not just the fact that the man had a bunny mask in his hand that scared me. It was the fact that he jerked his head to the right like he heard a noise coming from around the area of my neighbor's backyard that really sent the cold, goose bump type fear through me and made my knees go weak. Whatever the man thought he heard didn't faze him because he turned back to the woods and walked further into them. I just stood there and watched my father go.
Richard Edwards has a BFA in Creative Writing and Journalism from Bowling Green State University and an M.S. in Education from the University of Akron. Managing editor of Drunk Duck, poetry editor for Prairie Margins, reporter for Miscellany, Akron Journal, Lorain Journal, and The BG News. He has also worked as a professional writer and editor in the medical publishing industry for several years. For the last 15 years Richard has also taught literature and writing at the secondary and post-secondary levels. He works much of the time with at-risk students.