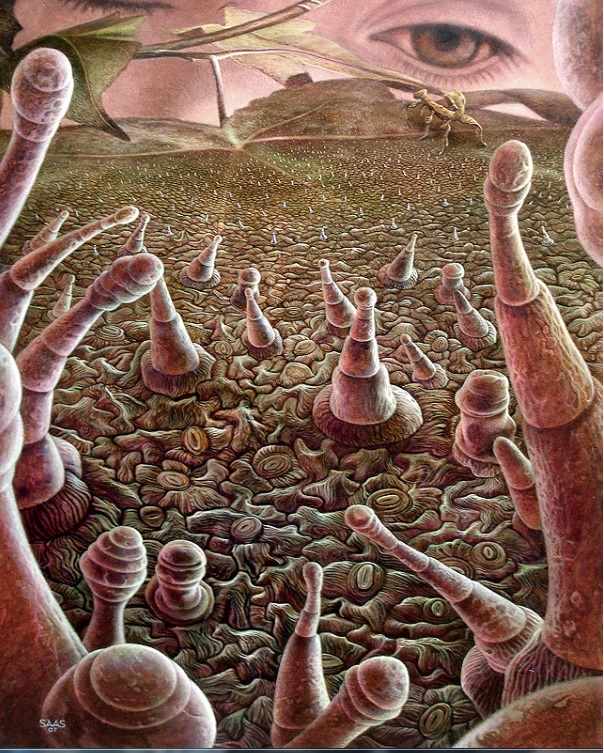 Under My Skin
by Pavel Soham
Ever looked in the mirror and realized that what's looking back isn't you?
It happened to me when I was twelve. There I was, brushing my teeth in front of the bathroom mirror, when I saw him. Looking back at me through my own eyes. And he knew that I knew. He smiled; a ghastly, skeletal smile from ear to ear. It was the most sinister smile I had ever seen. I screamed until I couldn't scream any more.
There's a monster living under my skin.
I tried to put on a brave face. I didn't want to hurt anybody.
But the more of myself I drew in, the more of him got out. I saw him in the red underneath my eyelids, in the gum that showed every time I smiled, and on the scratchmarks on my skin everywhere I itched.
When I was twelve, my mom caught me cutting myself. She blamed herself.
But I wasn't really me. He was cutting himself out.
When I was sixteen, I developed a rash. I scratched myself until my forearms were just pink flesh. Boy, he was happy.
When I was eighteen, I tried to drown him. I climbed up on top floor of the diving pool, and jumped. I couldn't swim. I recall every second as I dropped closer and closer to the water, frame by frame, almost. As my face was inches from the water, I saw the terror in his reflection. It was beautiful.
Someone saved me. A lifeguard.
I had a couple of wonderful years. Got married.
He was only hiding.
The memory lapses began a few months before Ruth declared she was pregnant. It started small. Sometimes, I would forget where I kept my keys, or where I hid the remote. I did not think too much of it. I was under a lot of stress, after all. Because of the baby.
Sally was a bright, wonderful baby. I was playing with her in the afternoon one day. She was a smiling a happy, toothless smile when I looked at our reflection in a puddle. I saw him again. Smiling with his eyes open wide, face stretched beyond my laugh lines, baring my teeth and gum. But that wasn't the bit scaring me. The baby was smiling back at him, with the same wide eyes that showed the red and the grin – that same ghastly, toothy, gummy, skeletal smile.
It was his baby!
I remember fighting against every fiber of my body as I clamped my hands around her throat.
I don't mind being in this cell. My only regret is that Ruth is never going to forgive me.
Any last words, you say?
No, no last words for you.
I would ask you to tell Ruth to forgive me.
But I won't. Not because you don't believe that there's a monster under my skin.
But because there's a monster under your skin, too.
Watching.
Listening.
Waiting.
Richard Edwards has a BFA in Creative Writing and Journalism from Bowling Green State University and an M.S. in Education from the University of Akron. Managing editor of Drunk Duck, poetry editor for Prairie Margins, reporter for Miscellany, Akron Journal, Lorain Journal, and The BG News. He has also worked as a professional writer and editor in the medical publishing industry for several years. For the last 15 years Richard has also taught literature and writing at the secondary and post-secondary levels. He works much of the time with at-risk students.