Bellevue Literary Review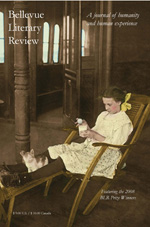 Magazine Name:
Bellevue

Literary Review

Website:

www.BLReview.org

Editor:

Danielle Ofri

Print Magazine?
Yes
Mailing Address:

Bellevue Literary Review NYU Department

of Medicine 550 First Avenue, OBV-A612

New York, NY 10016

Email:

info@BLReview.org

Circulation:
4000
Submission Guidelines:
Approximate Response Time
3-6 months
Publishes:
twice a year
Year Founded:
2001
Online Submissions?
Yes
Information about your publication:
Bellevue Literary Review is a unique

literary magazine

that examines human existence through the prism of health and healing, illness and disease. In these universal themes, many readers feel a personal connection to the BLR and find reflections of their own lives and experiences. The BLR is published twice a year by the Department of Medicine at

NYU Langone Medical Center

.
What type of submissions you are looking for:
We are looking for high-caliber, unpublished poetry ! and prose, broadly and creatively related to our themes of illness, health, and healing.
Information on Contests:
The annual BLR Prizes award outstanding writing related to themes of health, healing, illness, the mind, and the body. All winning and honorable mention selections will be published in the Spring issue of the Bellevue Literary Review. Deadline August 1st. The 2010 prizes are now open for submission: $1000 Goldenberg Prize for Fiction, judged by

Gail Godwin

$1000 Carter V. Cooper Memorial Prize for Nonfiction, judged by

Phillip Lopate

$1000 Marica and

Jan Vilcek Prize

for Poetry, judged by

Tony Hoagland
http://www.everywritersresource.com/literarymagazines/bellevue-literary-review/
B
Best American Poetry
Defunct
literary magazine
Literary magazine in Print
Print magazine/Online Submissions
University Press
Magazine Name: Bellevue Literary Review Website: www.BLReview.org Editor: Danielle Ofri Print Magazine? Yes Mailing Address: Bellevue Literary Review NYU Department of Medicine 550 First Avenue, OBV-A612 New York, NY 10016 Email: info@BLReview.org Circulation: 4000 Submission Guidelines: Approximate Response Time 3-6 months Publishes: twice a year Year Founded: 2001 Online Submissions? Yes Information about your publication: Bellevue Literary Review is a unique literary magazine that examines human existence through the prism of health and...
Every
Writer
votenewmusic@yahoo.com
Administrator
I am the editor/owner of EWR, a writer, a publisher, and a teacher.
Literary Magazines