Bellevue Literary Review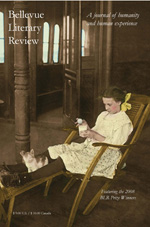 Website:
From the Editor
Bellevue Literary Review is a unique literary magazine that examines human existence through the prism of health and healing, illness and disease. In these universal themes, many readers feel a personal connection to the BLR and find reflections of their own lives and experiences. The BLR is published twice a year by the Department of Medicine at NYU Langone Medical Center.
Submissions
We are looking for high-caliber, unpublished poetry ! and prose, broadly and creatively related to our themes of illness, health, and healing.
Thank you for your interest in submitting to the Bellevue Literary Review. We are currently CLOSED to new submissions. We will reopen on September 1, 2017 and look forward to reading your work then.
Contest
Thanks to all who submitted. Without writers like you sending us their work, the BLR could not exist. We are excited to read the contest submissions, and delighted by the enthusiasm of the writing community.
The results of the 2018 Prizes will be announced this fall. Your patience and understanding are appreciated.
The annual BLR Prizes award outstanding writing related to themes of health, healing, illness, the mind, and the body. First prize is $1,000 (in each genre) and publication in the BLR. Honorable mention winners will receive $250 and publication.
Information
Editor: Danielle Ofri
Print Magazine? Yes
Circulation: 4000
Submission Guidelines:
Approximate Response Time 3-6 months
Publishes: twice a year
Year Founded: 2001
Online Submissions? Yes
Contact
Mailing Address: Bellevue Literary Review NYU Department of Medicine 550 First Avenue, OBV-A612 New York, NY 10016
Email: info@BLReview.org
https://www.facebook.com/blreview
https://twitter.com/blreview