Black Warrior Review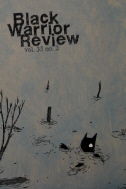 Magazine Name:

Black Warrior

Review
Website:

bwr.ua.edu

Editor:
Kate Lorenz
Print Magazine?
Yes
Mailing Address:
Box 862936

Tuscaloosa, AL 35486-0027

Email:

blackwarriorreview@gmail.com

Circulation:
2000
Submission Guidelines:
Approximate Response Time
1-6 months
Publishes:
bianually
Year Founded:
1974
Information about your publication:
Since 1974, Black Warrior Review has published the freshest voices in literature, from established and emerging talents alike. Each issue presents high quality poetry, fiction, and nonfiction, including a chapbook by a nationally recognized poet. In addition, we've added comics and full-color art inserts to our repertoire. Black Warrior Review counts among its contributors

Pulitzer Prize Winners

,

National Book Award Winners

, and Poet Laureates. Stories and poems from BWR have been reprinted in Puschart Prize series,

Best American Short Stories

, Best American Poetry, New! Stories from the South, and other anthologies. In our 35 year history, we've published work by

John Ashbery

,

Rita Dove

,

Marvin Bell

,

Annie Dillard

,

Charles Simic

,

James Tate

, and

Andre Dubus

. Recent contributors include Mary Jo Bang, Steve Davenport,

Brian Evenson

,

Terrance Hayes

, Dinty W. Moore, D.A. Powell, Tomaz Salamun, Steve Tomasula,

Joshua Marie Wilkinson

, and

Joy Williams

.
What type of submissions you are looking for:
We look to publish fresh, exciting work of any kind.
Information on Contests:
The Black Warrior Review's annual fiction and poetry contest is open May 1st-October 1st. All entries must be postmarked by October 1, 2009. Winners in each genre will receive $1,000 and publication in the spring/summer issue. For more information, please visit:

bwr.ua.edu/contest.html
http://www.everywritersresource.com/literarymagazines/black-warrior-review/
B
Best American Short Story
Contests
literary magazine
Literary magazine in Print
No E Submissions
Paying Market
University Press
Black Warrior Review,Fiction,literary magazine,literary magazines,Poetry
Magazine Name: Black Warrior ReviewWebsite: bwr.ua.eduEditor: Kate LorenzPrint Magazine? YesMailing Address: Box 862936 Tuscaloosa, AL 35486-0027Email: blackwarriorreview@gmail.comCirculation: 2000Submission Guidelines:Approximate Response Time 1-6 monthsPublishes: bianuallyYear Founded: 1974Information about your publication: Since 1974, Black Warrior Review has published the freshest voices in literature, from established and emerging talents alike. Each issue presents high quality poetry, fiction, and nonfiction, including a chapbook by...
Every
Writer
votenewmusic@yahoo.com
Administrator
I am the editor/owner of EWR, a writer, a publisher, and a teacher.
Literary Magazines