Black Warrior Review
Website: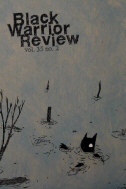 From the Editor
Since 1974, Black Warrior Review has published the freshest voices in literature, from established and emerging talents alike. Each issue presents high quality poetry, fiction, and nonfiction, including a chapbook by a nationally recognized poet. In addition, we've added comics and full-color art inserts to our repertoire. Black Warrior Review counts among its contributors Pulitzer Prize Winners, National Book Award Winners, and Poet Laureates. Stories and poems from BWR have been reprinted in Puschart Prize series, Best American Short Stories, Best American Poetry, New! Stories from the South, and other anthologies. In our 35 year history, we've published work by John Ashbery, Rita Dove, Marvin Bell, Annie Dillard, Charles Simic, James Tate, and Andre Dubus. Recent contributors include Mary Jo Bang, Steve Davenport, Brian Evenson, Terrance Hayes, Dinty W. Moore, D.A. Powell, Tomaz Salamun, Steve Tomasula, Joshua Marie Wilkinson, and Joy Williams.
Submissions
We look to publish fresh, exciting work of any kind. Black Warrior Review reads general fiction, nonfiction, and poetry submissions from December 1 – March 1 and June 1 – September 1.
See guidelines before submitting: https://bwr.ua.edu/submit/guidelines/ 
Contests
Nonfiction, Fiction, and Poetry, and Flash Categories
Poetry Judge: Gary Soto
Fiction Judge: Michael Martone
Nonfiction Judge: Jesse McCarthy
Flash Judge: Allegra Hyde
Open May 1 to September 1, 2023
More info: https://bwr.ua.edu/submit/contest/
Information
Editor: Kate Lorenz
Print Magazine? Yes
Circulation: 2000
Submission Guidelines:
Approximate Response Time 1-6 months
Publishes: bianually
Year Founded: 1974
Contact
Mailing Address: Box 862936 Tuscaloosa, AL 35486-0027
Email: blackwarriorreview@gmail.com
https://www.facebook.com/blackwarriorreview/
https://twitter.com/BlackWarriorRev