Antioch Review
Website:
antiochcollege.edu/antioch-review/
From the Publisher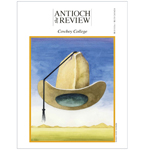 The Antioch Review is one of the best literary magazines in the country. We rate the Antioch Review as number 25 of our Top 50 Literary Magazines list.
From their site:
The Antioch Review, founded in 1941, is one of the oldest, continuously publishing literary magazines in America. We publish fiction, essays, and poetry from both emerging as well as established authors. Authors published in our pages are consistently included in Best American anthologies and Pushcart prizes. We continue to serve our readers and our authors and to encourage others to publish the "best words in the best order."
When in 1940 a small group of Antioch College faculty met to discuss the founding of a review, they were faced with a world where fascism and communism were on the march and they sought to establish a political forum from which the voice of liberalism could be heard. In 1941 they launched the first number of the Antioch Review and in their statement of purpose gave voice to their political and social concerns. Nineteen forty-one was both a dividing point for the dominant issues and trends of the twentieth century and the beginning of a literary, intellectual, or little (you take your pick) magazine that they hardly could have expected to last out the war.
What type of submissions you are looking for: Please see Writer's Guidelines on our website.
Submissions
The best answer: Read some issues of The Antioch Review. Within these pages you will find information that can help you to develop ideas for subjects and an understanding about treatment, lengths of articles, and the stories we have used. Perusing prior issues of The Antioch Review will be far more rewarding for you than any theories we might postulate.
The Antioch Review publishes articles, fiction, poetry and reviews. For more information please see their writer's guidelines.
Information
Editor: Robert S. Fogarty
Circulation: 4000
Submission Guidelines:
Approximate Response Time 4 – 6 months
Publishes: quarterly
Year Founded: 1941
Contact
Mailing Address: Antioch Review PO Box 148 Yellow Springs, OH 45387
Email: mkeyes@antioch.edu
https://www.facebook.com/TheAntiochReview
https://twitter.com/AntiochReview
https://www.instagram.com/antiochreview/
http://antiochreview.tumblr.com/