Bacopa Literary Review
Website
https://writersalliance.org/bacopa-literary-review/
From the Editor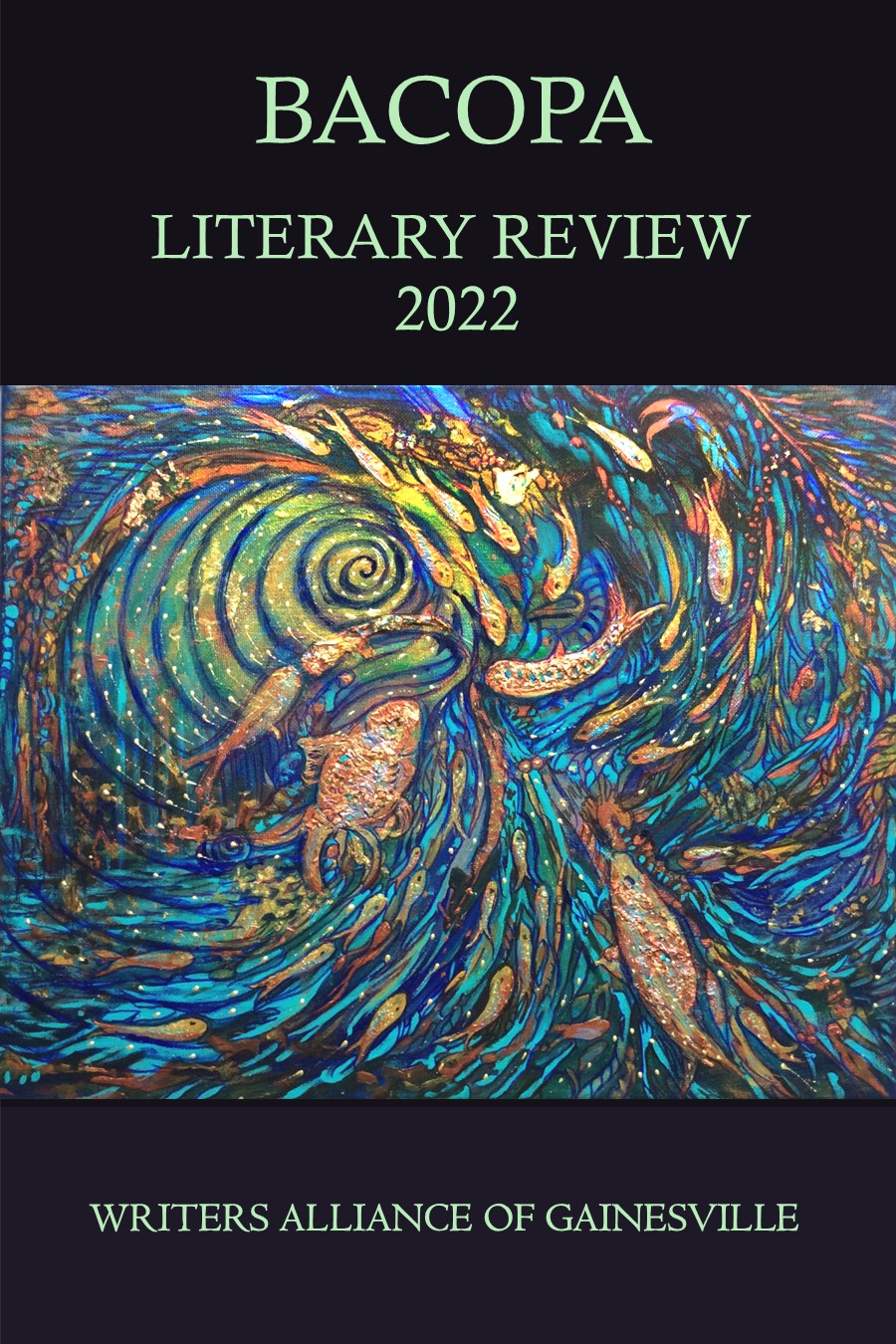 Bacopa Literary Review is an annual international print journal published by the Writers Alliance of Gainesville. We are seeking submissions in six categories this year: Fiction, Creative Nonfiction, Humor, Formal Poetry, Free Verse Poetry, and Visual Poetry. Our Bacopa Literary Review Editors' Blog (https://bacopaliteraryrevieweditorsblog.blogspot.com/) shows the quality of writing we seek by highlighting work we respect from previous Bacopa issues as well as other sources. We ask that all potential contributors submit their work anonymously, as we read blind for fairness' sake. See detailed instructions for submission on our Submittable page at: https://writersallianceofgainesville.submittable.com/submit The submissions period for our 2023 edition will open on March 19th and close on April 16th, 2023. There is no submission fee. Our contest features a $200 Award and a $100 Honorable Mention in each of the six categories. Contributors whose work is selected for publication will receive a complimentary copy of the journal. Prize winners and honorable mention awardees will each receive two complimentary copies in addition to their cash rewards. Authors, please submit to only ONE category. Submissions to more than one category may result in disqualification. When the contest opens, entries are to be submitted via Submittable only, at the web address listed above. Although Bacopa Literary Review is organized, funded, and published by the Writers Alliance of Gainesville, it is a truly international journal. Our feet are planted on the sandy earth and our hearts flow with the spring-fed rivers of North Florida, and we work hard to encourage submissions from writers in our local area, as well as the rest of the Florida peninsula. But we also reach out to the world, and the world sends us its words. Over our thirteen-year history, we have published the work of authors from all fifty U.S. states, as well as Canada, Latin America, the Caribbean, India, Africa, Europe, China, Japan, and Australia. Though Bacopa is an English-language journal, we have published a variety of works by authors from bi- and multi-lingual backgrounds whose creations blend, mix, and play with multiple languages, and/or contain internal translations. We are honored to feature the work of a truly global community of creators. About our parent organization: The Writers Alliance of Gainesville (WAG) is a nonprofit organization based in Gainesville, Florida. WAG promotes, encourages, and supports aspiring and experienced writers in Alachua County and the North Central Florida region as a whole. Monthly programs for writers are free and open to the public. Members receive a free copy of Bacopa Literary Review each year, and may have their work critiqued by joining critique pods. WAG promotes its members' books, services, and websites/blogs. To learn more about WAG and meet some of its members, click on this Video.
Submissions
Fiction (up to 2,500 words): Bacopa Literary Review is looking for engaging and original pieces of short fiction capable of capturing and engaging the reader. Unique descriptions, vivid language, and original ideas are appreciated. Use precise language, make sure your work is as polished as possible before submitting, and most of all, enjoy the writing process! Creative Nonfiction (up to 2,500 words): We publish true stories, written beautifully, and based on the author's experiences, perceptions, and reflections in the form of personal memoir or literary essay (for example, nature, travel, medical, spiritual, and food writing). Humor (up to 2,000 words): Make us laugh in any literary form up to 2,000 words. This can include personal essays, satire, poetry, short fiction, grocery lists, manifestos, or modified insurance policies. Formal Poetry (1-3 poems): Sonnets, villanelles, pantoums, haiku, and other established forms. We are seeking words that illuminate the human condition, tell us something new, or just entertain. Send us your best. Please note the specific form of each poem you submit. All voices are welcome, and we are interested in reading poems on all themes and subjects. Free Verse Poetry (1-2 poems): Free verse, visionary poems, the strange and unusual. Absurd, thoughtful, experimental, political, romantic, funny, entertaining. Give us your best work, unfettered, unrestrained, free from forms—or make up your own form. All voices are welcome, and we are interested in reading poems on all themes and subjects. Visual poetry (1 poem): In a new category for us, we are seeking visual poems. At the moment we can only accept images in black and white that can fit within a 6 x 9-inch page. We don't know what we are looking for—surprise us! Please submit only one visual poem.
Upcoming events or contests
2023 contest runs March 19th–April 16th.
Information
Editors Name J.N. Fishhawk
Print publication? Yes
Circulation ~500
Do you take online submissions? Yes
Submission Guidelines URL https://writersallianceofgainesville.submittable.com/submit
Approx. Response Time? 3 mos.
How often do you publish? Annually
Year Founded? 2010
Do you pay? $200 award, $100 honorable mention in each of 6 categories
Twitter
Mailing Address:
Email bacopaliteraryreview@gmail.com
Facebook https://www.facebook.com/bacopaliteraryreview