Berkeley Poetry Review
Website:
http://www.ocf.berkeley.edu/~bpr/
From the Editor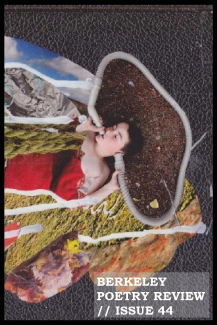 The Berkeley Poetry Review (BPR) is a journal published annually at the University of California, Berkeley. Founded in 1974, it has featured the work of new as well as established poets and writers, including Lawrence Ferlinghetti, Yusef Komunyakaa, Brenda Hillman, Czes?aw Mi?osz, Cole Swensen, Robert Hass, Ishmael Reed, and Thom Gunn. Submissions open again for 2014-2015 on July 1st at https://berkeleypoetryreview.submittable.com/submit
Submissions
While we accept great poetry of any kind, we are particularly interested in work that complicates prevailing conceptions of race, gender, ecology, and even poetic form itself. Is your work attempting to start a dialogue? To enter into conversation? To push? Send it our way.
Information
Editors Name:
Print publication?: Yes
Circulation:
Do you take online submissions?: Yes
Submission Guidelines URL:
Approx. Response Time?:
How often do you publish?: Annually
Year Founded?: 1974
Do you pay?: No
Contact
Twitter: https://twitter.com/berkeleypoetryr
Mailing Address::
Email: bpreditors@gmail.com
Facebook: https://www.facebook.com/berkeleypoetry.review?fref=ts
Berkeley Poetry Review
Professionalism

Design

Editorial
Summary
Berkeley Poetry Review was established in 1974, and is, in my opinion, one of the best poetry magazines in the country.  The review is published by the University of California, at Berkeley. They have published countless famous poets including Pablo Neruda,Thom Gunn, and many many more.
I highly recommend that you subscibe to this publication. If you are submitting your work make sure you read their guidelines first.