BLACKBERRY: a magazine
WEBSITE
https://blackberryamagazine.bigcartel.com/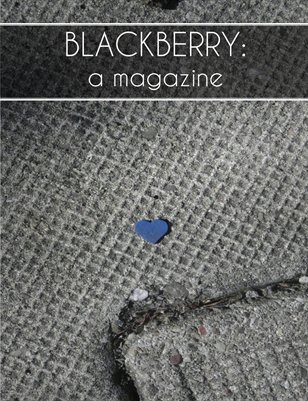 From the Editor
BLACKBERRY: a magazine BLACKBERRY: a magazine is a literary magazine featuring black women writers and artists. Its goal is to expose readers to the diversity of the black woman's experience and strengthen the black female voice in both the mainstream and independent markets. We hope to illuminate the exceptional work of a newer generation while reaching back to those whose words may have been ignored.
We have published talented up-and-coming artists as well as prize-winning fellows. Past issues have included Stephania Byrd, Leesa Cross-Smith, Brenda Bell Brown, Tara Betts, Esme-Michelle Watkins, and Cynthia Manick.
Submissions
BLACKBERRY: a magazine is seeking all forms of poetry, short fiction, non-fiction, artwork and photography. However, we are not interested in science fiction, fantasy, or derivative fiction. We are interested in work that goes beneath the surface and touches the spirit. Your work should explore the universal truths of life while showing the diversity of our experiences.
Information
TWITTER @blackberrylit
FACEBOOK https://www.facebook.com/BLACKBERRYamagazine
EDITORS NAME
Alisha Sommer
PRINT PUBLICATION?
Yes
MAILING ADDRESS:
EMAIL
editor@blackberryamagazine.com
CIRCULATION
SUBMISSION GUIDELINES URL
http://www.blackberryamagazine.com/submissions
APPROX. RESPONSE TIME?
1-3 months
HOW OFTEN DO YOU PUBLISH?
Quarterly
YEAR FOUNDED?
2012
DO YOU TAKE ONLINE SUBMISSIONS?
Yes
INFORMATION ABOUT YOUR PUBLICATION