Brain, Child: The Magazine for Thinking Mothers
Website: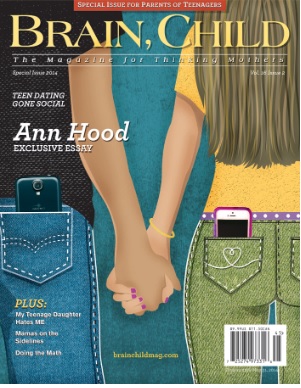 From the Editor
Brain, Child treats motherhood as a subject worthy of literature. And in the best tradition of literature, it celebrates the diversity of mothers and their styles. Our essays and features address readers as thinking individuals, not just medicine- dispensing, food-fixing, boo-boo-kissing mommies. We think of it this way: When our mothers wanted to hash over the important stuff with their girlfriends, they'd say to us, "Honey, the grown-ups are talking." Brain, Child is like that: the place where grown-ups are talking. Brain, Child cuts past a lot of the bull to get to the voices that are truest — not experts, but women who are or have been there. We gave Brain, Child the subtitle "The Magazine for Thinking Mothers," but it could just as easily have been "Motherhood The Way It Really Is." Our writers bring a down-to-earth perspective to traditional and not-so-traditional parenting subjects. And they're willing to address the big questions — our evolving identities as mothers, for instance, or what we're teaching the next generation.
Submissions
Essays, short stories, memoir, and poetry related to the experience of mothering/parenting. We are looking for male/Dad perspectives and have a special issue forthcoming on parenting teens.
Special
In 2012 Brain, Child was purchased by Erielle Media LLC. Since then the magazine's footprint has expanded to include the launch of its digital edition for the iPad and its first special issue devoted to parents of teenagers. It also now has a new website and vibrant Facebook and Twitter communities. The Fall 2013 issue showcased the first redesign of Brain, Child magazine in its 13-year history. Brain, Child has also expanded its content network to include dozens of niche and consumer publishers such as The Washington Post, The Huffington Post, iVillage Australia and Macaroni Kids.
Information
Twitter: https://twitter.com/brainchildmag
Facebook: http://facebook.com/brainchildmagazine
Editors Name: Marcelle Soviero
Print publication?: Yes
Mailing Address:: 341 Newtown Turnpike Wilton CT 06897
Email: editorial@brainchildmag.com
Circulation: 50,000
Submission Guidelines URL:
Approx. Response Time?: 6 weeks
How often do you publish?: 4x a year
Year Founded?: 2000