The Chaos Journal of Personal Narrative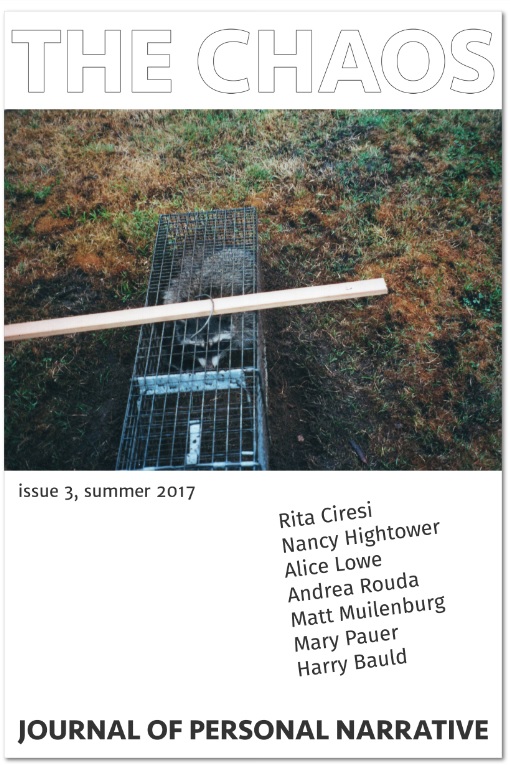 Website
From the Editor
The Chaos Journal of Personal Narrative is an independent, quarterly online journal of narrative nonfiction. We publish essays, 500-7,500 words, about personal experience from new, emerging, and established writers.
As the name of our journal suggests, we are particularly interested in publishing stories that illustrate the chaos of life. We are drawn to tragedy balanced with the sweet relief of humor, and writing that takes us into the scene of the story and the mind of the narrator. We are real people who want to read real stories about real people. We
want to be astonished, moved, and inspired. Send us your best work.
Submissions
The Chaos accepts submissions of narrative personal essays, 1,500-7,500 words. We do not accept previously published work. General submissions are accepted on a rolling basis throughout the year. One to two times per year we publish themed issues.
Upcoming
We're seeking narrative personal essays about WORK for our upcoming fall issue. Send us writing about your first day at a job, quitting a job, getting fired, a unique job, working with a challenging boss, job hunting, attempts at work/life balance, work romance, hard work, work politics, competition at work, etcetera. 1,500-7,500 words. Deadline is September 20, 2017. We pay $25 USD per published essay.
Information
Editors Name
Print publication? No
Circulation online, quarterly
Do you take online submissions? Yes
Submission Guidelines URL
Approx. Response Time? 2 weeks to up to 3 months
How often do you publish? 4 times per year
Year Founded? 2016
Do you pay? Yes! $25 per published essay.
Contact
Twitter
Mailing Address:
Email
Facebook