Cleaning up Glitter
Website:
Defunct
From the Editor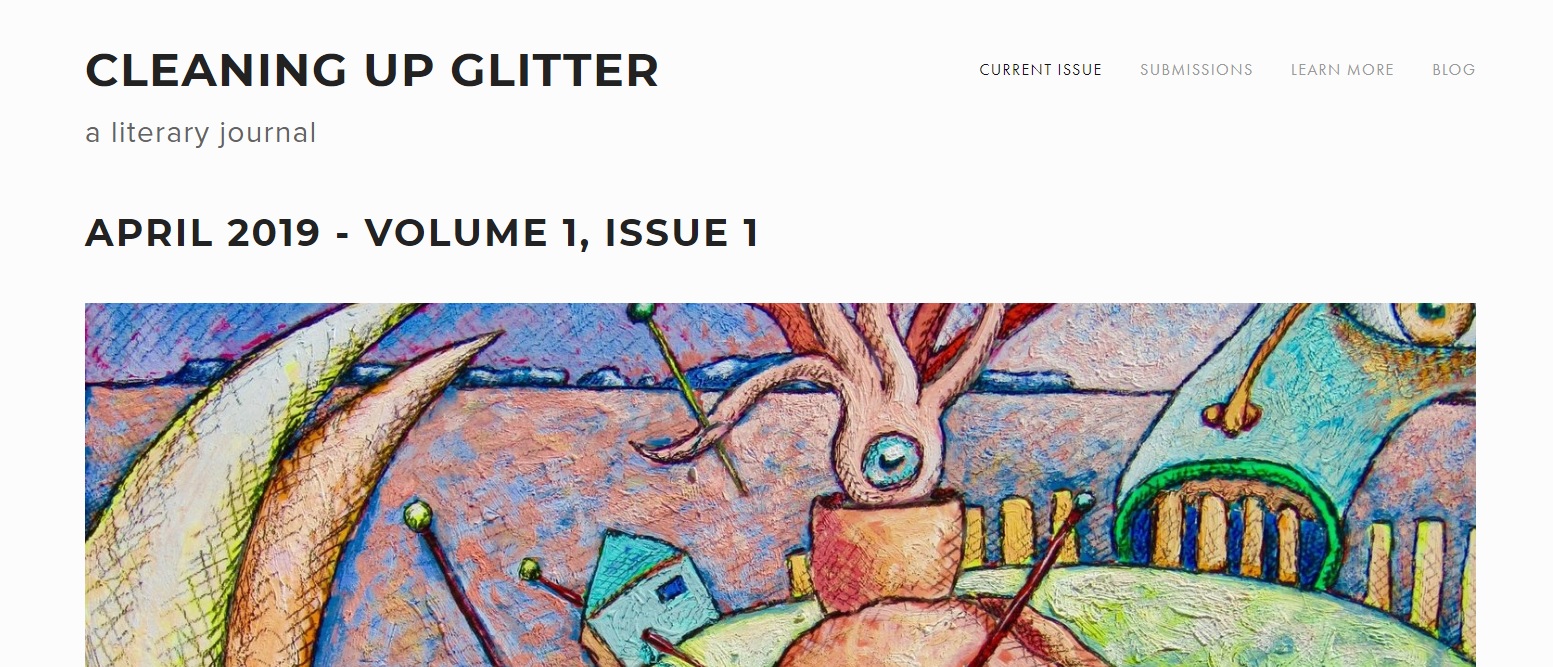 Amy decided to found Cleaning up Glitter after realizing she wanted to have more control and say over how her work was published in Literary Magazines and Journals. As a lifelong writer, Amy has written poetry, nonfiction, fiction, and currently writes professionally for her day job.
Cleaning up Glitter was created for the purpose of empowering new and emerging writers to share their view of the human experience. In sharing our own unique perspective on life, death, faith, love, and everything in between, we can give voice to the experience of being human and, ultimately, help others identify those things in their own life that are holding them back.
We believe that anyone with a story to tell has the potential to be a writer, and do not want writers to feel limited based on length of time writing, type of writing, etc. We want to hear about the things that make life complicated and a bit messy. We want to publish work that makes people squirm a bit, because that tells us that readers are having an emotional response to the work.
Please consider submitting anything that explores your life views, existence, mortality, spirituality, conflict, and more. Cleaning up Glitter should be a place where we can share our most honest works, without shame. That will mean something different for everyone. That said, we do not accept anything that is considered libelous or obscene, and do reserve the right to edit or refuse works that are considered such.
Our 501c3 nonprofit application is pending.
Submission
ACCEPTED GENRES:
Short fiction & essays (may submit 2; up to 7,500 words)
Flash fiction & essays (may submit 3; up to 1,750 words each)
Poetry (may submit 6)
Excerpts (may submit 1; up to 30 pages) from larger works
DETAILS
Submissions must be in English, and must be a final product (no drafts).
We do not charge a fee for submission at this time.
Please consolidate your submissions into one email message.
We will only consider work that has not been previously published either in print or online, exceptions can be made for self-published authors. Simultaneous submissions are permitted. Please notify us immediately if the work has been accepted elsewhere via email.
All accepted authors will be asked to sign an agreement before publishing.
All submissions must be sent via email to cleaningupglitter@gmail.com. You may send a Microsoft Word document to, OR share a Google word document with, this address.
INCLUDE THE FOLLOWING:
Category you are submitting to
Your name as you would like it to appear
If you wish to remain anonymous, please indicate
A brief writers bio (2-3 sentences), and headshot
Social media or website you would like to include
Upcoming/Contests
We are currently accepting submissions for 2019 e-zines
Information
Editors Name Amy Walsh
Print publication? No
Circulation
Do you take online submissions? Yes
Submission Guidelines URL 
Approx. Response Time? 1-2 weeks
How often do you publish? 6x year
Year Founded? 2019
Do you pay? no
Contact
Twitter @cleaningglitter
Mailing Address:
Email cleaningupglitter@gmail.com